"Absurdity, only you are pure.
Absurdity, only before you
is this excess sweated out of golden pleasure.

– César Vallejo, Peruvian poet and writer
Buenos Aires – This last weekend we celebrated the 115th birthday of Peruvian poet César Abraham Vallejo Mendoza. He wasn't in attendance, having moved on in 1938. But it gave us an excuse to play with some of the food we sampled during our trip to Peru last month. Now, of course, when we have a Peruvian dinner, as we do every couple of months, I sort of get kicked out of the kitchen – too much of a gringo apparently to cook Peruvian food. Though, Henry's relenting, especially after realizing that during our time in Peru I was the one who spent the time with his sisters and other cooks in the kitchens figuring out the recipes. So, although he wanted to do the final cooking and plating during the evenings, I ended up doing most of the food preparation and getting things ready for him. That actually seemed to work well and we didn't end up in a battle over kitchen territory this time. And, for change, that gave me the opportunity to spend more time chatting with our guests for the evenings. The idea of a Peruvian dinner was so popular that we ended up with enough requests to fill three nights of dining – so there must be something to it!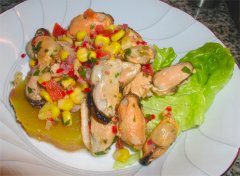 We actually encountered this dish, choros a la chalaca, before leaving for Peru, but decided to include it because it impressed both of us so much. It's a relative of ceviche that comes from the south central coast in the area around the port of Callao. Choros are mussels, I have to admit, I'm at a loss as to what chalaca is – and an internet search didn't help. Henry thought it might be a small pueblo near to Callao, but he's not sure. Regardless, what's different about the dish is, first, it uses only mussels, without other fish or shellfish, and second, it includes ingredients like corn and tomatoes, third, it adds a bit of oil and also chili paste to the dish, and fourth, it uses parsley rather than cilantro. So, lots of differences, but in the end, it looks very ceviche like, but has a range of different flavors. We've tried the dish in a couple of places, and some places present the whole thing on the half shell, others take the mussels out of the shell and heap them on the plate. I'm not a big fan of shells on plates, and we decided to go with the latter approach. The mussels are cooked and then cooled, the same with the corn (you could also easily use frozen corn and simply thaw it out), and then mixed in a bowl with chopped parsley, diced tomatoes, and finely diced hot peppers. Rocotos are traditional, but seem to be out of season here, so we used piquillos. About half an hour before you're ready to serve, coat the mussels with a mix of lots of lemon or lime juice (we prefer lime), a small amount of oil – we used corn to go with… the corn, and a spoonful or two of ají amarillo paste – which I'll get to in a moment. Add salt to taste and serve with slices of boiled batatas (yams) and a lettuce leaf for color.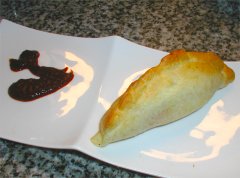 While we were in Lima, we ate at a forgetable little coffee shop in the Larco Mar center one morning. I don't recall the name, nor does it really matter, but we spotted on the menu an ají de gallina empanada. The dish, sans empanada, being one of my favorites, we tried it. It was as forgetable as the coffee shop – bland and uninteresting, clearly having been voided of all spices in an effort to cater to some unknown palates. But, it was enough for us to go with the idea. I'd spent one day with one of Henry's sisters learning to make the dish – which reminds me I should make a post that goes into detail on the preparation of that and some of the other dishes… so figure that'll be coming up soon! In the meantime, however, we made up a batch of absolutely delicious ají de gallina empanada, boiled up a couple of eggs, quartered them, and stuffed empanadas with those and some pitted black olives. We served the empanadas with a bit of ají rojo paste… I guess I should get to those two pastes…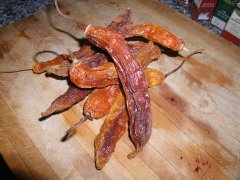 In the local markets, its relatively easy to find ají panca – dried Peruvian hot peppers. They come in, not suprisingly, yellow (in the photo) and red versions – usually referred to as ají amarillo and ají mirasol, though this seems to vary, and sometimes the mirasol refers to the yellow ones and the red ones are called rojo… it depends who you ask. You take a whole bunch of whichever of the two you're working with – we made batches of both – simply boil them in a covered pot of water until they're nearly falling apart soft. Then remove the stems and put the the rest of the mess – flesh, seeds, veins, and the water they were boiled in – into a blender and puree until smooth as paste. We usually start with about half of the water, and add it a bit at a time, but generally use pretty much all of it. The two pastes, yellow and red, are used alot in Peruvian cuisine. Their flavors are not very different, the red have a slight smokiness to them that the yellow don't, mostly, though, it's a color difference.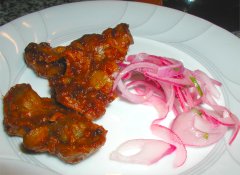 In the same link as I have above, you'll find a reference to dining out on mollejitas al ajo, a dish that completely wowed me in Trujillo. The problem was, Henry had never made them, nor had his sisters – they're so cheap, that folks in Trujillo simply go out to diners that specialize in them and eat them there, at ten soles for a platter that will feed 2-4 people, it's not worth the time to make them. None of our Peruvian cookbooks mention them. An online search revealed one, and only one, recipe that was repeated on various sites, so I'm not sure where it originally came from. It sounded different from what we'd tried in Trujillo. But, we decided to give it a shot and see how they came out. Let's just say that they topped what we had in Trujillo, so we were happy! Buy a lot of chicken gizzards. Clean them well under running water, remove all the fat and whatever else might be mucking about with them. Boil them in a big pot of water that has a small amount of sugar, and a cinnamon stick added to it – cooking them until they're soft – about an hour. Roast several heads of garlic in the oven until completely softened – we used three full heads per kilogram (a little over two pounds) of chicken gizzards. Squeeze the garlic out of the heads and mash to a paste. When ready to serve, saute chopped white onion in plenty of butter until softened. Add the garlic paste, ají rojo paste, and some crushed dill seed, and continue to cook (the recipe we found didn't mention the chlii paste, but there's no question that the dish is at least mildly spicy when served in Trujillo, so we went with it). Add the chicken gizzards and saute until coated and well browned in the sauce mixture. Finish with a splash of cream, and season to taste with salt. Serve with a little salad made of thinly sliced red onions that have been rinsed in water and then salted, cilantro, and lemon or lime juice. One of our guests, who grew up on chicken gizzards in the southern U.S., admitted that these topped grandma's recipe…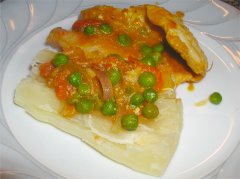 This is sudado, another of the dishes I spent some time with a different one of Henry's sisters learning how to make. It's actually surprisingly simple. Take fish filets and dry rub them with cumin and black pepper and let them sit for an hour or two. In olive oil, saute thick cut red onions, chopped garlic, ají amarillo paste, and thick cut tomato slices (basically for both the tomatoes and onions, halve them, and then cut them top to bottom rather than crosswise, in 4-5 slices, until the vegetables are all softened. Add a splash of white wine to the pan, some cooked peas, and the fish. Cover the pans and simmer the fish in the sauce, turning occasionally so that the filets absorb the flavors on both sides. Serve when ready, accompanied by boiled yuca.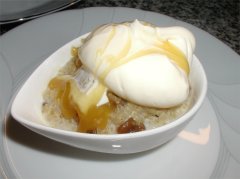 Henry decided to leave the dessert to me. We'd picked up an interesting book on quinua, the Andean grain, while we were in Cuzco. The book is jointly published by Le Cordon Bleu in Lima and the Proyecto Organico de Quinua, and focuses on novel approaches to using the grain – "novoandino" cooking as it's usually termed. There was an interesting sounding dessert called gateau de quinua, that wasn't really much of a "gateau", or cake… but, nonetheless. It was immediately apparent that the recipe was simply wrong as written – offering up that the quinua could be cooked in 15 minutes – at that point it's still crunchy, I don't care how hard you're boiling it. The quantity also seemed off, the amount of the recipe was suggested as serving 8 people, maybe if they're each getting about a tablespoonful of dessert – I guess maybe it was one of those pretty but insubstantial plates… so I took the recipe and tripled it and managed to make enough portions for a dozen folk. I did this in metric… and also experimented a little to get the consistency the way we wanted it, so the recipe is slightly different from the original. Bring one liter of whole milk and a half liter of water to a boil. Add 270 grams of quinua that's been rinsed thoroughly. Cook until soft, stirring occasionally to make sure it doesn't stick to the pot – it will take about an hour. Meanwhile, soak about a couple of large handfuls of raisins, I mixed yellow and black, in a small amount of pisco – mix them up regularly – they should pretty much soak up all the liquid. When the quinua is done, add the raisins and remaining pisco, if any, and 150 grams of sugar. Stir thoroughly and let cook another 10 minutes to soften the raisins and burn off a little of the alcohol. Cool, put in small bowls, chill, top with sweetened whipped cream, and a lime caramel sauce. For the sauce, I caramelized a half a cup or so of sugar with the juice of one lime, until medium dark. I then slowly added a little bit of cream, maybe a quarter cup – off the heat – to cool it down – stirring constantly. Then about the same amount of cold butter – stirring until smooth. Spoon over the top of the dish.