Lima, Peru – I know it's going to seem to some like I'm giving Lima shortshrift by only writing one post on the city, especially after the seemingly endless droning I've been doing about other parts of Peru. But, this was our Lima experience… we had not planned on staying in Lima at all. If you remember back about a month ago, I posted about how a bunch of high school friends of mine had all gotten back in touch after our 30th reunion (and this group has now expanded and been turned into a google group). During the course of a series of e-mails with one friend whom I haven't seen now in 30 years, as he didn't make it to the 10th or 20th reunions and I didn't make it to the 30th, he mentioned that someone we knew from high school was living in Lima with his boyfriend. I thought I'd drop this guy an e-mail – we didn't know each other well in high school, enough to say hello and chat occasionally, but that's about it – and if he was amenable, maybe we'd stay one or two days there and go out to dinner with him or something. He responded almost immediately, and it turned out he only lives in Lima part time, and was away, but immediately offered us the use of his apartment in Lima if we wanted to stay for a few days. Given that Lima was likely to be the most expensive part of our trip, especially for a hotel, we talked about it and decided to accept the offer. It was all quickly arranged, and there we were, late last Saturday night, arriving at the door of a gorgeous apartment in a highrise building, looking out over a cliff and the ocean, and a live-in housekeeper, who was delightful, in attendance. Talk about a bit of a system shock after leaving Trujillo!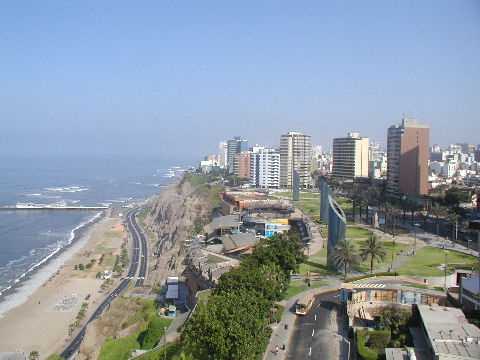 Now, I've never heard much good about Lima – it's always been how unsafe it is, and no one who is a tourist should ever venture outside the ritzy and touristy barrio of Miraflores, where we were staying. So we hadn't really planned what we were going to do, which turned out to be a good thing, because Sunday, both of us just sort of collapsed – neither of us felt well all day, and we really did very little – a bit of wandering near to the apartment building, in the fancy shopping mall of Larco Mar and nearby, ate next to nothing – a truly forgettable Egg's Benedict for brunch and a bowl of chicken soup for dinner was my consumption – and went back to bed. But for Monday, we'd had a recommendation from someone to take a city tour from a company called LimaVision, so I'd called them Sunday afternoon and booked a full day tour with them – half the day a city historical tour and half the day out to the ruins of Pachacamac, the most important Incan/Pre-Incan archaeological site in the Lima area. We started with a quick visit to the neighboring barrio of Barranco, which turns out to be beautiful, a great place to find restaurants that aren't overly touristy, and serve excellent food, as we found later – and according to our guide, a very safe neighborhood as well, just not fancy. If I go back to Lima, that's where I'd stay…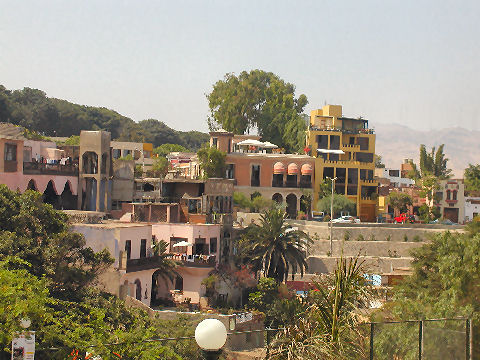 The latter turned out to be well worth it, with a very knowledgeable guide who took us through the ruins, partially on foot and partially by van, as they're spread out over miles and miles – it was a huge city that dates back over two millenia (by the way, one of the things that I really got drilled into me over this trip is how unimportant in many ways the Incan culture was, historically – they existed for less than a hundred years, what they accomplished was the takeover and domination of virtually every pre-existing culture along the coast and in the Andes, from Ecuador down to Argentina and Chile, and did it quickly and fairly ruthlessly. Their empire fell even more quickly to the Spanish. But prior to them, there were dozens and dozens, if not hundreds, of existing small and large cultures that stretch back for 2-3 millenia of recovered history in the area. Pachacamac was an important administrative and religious center for the Lima, Huari, and Ishmay cultures for nearly 1,500 years before the Inca showed up. Below, a photo of the Ishmay temple in front, with the Incan temple in back and above (the Incans, of course, demonstrating their dominance with altitude). Then a photo of the Incan temple. The ruins at Pachacamac are not well preserved, having been built of adobe bricks rather than stone, and what remains was what had been buried by blowing sand – this is desert area.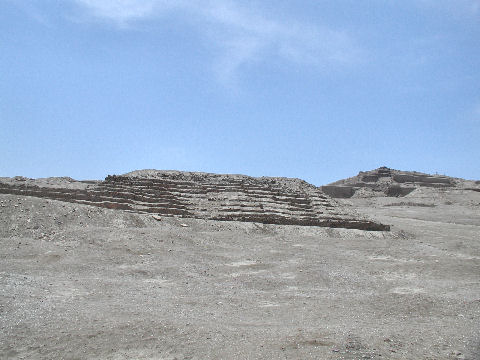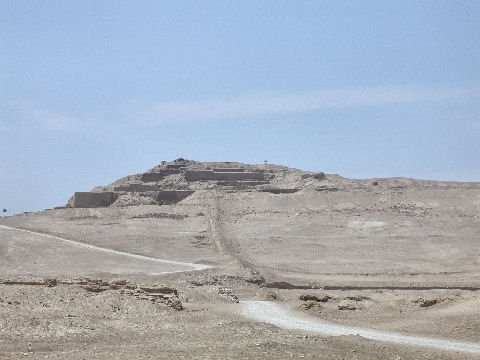 After the fascinating tour of Pachacamac we returned by bus to Lima, where we were to have an included lunch of traditional comida limeña. Unfortunately, LimaVision uses a restaurant, Julius, that offers a daily buffet of local specialties, apparently from what we hear, quite good… except on Mondays, when they offer only a three course "international cuisine" lunch. So instead of what we'd hoped for, a chance to try all sorts of local goodies, we ended up with caesar salads and completely uninteresting entrees. After that disappointment, we were shuttled back to a meeting point to hop on a bus for the city tour. This tour was the type of tour that I truly despise. We basically just sat on the bus driving by things with two young women upfront eagerly pointing out the windows to the left and right and declaring what we were passing. We did get ten minute photo opportunities in the two main city squares – gleaming clean and surrounded by gorgeous architecture, but we didn't get to enter any buildings or do anything other snap some photos and get back on the bus – the cathedral is impressive from the outside, and the ornate building to its left was apparently the original headquarters of Opus Dei for all of Latin America. Our only real time out of the bus was a tour of the catacombs that stretch beneath the central squares and connect to several surrounding churches. The catacombs are still under exploration and excavation, and we only saw a small part of them – to date, they've found the bones of over 25,000 people – all in communal graves or bins (there are bins lined up, one with femurs, one with tibia, one with skulls… very odd), and this one pit that's apparently 10 meters deep with artfully arranged bones… very unsettling.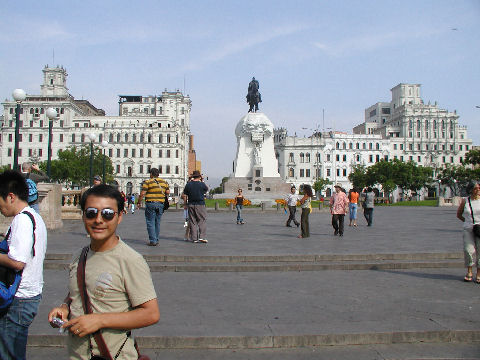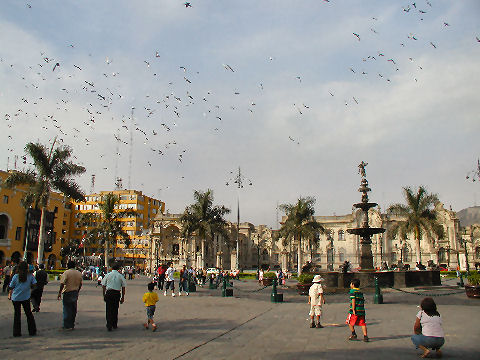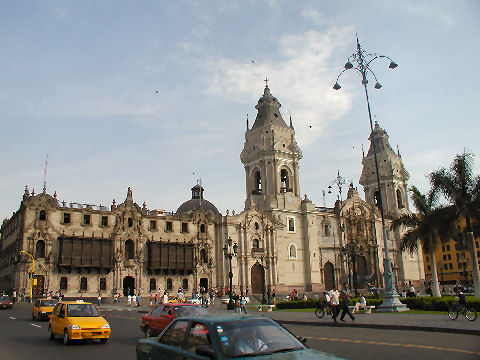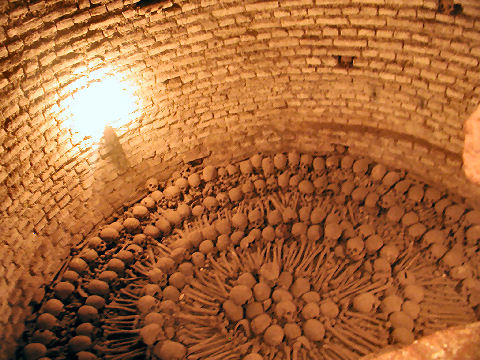 And that's about it for Lima. We got back in the evening, and originally had planned to go to the famed Astrid & Gaston, a sort of temple of New Lima cuisine – we took a cab there, took one look at the menu and got back in the cab – it may be really, really good, but with prices like 25-30 soles for appetizers and 50-80 for main courses, it was just beyond our budget. We were also probably underdressed for the occasion. Perhaps some time in the future. Instead we took the cab out to Barranco, which had looked so inviting – I tried to call a guy named Luis Felipe Arizola, who runs a small puertas cerradas out of his home in Barranco, but they were closed – another time perhaps. We ended up at a little place named Javier, recommended by our cab driver. The place is located down the path from the puente de suspiros, or bridge of sighs, and they served up some delicious fish and shellfish, we sat outside on their porch looking over the pathway and park, and enjoyed the evening. Some great dishes like a ceviche de conchas negras, or black clam ceviche (pictured below), a fish stew (sudado), grilled corvina, and a causa made with fresh crab.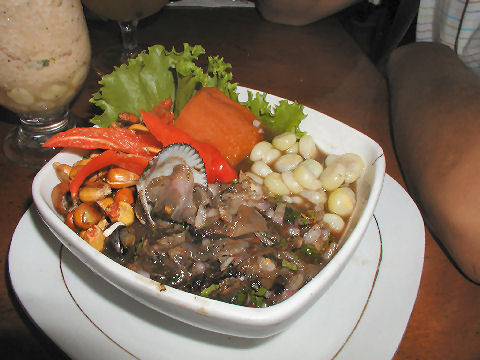 Tuesday was really spent in shopping and wandering – we hit the central markets – nothing of great note. Bought some souvenirs and some good books on Peruvian cooking for me. The one other restaurant that was on our list was Sankuay, Leon Garcia 114, known colloquially as Chez Wong. It's another puertas cerradas… it's located in what is considered by many to be the most dangerous barrio in the city, La Violeta – we were told to take a cab to and from, even though it was mid-day – Javier Wong is only open for lunch. The cab pulled up to a garden wall, there was a heavy door with a guard sitting on the stoop reading a newspaper. He looked us over when we got out of the cab, asked if we had a reservation, and let us in. Behind the door is a prim and proper two story home, a bit spare in style, and the ground floor has been converted to a forty seat restaurant. We entered, were greeted by Javier and his partner, and sat down. He offers, generally, two dishes per day, and almost always prepared with lenguado, or flounder. The first is his ceviche, which many consider to be one of the, if not the, best ceviches in Lima, or perhaps all of Peru. It's extraordinarily simple and relies more on the pristine freshness of his ingredients than anything else – the lenguado is filleted in front of you at a small counter, he adds chopped red onion, chopped chili, some sliced pre-cooked octopus, salt, black pepper, and lemon juice. Nothing else. He serves it immediately – which sort of put Henry off, as it's too sashimi like for him. I'm of two minds about that – I love sashimi/sushi, but, while I often joke with Henry that ceviche is just Peruvian sushi, the truth is, it's not. Ceviche is fish that's cooked by the action of the citric acid added – and it takes a little bit of time to do that – otherwise it's just raw fish with lemon juice. I ate a little of it, but slowly, because truthfully, after about 10-15 minutes it's far more interesting. Javier also has two woks in his small kitchen where, if you're still hungry (we weren't, but wanted to try his other dish of the day), he'll saute something up – in this case, a delicious stir-fry of lenguado with snowpeas and black bean sauce. The price is a little steep, the ceviche is 40 soles a plate, the sauteed dish 30, but it's definitely worth experiencing.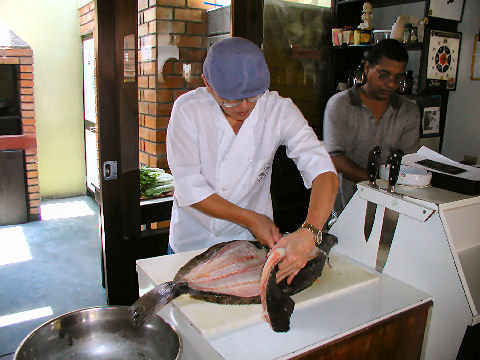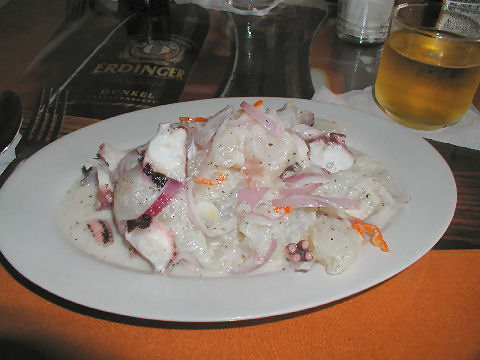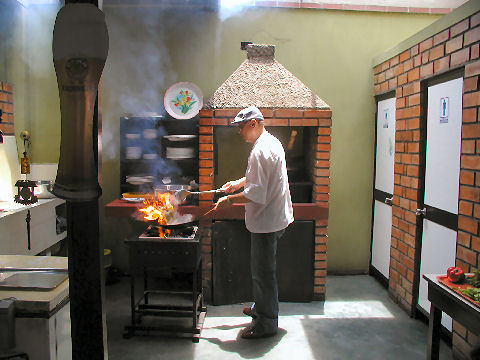 We spent the afternoon relaxing, went to a folklore dance show and dinner at a place called La Dama Juana in the Larco Mar entertainment complex and shopping center, which had an excellent buffet of local specialties and a quite enjoyable show – well worth the 99 sole price for the combination. Then we tried to get some sleep, but there was an outdoor concert at the complex, which is right next door to my friend's building, so we got none, and at 4 a.m. we were on our way out the door to a cab and on to the airport.
Home sweet home… and now, back to our regularly scheduled programming…