A couple of day stay in the southeast part of Lima, Peru, called Barranco. I've been here before – the first time as part of a tour and then dinner, with Henry and the second time, though I stayed here for a night, I ended up not eating here simply because of logistics. I'm back at the same hotel for two nights, then moving to the same other hotel for two. As I said back in that post, it's a story in and of itself. This time, though, I had a full day to spend out wandering, plus two dinners and two lunches (well, more than two, but that's because I willed myself to double down on trying places). First, a little photo tour of my wanders….
Second, we'll start with the dinners. I ate at the same place twice. First off, it was the place I had planned to eat that last time I was here until circumstances interfered, and it's a place that's been "on my list". Second, it was so good the first night I was here I had to go back and try more food the second night. The interesting thing, it's not one of those fancy places with elaborate plating and weird ingredients – it's straightforward, honest cooking, presented nicely, with great flavor combinations – pretty much the food I like to both eat and cook most of the time. It's the kind of place I'd open if we were going to open a regular restaurant.
The place, La 73 (named for the bus line that passes along the avenue), Av. El Sol Oeste 175, just a short four block walk from Casa Fanning, at Juan Fanning 211, where I'm staying (which for a select group of friends will give a clue to why I'm here). A friend of mine who's been here referred to it as "Peruvian bistro" decor. To some extent, yes – certainly the tables and such are bistro style, though the room strikes me a bit too clinical – there's a lot of gleaming white tile and chrome, it almost looks like it used to be some sort of dairy or butcher shop. The waiters are young, eager, perhaps a bit too chatty at times – on one of the two nights my waiter simply wouldn't go away, and kept suggesting things to try and describing them at length, even though I'd already made my choices. The menu is a decent length, with a nice selection of what I'd call Peruvian-Mediterranean fusion dishes, so right up my alley. There are also some Asian touches here and there. There's also a chalkboard of "seasonal specials" to complement the core menu, which I gather rarely, if ever, changes.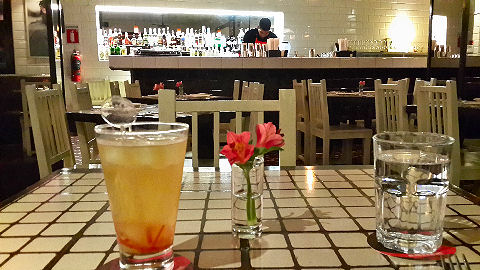 Chilcano de rocoto
– a chilcano is a classic Peruvian drink of pisco and ginger ale, sometimes but not always, flavored with other things – in this case, candied rocoto chilies and a hint of rosemary. Fantastic! I also tried one with passionfruit and ají panka, but I thought the balance was off on it and it had a touch of bitterness that didn't work for me.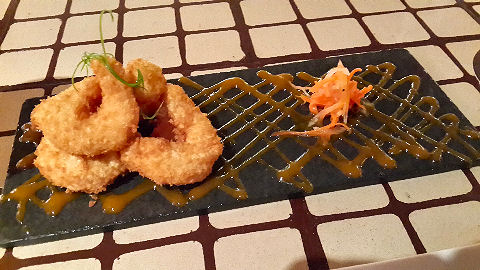 Langostinos furay
– simple, fried prawns, perfectly done, with a little spicy caramel drizzle on the plate. I realized that I see the term "furay" or "furai" all the time with dishes like this – it wasn't until doing a little online research that I got the term – it's the Japanese pronunciation of "fried".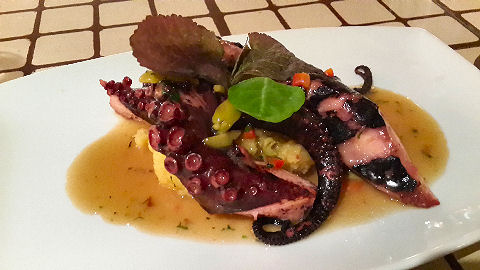 Char grilled octopus, crushed potatoes, herbs, leaves, simple but delicious gravy. Yum.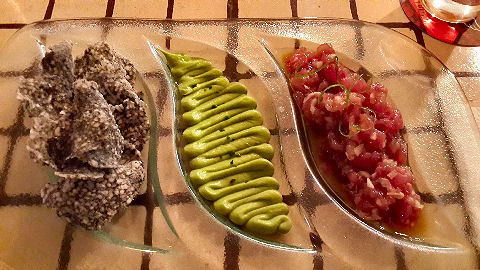 Tuna tartare, dressed in a little sesame oil, salt and herbs; avocado cream; sesame infused crisps (I think of nori seaweed that's lightly battered).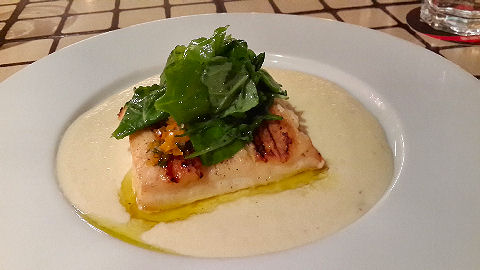 Paiche al carbón
– grilled paiche, the monster fish of the Amazon – remember our visit to the
paiche farm
? Or the
Belén market
? Served over a buttery cauliflower puree and topped with a brunoise of carrots and some baby spinach lightly dressed in oil.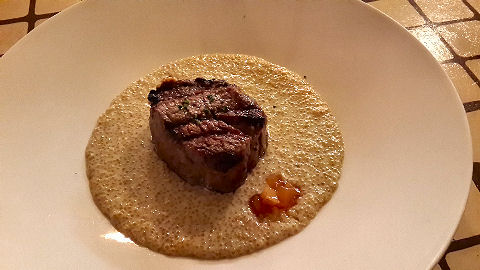 Lomo quinoto
– this one took a little conversation because my waiter couldn't explain it. See, a
quinoto
is a fruit, a kumquat, so I'm looking at the dish and thinking, hmmm… seared sirloin with kumquats, plus candied quince, and blue cheese – that's a lot of sweet fruit for a steak, even countered by the
queso
. Apparently he simply didn't know what a risotto was, and the intent here in the menu name was to play on that, but made with quinua, so he just kept saying "quinoto is a fruit but there aren't any on the dish". I finally agreed to try it, just to get him to go away, and it wasn't until the plate arrived that I got the play on the term. Maybe it was the
chilcanos
that I was imbibing. Delicious dish – perfectly seasoned and grilled sirloin, creamy quinua finished with tangy blue cheese, and just a few scattered bits of confited quince to offset the richness. I would have liked something green or slightly acidic on the plate for a touch more balance, but I'm stealing this idea.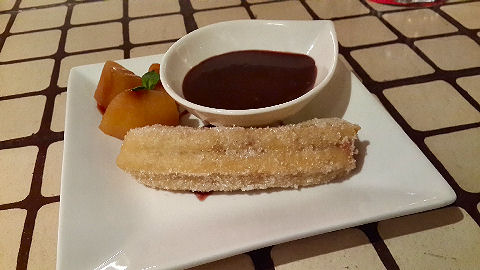 The place gets raves for its
churros
, but every time I saw a plate go by it was stacked with six of them. There was no way. Waiter, the less chatty one on the first night, said, no problem, you can order a half order of three, or even just a single one, we make them to order. One it was. Perfect, perfect, perfect churro. Great chocolate sauce. I don't know what the fruit was on the side – it was a little too candied to tell.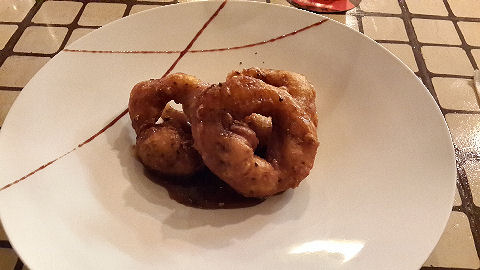 Second night, thought I'd see if they'd do the same with the
picarones
, sweet potato doughnut fritters sort of things. But no, they won't make less than a whole order of three. Why not? They're still made to order. Drizzled with a szechuan peppercorn infused honey. Really good. Not as good as the churro.
This is a must try place in Lima if you're tired of all the fancy nikkei fusion spots and just want creative, really good food. More on the rest of Barranco eats in the next post.