In two days back in Lima I stayed in two different hotels (there was a reason for choosing each and trying them both out, but it's irrelevant to my story), and three different restaurants, if you don't count breakfast at the two hotels. I toured my way through two different markets. It's all a bit much for a single post, and probably even breaking them up into two is going to tax the nerves, but you'll cope.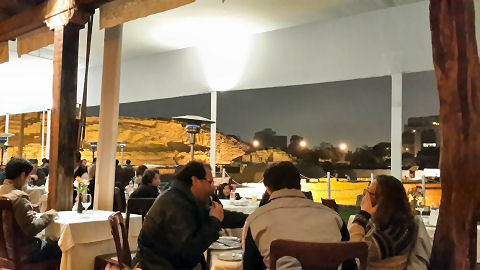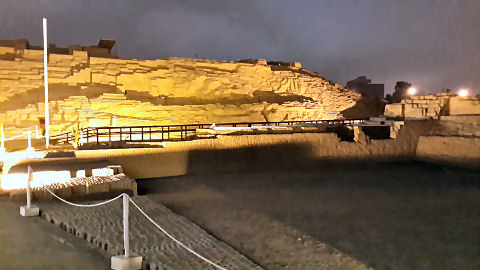 I'd heard in the past of Huaca Pucllana Restaurante, at the eponymous archaeological site (a huaca was a temple in pre-Incan cultures like the Moche and Chimu), located near to the wealthy Miraflores district. The restaurant has a good reputation for creativity, albeit at the same time a bit touristy, mostly given the setting. And the setting is lovely – if you sit outside – inside is pretty ordinary – but there's a huge patio, with braziers and torches fired up to keep you warm as you dine. Unfortunately, the chef who I'd planned to meet had ended up taking the day off. The staff were attentive, friendly, and, of course, completely unhelpful in making selections from the menu – someone should do a cultural study on this phenomenon in South America (or at least, so far, Argentina, Chile, Uruguay, Paraguay, Peru and we'll see about Bolivia over the next week), it's the only place in the world I've found where there's an adamant and near universal commitment not to commit to recommending anything and just telling people that everything on the menu or wine list is good.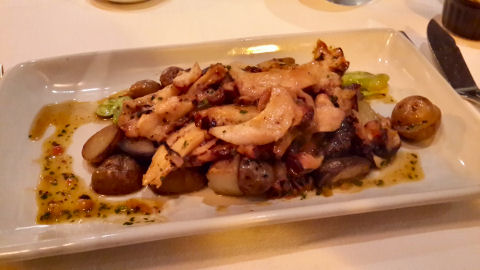 No tasting menu available ("because the chef's not here", which makes no sense, she could have one designed and the kitchen should be able to execute it), so I picked some dishes, knowing it was too much food, but wanting to try some things. First up, what turned out to be a massive plate of grilled, tender octopus with Andean potatoes and mushrooms, and a moderately spicy yellow chili sauce on the side (actually, in thinking about it, I think I asked for the sauce). Delicious, both with and without the sauce. The menu has a certain Mediterranean bent using Peruvian produce, which was one of the main reasons I'd wanted to try it, since that's sort of our direction as well.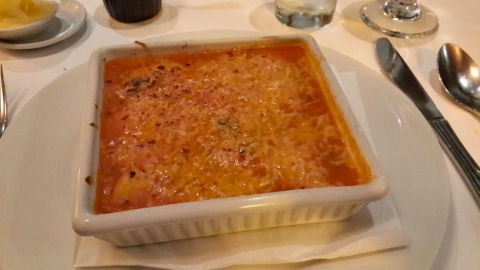 Special insert menu "festival of native potatoes", had several interesting sounding dishes – the "yellow potato gnocchi in a spicy tomato and chili sauce, gratineed" sounded right up my alley. The gnocchi were perfectly cooked – I don't know that I could tell the difference as to the potato used. The sauce wasn't even remotely spicy, it was actually a rather sweet tomato sauce, and I asked for some chopped fresh rocotos which I mixed in and made it spicy on my own. Good idea, disappointing dish, and I only ate about half of it.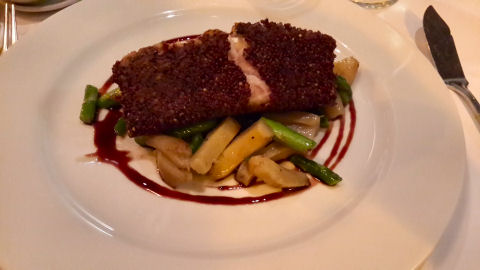 This was actually a dish I'd heard about as one of the chef's signatures, and had wanted to try. Corvina crusted in red quinua and served over fresh asparagus and artichoke hearts. It was good, but really kind of needed some kind of sauce I thought. There were lime cheeks provided on the side which I used, but overall the dish seemed a little dry. The asparagus were perfectly cooked, the artichoke hearts were a bit mushy and had been pickled slightly. Not a bad dish, but not what I was expecting. The octopus dish above definitely won for the night.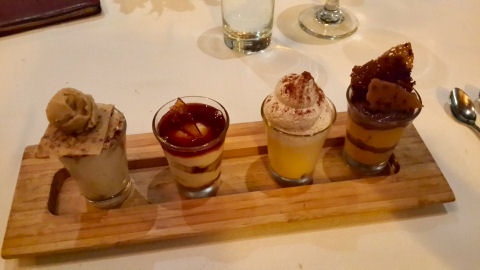 I had actually been planning to try a fourth dish, even though I knew I wasn't finishing any of them, but after being mildly disappointed in two of the three so far, decided against it, though let myself be talked into trying the dessert sampler. From the left, a warm rice pudding with carob ice cream and a little phyllo square – good; a cheesecake with burnt sugar syrup and a touch of salt – the cheesecake a little too heavy, but the flavors good; a relatively classic "suspiro limeño which was okay; and the best of the quartet and the only one I finished, a sort of layered fresh lucuma mousse, chocolate fudge, and crispy quinua tuiles.
All in all, a good experience, though not great. Service, other than my note above was impeccable, love the setting. Food was creatively conceived though I thought just good in execution. And, reasonably priced – all of the above plus bottled water, a glass of bubbly and a half bottle of wine and it came in with tip at around $90, and almost a third of that was the wines.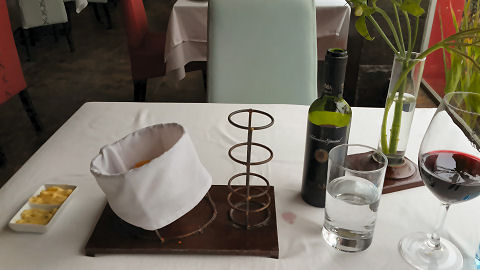 Next day, lunch at
El Señorio de Sulco
. I'd been warned it was very touristy, and it certainly has the air and look of a place that would be. But, the half dozen other tables that were there while I was were clearly all locals, with the exception of one woman at the table next to me who was visiting two local friends, and several of the tables were clearly regulars. I found service to be a little lacking – somewhat cold and a little pretentious, and with three waiters working the floor for lunch you'd have thought hat one of them could have been paying attention, instead they tended to huddle as a trio over by the waiter station, chatting, and completely oblivious to the room except when serving things or taking orders. And some oddities, this photo is the bread service – down in the bottom of that little sock is one, count it, one, little bread roll (and the waiter had actually placed it and the butter on the far other edge of the table where I couldn't reach it, I moved it closer for the photo), and the butter, while tasty, was basically frozen rock solid.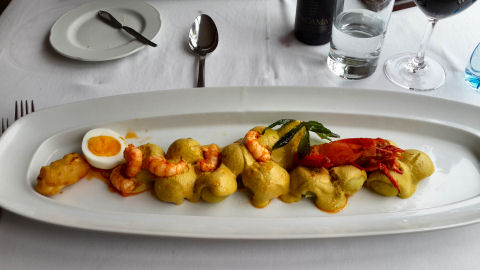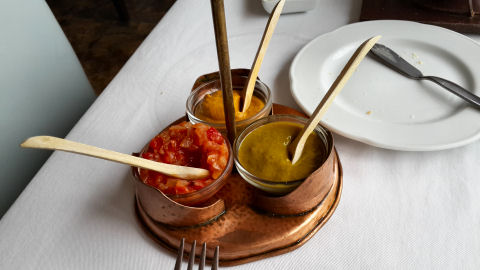 A slightly strange version of ocopa – which is typically cold or room temp potatoes served with a creamy, smooth sauce made from cheese, bread, milk, walnuts, yellow chilies, and huacatay (Amazon black mint) and is vividly green – this, as best as I could determine, was a heavy, grainy sauce that just tasted heavily of cheese and caramelized onions – the only huacatay I could find was the fried branch sitting atop. The shrimps and prawn and little fried fish stick were nice. I think 13 small potatoes was a bit much for an appetizer – maybe it's meant to be shared. I asked for chili sauce and got a trio – chopped rocotos and onions, a yellow chili sauce, and there's the huacatay, a puree of yellow chili and huacatay – none of them particularly spicy, and maybe this is the touristic element, everything seemed to be really toned down in flavors – well seasoned, but missing that element of heat that is common in Peruvian cooking.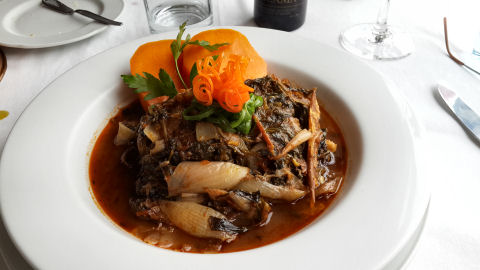 I was here, however, for this dish, the
huatia sulcana
, a dish I taught myself to make based originally on a version from Tony Custer's
The Art of Peruvian Cuisine
, and modified over time to get it to a slow braised version of the dish that we serve now. But I'd never tried the dish anywhere else, and chef Isabel Alvarez' recipe is the one that people tend to tout over and over on the internet (though there are various versions of that posted on different sites, so who knew what her version actually was). Either way, slow cooked beef with onions, chilies and plenty of herbs. The meat, beef shoulder (which when I asked the waiter what cut it was, he brought over the menu and pointed to the fact that it said what it was on the dish and maybe I should have read it when I ordered it – I hadn't because I simply ordered the dish knowing I wanted to try it – but the attitude was typical of the way the trio were behaving. The meat, beautifully tender, the dish, I'm happy to say I got pretty close to the flavors of her version – ours is a bit more spicy, but again, that may be toning it down for the tourist trade, but other than that pretty spot on. And we don't serve it in a bowl with all the broth, I tend to pour off the broth and then reduce it and spoon it over.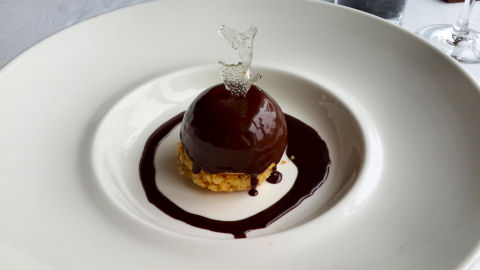 The first two desserts I ordered, both the house versions of traditional, older Peruvian dishes, were unavailable, which was disappointing, and the waiter, finally making a recommendation, said I should try the chocolate and lucuma dessert – I figured it might be interesting to compare it to the one I'd liked the night before. In this case, a white chocolate brownie topped with a scoop of lucuma ice cream which had a little butterscotch sauce inside it, and coated with chocolate sauce. Good, but not near as good as the other one.
Overall, a little disappointing, mostly in the service. The food was all good, if less spicy than I had hoped for. A bit more expensive too – all of the above with bottled water (little 350ml bottles) and a half bottle of wine, with tip came in at almost as much as what I'd eaten the night before, and not near as good. And the setting is nothing special, I don't know that I'd make any real effort to go back, though there were some other interesting sounding dishes on the menu – still, probably not.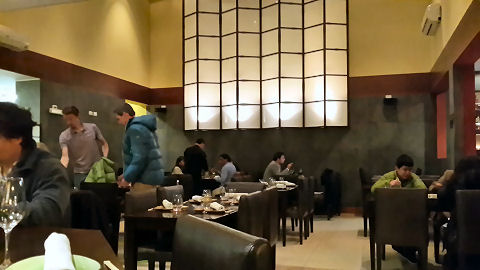 Okay, this is running really long, so I'm going to go to pretty much just pictures. I was going to try another creative Peruvian spot, in Barranco, near to my hotel, but ended up back in Miraflores in the late afternoon/early evening, and really feeling like I just wanted something lighter – no potatoes, no yuca, no sauces… you know? A foodie who I know from Buenos Aires, who is currently in Lima, wasn't available to meet up but suggested trying
Maido
for creative Japanese food. Pretty room, friendly, attentive staff, though again, no recommendations forthcoming (weirdly, the sushi chef, I sat at the sushi bar, asked me if I wanted some recommendations, and I said yes, and then he didn't offer any).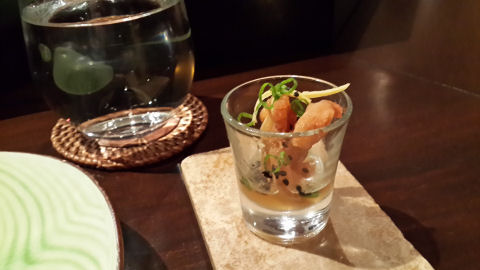 A little hors d'oeuvre of fried fish in a sesame vinaigrette.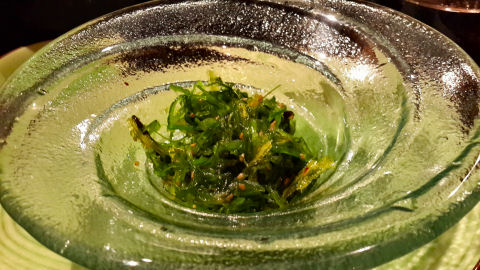 I decided to go pretty much completely traditional. Seaweed salad, very nicely done.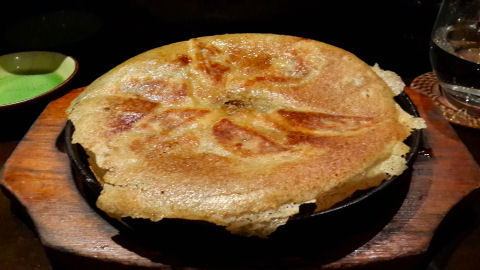 Delicious gyoza – interesting way to present them – presumably cooked in standard fashion, the placed in a cast iron pan with a little batter to crisp up and hold them together, and served flipped over. A little hard to eat, but very tasty.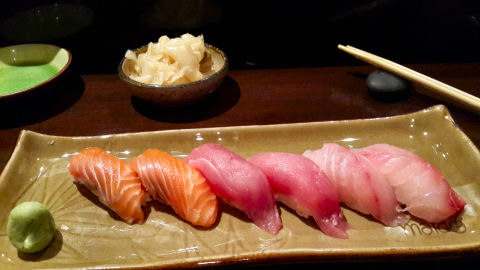 I asked for a trio of fish nigiri (all coming in twos) at the chef's choice – he picked salmon, tuna, and what he called
criadilla
, which as far as I know is the Spanish word for testicles, I haven't found it online as a fish – research to be done down the line.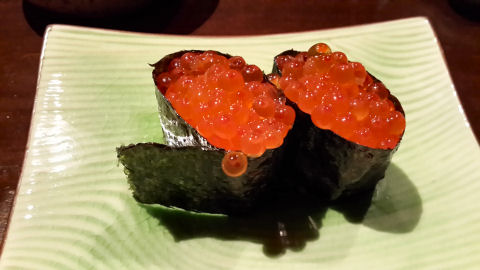 Salmon roe – pristine and fresh, lightly salty, beautiful.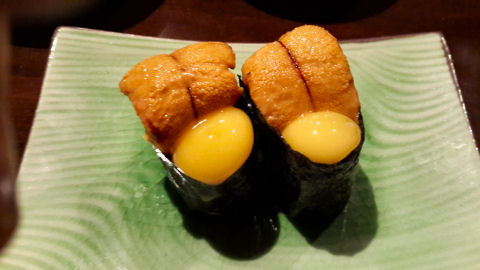 Sea urchin with quail egg, perfect.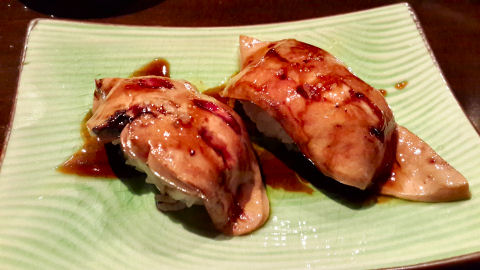 And, I decided to try one "creative" sushi, the
El Intruso
, fresh warm foie gras brushed with "eel sauce". Great concept, but slightly off in execution – instead of, say, flashing the foie under the salamander broiler, they make the sushi and then use a butane torch to just heat it through. Unfortunately, served immediately, that chemical odor of butane was really prevalent. I let the second piece sit to let that dissipate, but then the foie was cold. So I kind of liked it and kind of didn't.
[Tweet from a friend who went in September 2013: "tried the intruso.  I get what u say about the butane taste. for the 2nd one I waited about 20 secs before eating and it was fine"]
Great service, beautiful room, and at least on the traditional stuff, dead on and delicious. They're known more for the creative and fusion stuff, and the one thing I tried from that menu I'm on the fence about. Pricey – the above, with only bottled water to drink, came in at more than either of the other two spots. But I'd go back in a heartbeat to try more.
Enough already – I need to get out into the morning street markets of La Paz, and you need to take a breather from reading.