Coming to you now from the sunny beaches… hmmm, no, that's not quite right… the overca… no… the cloud laden, drizzly urban sprawl of Lima, Peru, living up to its secondary nickname, Le Gris, or The Grey. Here for a few days before heading home. Henry's off to Trujillo to spend a couple of more weeks with his family, a harvest festival, a bit of harvesting itself. Time this morning before wandering to finish off the eats of NYC.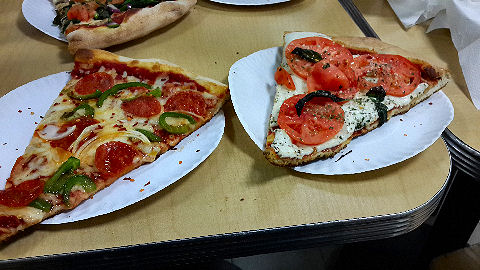 Henry and I did one of the hop-on and off bus tours, and afterwards, he wanted to try some classic New York pizza. Since there was a branch of Ray's just down the block from our hotel, what better spot? It may not be the best, but it's certainly one of the most iconic. I think he got, in one bite, what I've been saying for almost ten years to him about the difference between pizza in Buenos Aires and New York, let's just leave it at that.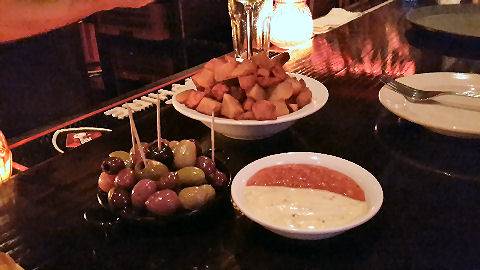 My friend David came down from Boston and, as we are wont to do, we headed out on one of our appetizer crawls. Henry joined us for a little bit of it, but headed off for most of it to a tango dance eve. David specifically wanted to include the new Ivan Ramen, 25 Clinton St., somewhere in our travels. We started off at Bar Veloce with Henry where we had a round of Italian wines and a simple cheese plate – most of the latter went to Henry since he was headed out for the next couple of hours to dance. After we dropped him off at the milonga we moved into the Lower East Side, put our name "on the list" for the ramen shop (it's small, and packed), we were told it would be about thirty minutes, so we wandered down the block to Tapeo 29 where we indulged in a couple more glasses of wine and some nibbles – a great bowl of different olives and pickled onions, and a reasonably good plate of patatas bravas – could have used more kick to them.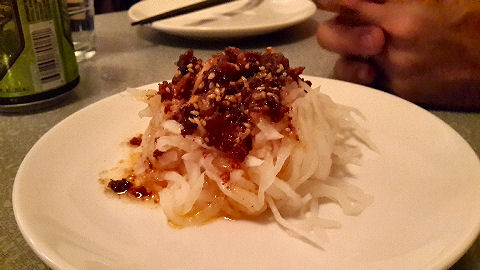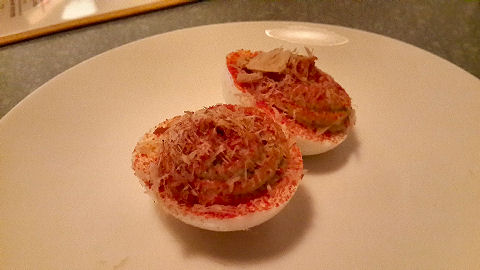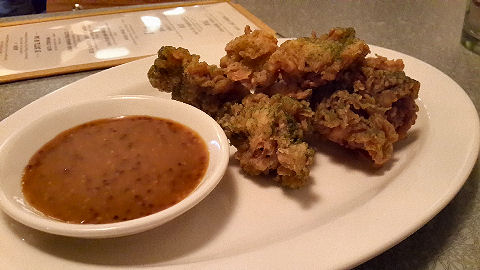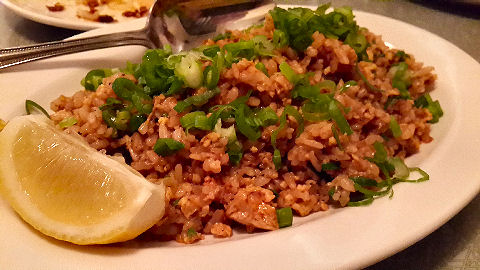 Then, we got the call, zipped back up the block and were given the corner table in the shop. We decided to order first from the appetizer menu, it all sounded really good, and this was going to be our main part of the crawl. So, from the top – a seemingly simple but absolutely rocking dish of lightly pickled daikon with "crunchy XO sauce" made of dried shrimp, scallops and chilies in oil. Yum! I'll be experimenting with that – disappointed it doesn't seem to be in Ivan's cookbook. Next up, deviled eggs – the white of a chicken egg stuffed with the deviled yolk of a "1000 year duck egg" – interesting, but not all that, as they say. Follow that on with the "JFC" (Japanese Fried Chicken?) of "double dredged" chicken hearts and livers with a honey ponzu sauce. They were okay bar nibbles, but when you're dealing with something as small as chicken hearts and livers, double dredging means there's pretty much more batter than meat, and these could have been anything, really. But they were deep fried, and we were drinking beers, so all's well. And then, a decent sized plate of "dirty rice" – with monkfish liver, lemon sofrito and scallions – excellent flavor, the rice a bit overcooked – it was all broken up. So the winner for the appetizer round, no question, the pickled daikon.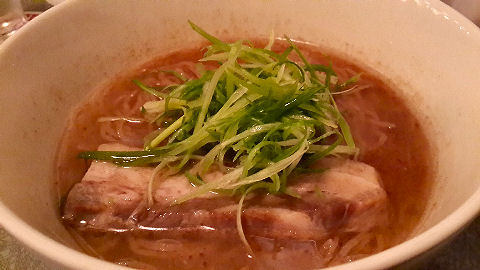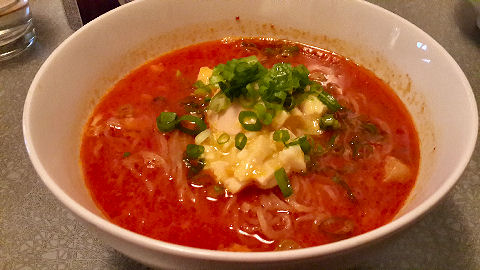 On to the main feature, the ramen bowls. Ivan, who happened to be there that evening and came over to chat with us – David is heading to Tokyo and wanted some tips, I just wanted to meet the guy, gave us a bit of an intro talk about his history and how things all came about that there's this guy from Brooklyn running two of Japan's best regarded ramen shops, and doing things very differently from the traditionalists. David ordered one of the two classics, the shio, or sea salt based ramen, which had an amazingly good, richly flavored but still quite light broth, and just a few simple accompaniments. I gather part of the whole mystique here is the ramens aren't overloaded with a zillion different ingredients as some tend to be. We've had so little in the way of really spicy food this trip that I decided to go with his spicy ramen – still good, but I think that all the subtlety and richness of the broth got lost in the chili. In hindsight I wish I'd just tried the other classic, the shoyu, or soy sauce based ramen, but so be it. Noodles in both, amazing. He uses rye flour for his noodles, which gives them a whole different flavor and texture.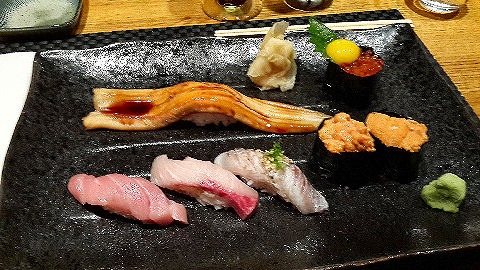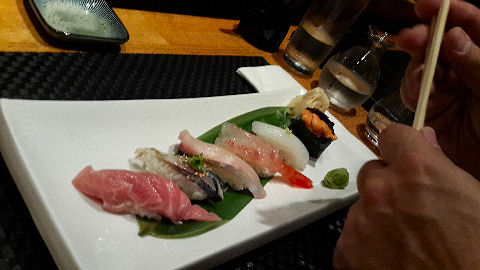 We wandered a bit, thinking about maybe some dessert somewhere, but neither of us is a big fan of sweets, so we decided to drop in at Kanoyama, my favorite sushi spot in the East Village, planning on just having a couple of pieces of uni as dessert – ended up ordering half a dozen sushi pieces each, and about that time, Henry buzzed me to say they were done at the milonga, so he popped up the couple of blocks and joined us. Since he doesn't eat sushi, we ordered him a chicken teriyaki, which turned out to be too sweet for him, so he doused it in sriracha and munched away reasonably happy.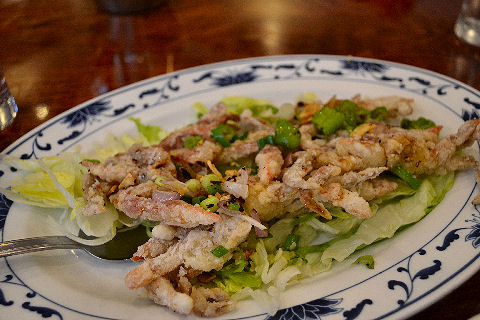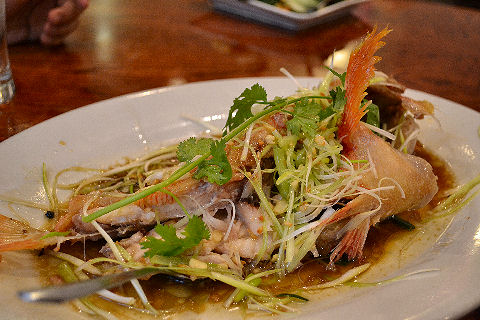 Next day, planned as a dim sum lunch and then a look at Ground Zero. David joined us again. We headed for any of a couple of decent dim sum spots, but it was one of those gorgeous days where everyone was out, and there were huge lines everywhere we looked. So, we just popped into the first place we spotted that had interesting stuff in the window and an acceptable looking menu. Yee Li, 3 Elizabeth Street got the nod, we shared a plate of rather good soft shell crabs, a whole snapper cooked with ginger, scallions and chilies, and some baby bok choy, and Henry wanted some noodles so he ate a bowl of lo mein with some vegetables while David and I polished off most of the rest of it.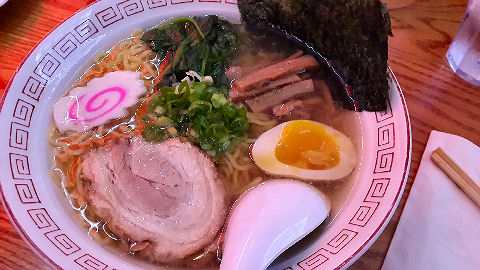 Dinner – Henry was feeling left out of the ramen experience. Now, we probably should have just gone back to Ivan Ramen and tried some of the other versions, plus more of the appetizers, but I thought, why not go back to where I used to go all the time when I lived in the East Village, Rai Rai Ken, 218 E. 10th St. Another friend, Bob, joined us, and we had some perfectly acceptable gyoza and shumai followed by a trio of different ramens that were, well, good, but not all that interesting. Much more classic, though I admit I was surprised by how light the broth seemed in each version. I don't know if they've changed chefs or recipes, just to lighten things up, or if time has just clouded my memory of their ramen, but I really remembered it being a much richer style. Pictured is their version of the shio ramen that you can compare to the Ivan one – more "stuff", but less flavor and less satisfying. Ah well.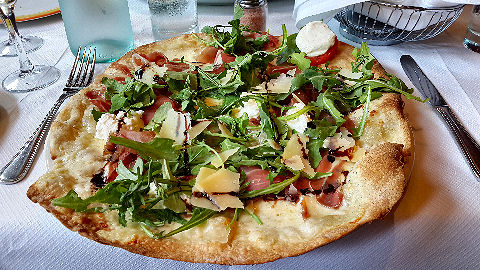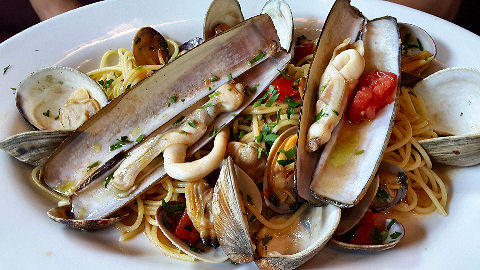 And, to finish off our New York experience… our last day I was showing Henry a bit of the Upper West Side – Lincoln Center, the Museum of Natural History, and the American Folklore Museum. I realized that across from Lincoln Center is Fiorello's, where a friend of ours works, and we thought we'd just stop in and say goodbye. He was off that day, but as we were standing there, Henry announced he was hungry and wanted to sit and eat, so though not planned to eat there, we plopped down at a table. It's not a place known for its cuisine, but it's sort of New York-ized Italian. And surprisingly, it was pretty decent. I had a (not) individual sized pizza of arugula, proscuitto and buffalo mozzarella – loved the cracker thin, smoky crust, the toppings were decent if not top quality – only finished about half of it though. Henry absolutely adored his three clam spaghetti – something completely new for him, and with the addition of some chili flakes it was, indeed rather good.
From there, we headed back to the hotel, picked up our bags, headed to the airport, flew to Lima, getting in very early yesterday. A bit of a hassle at customs (we're bringing back a bunch of things for friends of Henry – too many electronics – but we got everything through with having to pay a refundable guarantee at the airport) we'll see how it goes in BA on Sunday. Checked me into my hotel (first of two, moving neighborhoods, two days in each, starting at Casa Fanning in Barranco where I want to explore a bit). More soon.