"As an artist, you don't think about the parabola or the arc you're describing or where you're going to ultimately end up, you're just kind of crawling around, seeing what's out there."

– Michael Nesmith, musician, former member of The Monkees
Those of you who've followed me for some time know that one of the things I like to do, when I'm somewhere that it makes sense to do so, like Manhattan, is go on an appetizer crawl. Place to place with a friend or two, we order one or two small plates of food, a drink apiece, take up bar space for half an hour or so, and then move on to the next. It's great fun, and the friend who I started doing this with years ago was free at last minute last night so we up and headed out. We tend to mix it up with places that we've been wanting to try and those we happen upon serendipitously. It makes for bizarre dining, but it's loads of fun.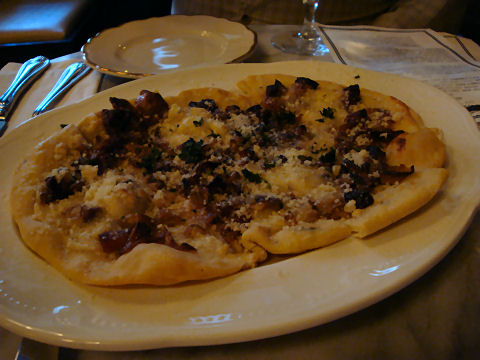 We started off at
Village Tart
, 86 Kenmare Street – the owner/chef, Pichet Ong and I worked at a restaurant together a few years back – we didn't know each other well, but I've been curious about his restaurant ever since he struck out on his own. Love the space – cute cafe style, with lots of pastries, he being primarily a pastry chef. But we were there for the start of our "meal", and a
pizzette
topped with bacon and onion jam didn't sound half bad. It rocked. A couple of house cocktails, one with prosecco and blood orange juice, the other with prosecco, lemonade and meyer lemon preserves were refreshing and tasty. And they gave us cookies to go as a consolation since Pichet wasn't there. Hmm… Pichet, cookies…. Pichet, cookies… it still would have been good to see him. Don't miss this place. 
[Closed]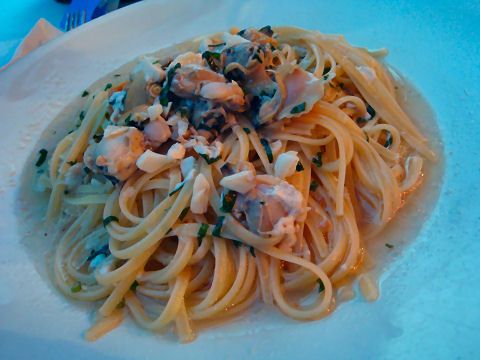 That serendipity factor doesn't always work wonders. We knew what we were getting into going just down the block to
Umberto's Clam House
, 386 Broome Street – infamous, indirectly, for being the site of
the execution of mob-boss Joey Gallo
nearly 30 years ago (Umberto's was actually located 2 blocks away, it moved in the mid-90s, though I remember the old spot well). Face down in his linguini with white clam sauce they say. Who could resist ordering a bowl of the stuff, plus a small plate of clams oreganata – the latter some of the teeniest clams I've seen outside of cockles, topped with unseasoned breadcrumbs and browned to oblivion on top. The former, overcooked pasta floating in a bowl of "sauce" that seemed little more than watered down clam juice, parsley and a bit of garlic, plus a few desultory clams. You can't say we didn't know what we were getting into, but that was half the fun. The customers, half of whom are tourists, the other half looking like they're right out of
The Sopranos
, are the rest of the fun. There's no wine or cocktails worth drinking here, we opted for a couple of Moretti beers.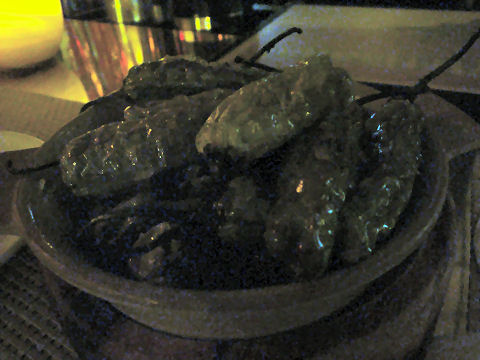 Moving on, we hit
Bar Artisanal
, 33 6th Ave, the newly redefined as tapas bar entry from Terrence Brennan of Picholine fame, and right next door to what used to be a restaurant called American Renaissance, where I had my first wine job. A shame we missed he 5-7pm all you can eat tapas happy hour because while they were tasty little nibbles, they weren't all that special and a little pricey for what we got. Excuse the photo, the place is pitch dark and I don't like to use flash in restaurants – I'm surprised I could manipulate it to this level. We had "blistered padron peppers" – mildly spicy, salty and bitter, with olive oil for dipping; some interesting little skewers of watermelon, olives and a balsamic dressing – refreshing at least; and what could have been the star, but wasn't, the sea urchin crema – a bowl of unctuous sea urchin pudding that was fine, but not exciting, and the whole bowl was served with two little pieces of garlic toast – at least give people enough of the toast for the amount in the bowl! A couple of glasses of palo cortado sherry from Lustau did alright as a fill in for the manzanilla sherry that the bartender couldn't find. 
[Closed]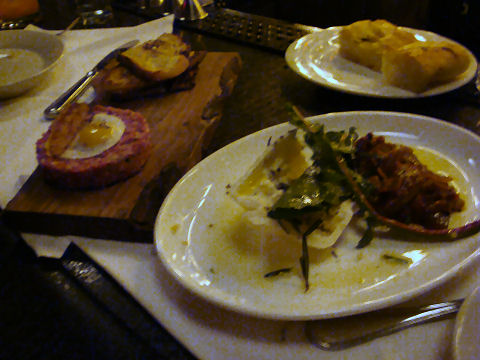 Moving a couple of blocks away we headed to
Locanda Verde
, 377 Greenwich Street, where we were promised a 45 minute wait for a table, and likely close to the same for the bar. Just about to walk out the door we spotted two seats opening up at the bar, I zipped back to the hostess and asked, she shrugged and said, if you beat everyone else to 'em, they're yours. We did. Another round of house cocktails, mine an interesting take on a Pimm's Cup, my friend's a take on some sort of fruity, bitter something or other. The special of the night, which had us rolling about in laughter, linguini with white clam sauce. We almost did, but we didn't…. The steak tartare with bits of black truffle and crispy
guanciale
was one of the better tartare's I've ever had; the
burratta
was fine on its own but a bit overwhelmed by the vinegary onion compote on the side and bitter dandelion greens. One thumb's up, one down.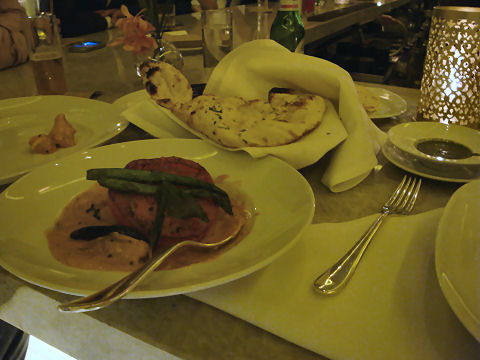 One of my favorite Indian restaurants in Manhattan is Tamarind, and they've recently opened up
Tamarind Tribeca
, just a block away from our last spot, at 99 Hudson Street. We were thinking this would be either the last or second to last stop – we could have kept going food-wise, but the alcohol was catching up, and it was already going on midnight. We decided to make it our last and ordered up the lobster masala – one of my favorite dishes from the original location, but this version decidedly different, overly spicy and unbalanced, the lobster was completely swept under the carpet by the sauce, which was best by itself on the fresh naan bread. A shame they didn't have the mint bread they have at the other spot – we were told they were intentionally doing both a different menu, and even for the dishes that were listed the same, different recipes. A shame, because this dish was one of the stars at the old spot and wasn't worth bothering with here. A glass of wine for me, an albariño that likewise was overwhelmed by the spice in the dish, and a better selected flavor-wise, if a wimp-out, on the part of my friend with a non-alcoholic beer.