I originally set out to do a little change-up on my Bite Marks series of quick looks at spots, more or less precursors to searching out places worthy of more in-depth reviews. I had this idea in my mind about doing something with Numb3rs that almost immediately began to feel like it was more work than it was worth. A first round stab at it was looking like a weird mashup of things with 7s and 8s in it. But I've decided to abandon that approach and just lump the first two spots looked at into round #20.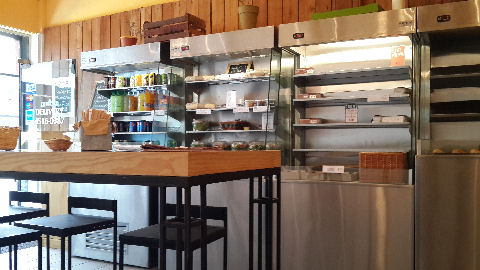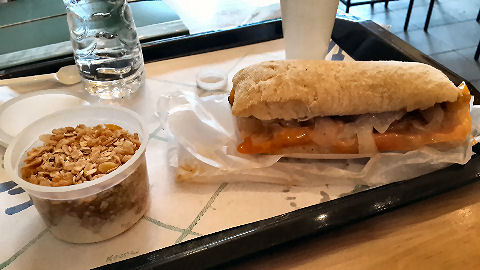 So among those 7s and 8s, I spotted 887 Coffee & Lunch, at Paraguay 887 in Centro. It's a small place that seems to do mostly a daytime takeout business. The two people working the counter would have been hard-pressed to be less attentive and less interested, in anything but whatever they were paying attention to on a laptop computer. There are a few tables, and a series of refrigerated cases where you can grab a drink, and some form of a milanesa sandwich, be it beef, chicken, or vegetarian, and a couple of wilted looking salads. There was a limited selection overall, as they seemed to be out of numerous things, I gather they don't make them on the premises, so when they run out of things, they simply run out. Of what was left, I grabbed a milanesa gringa (the only thing someone on Foursquare had recommended), which simply listed its ingredients as a milanesa, onions, cheddar cheese and bacon, and seemed to have been made of some sort of dried out slab of quinua (which it had said that on the little sign card) on a sandwich roll – with onions, cheddar cheese and bacon, that were the saving grace of the sandwich (and really? you're going to get a veggie milanesa and then top it with bacon? what's the point?). No condiments on the tables, and when I asked I got a single little packet of mayo. It was all just hard to swallow. And the yogurt and granola dessert was nearly as dry and nearly as tasteless. They bill themselves as a "health food" restaurant, but this was the sort of health food that gives healthy a bad name.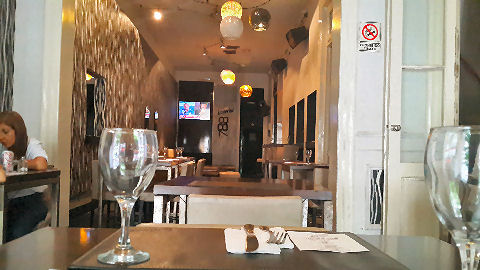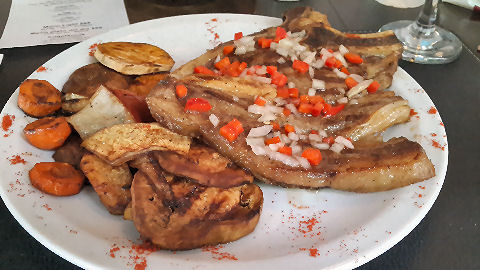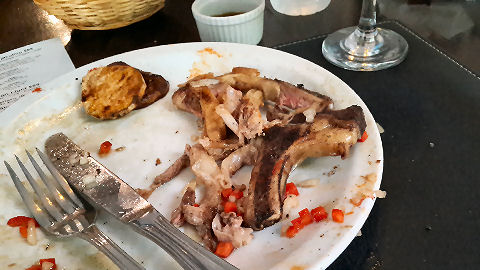 And then there was… Getting into the wayback machine, all the way back to November of 2005, not long after I moved to BA, I'd discovered what was, at the time, one of the first, and only, places around town offering up really creative Argentine fare. A trailblazer perhaps, of some sort? 788 Food Bar, at Arenales 1877, was the first place I gave a highly recommended review to in town, and a place that for a couple of years, I regularly went to and took friends to. I even used it for the start of my ficticious best appetizer crawl. Then, as more and more creative spots opened up, I left it behind for more interesting spots and, I haven't been back in probably six years. Oh, the hard times the place has fallen on. The room, once pretty and new, is now worn and tattered, with peeling paint, torn upholstery on the chairs, splitting and chipped wooden tabletops. The professional service that I so lauded nearly a decade ago has been replaced with a single waiter in torn jeans drooping low enough to expose his underwear, and a grubby t-shirt, and a complete lack of interest in what he's doing. The lovely, creative menu selection ("yeah, we don't do that stuff anymore"), setting aside the inflation that took a two-course menu at 16 or 18 pesos to 85 pesos with a choice of a steak, a stir-fry of chicken, or a piece of fried fish, and the elimination of the a la carte menu (at least at lunch, though at dinner, the menu selections are only increased by a couple of items, and the price goes up). But worse, the care and quality that went into the food coming out of the kitchen is completely gone. My steak, not much thicker than a couple of CDs stacked together, was cooked to shoe leather and was of such low quality that there was more gristle, fat, and bone than there was meat. No seasoning. And the grilled vegetables accompanying it were oily and burnt. I opted not to go for a dessert after that fiasco and just had a coffee, paid up and left.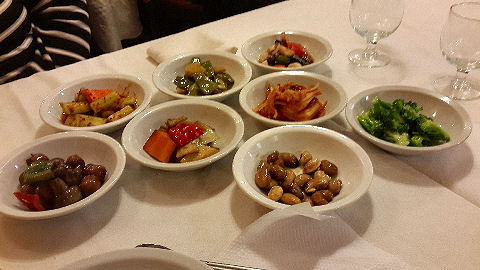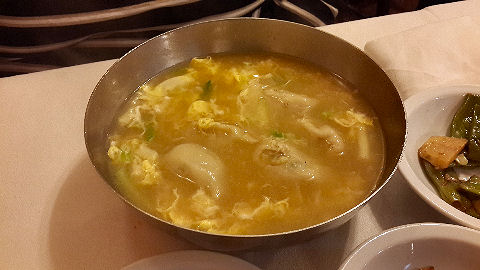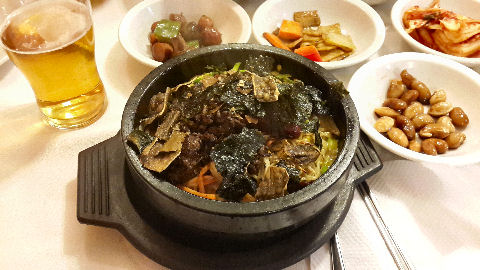 Next up in that series would probably have been a revisit to BA's first in the now ubiquitous trend of semi-hidden cocktail bars, 878, but I'll save that for another time, albeit still one of my personal faves. Instead, one of many revisits to Bi Won, Junín 548, more or less on the border of Recoleta and Congreso areas, a place I first reviewed about 30 seconds after I arrived in BA a decade ago. Absolutely nothing has changed. No, really, nothing. The ambiance is exactly as it has always been, perhaps, at best, mildly spruced up, but more just enough to not quite let it go to seed. I'm pretty sure the same waiters are working as have always been. The menu is identical other than pricing – okay, there's a change – dinner for two will now run you around 4-500 pesos with tip, still eminently reasonable for the food, which is as solid, authentic, and delicious as it was ten years ago (we obviously shared the ban chan dishes, and the waiter even brought more different ones when he saw how much we enjoyed; and then pork dumpling soup (manduguk), and a gobdol bibimbap in the piping hot stone bowl). It saves a trip to bajo Flores or Floresta to get a fix on Korean flavors – which does not negate that there might be a spot or two out there with more delicious and more authentic food, but past experiences would suggest otherwise. I've had it suggested that given its location, Bi Won gets a more touristy crowd, and that's true, but on most of my visits, the tourists have been Korean, looking for a taste of something familiar amidst the plethora of parrillas in the city. And I was just reading an article in the LA Times about a Korean dish I'm not familiar with, and a quick online search revealed that it's on Bi Won's menu – to be tried on the next visit!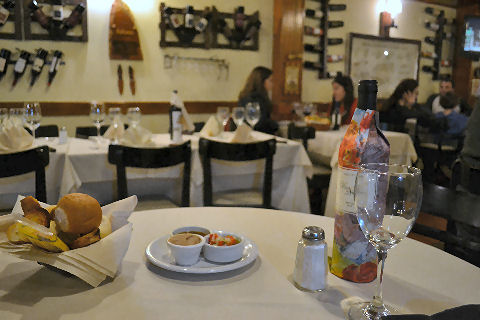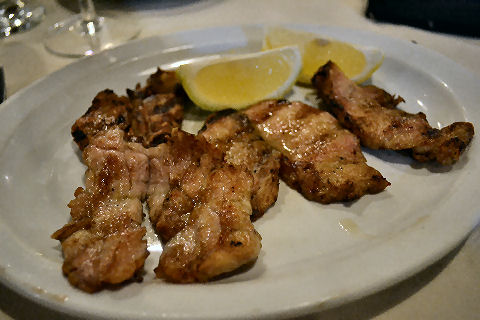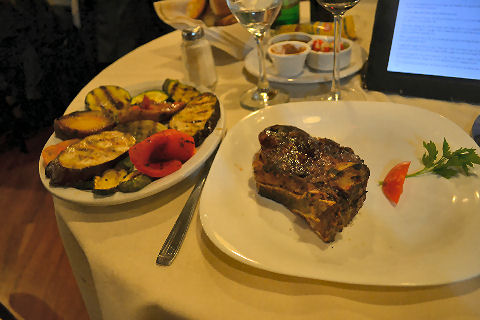 I have avoided, only semi-unconsciously, a visit to this steakhouse. First off, I rarely go to steakhouses, I'm just not that much of a steak eater (I realize that's hard to believe in a post with two steaks in it, but over time, it's true). Second, it's located in a spot that used to house another parrilla, a branch of the famed La Brigada in San Telmo, about which I have, let's say, an opinion, or three (rumor has it that much has changed since that post, nine years ago, but it's really hard to shake that experience off, as you might understand after reading the post). And, I kept hearing that the new spot was "really expensive, even for Recoleta". So I just kind of averted my eyes walking by it (which, given its proximity to home, is a near daily occurrence). But I was solo one recent eve, and feeling peckish, and even in the mood for a nice juicy steak, and I've also heard that the steaks were really quite good at El Estrebe, Peña 2475, so a quick call, and off I went. First off, nice ambiance – perhaps slightly marred by the arrival about half an hour after me of a really boisterous group of 20 20-somethings who took up a huge section of the room, and unfortunately my table was right next to them. But hey, steakhouse, folk out for a good time, I wasn't looking for a quiet cafe. Service is friendly and helpful, if at moments feeling a bit perfunctory. And, as happens at many restaurants, solo diners are often paid less attention than others – that was fine, I had something to read (yes, I'm one of those, I had my tablet with me – but just for reading, I didn't connect to the internet or anything). Bread is served up with a delicious pate, which I made my way through rapidly. Excellent chimichurri and salsa criolla, clearly fresh, and the former actually had some kick to it. A good number of the dishes on the parrilla menu are available in half portions, which is the direction I went – a trio of halves (a quartet counting the wine, actually). Great sweetbreads – perfectly cooked and tender with just a little hint of crispy edges – but, completely unseasoned. Not a lick of salt. And, the same is to be said for the equally dead-on cooking of a medium rare, bone-in sirloin (yes, bone-in, in Buenos Aires!) – prior to hitting my plate and my addition of it, no crystal of NaCl had kissed its surface, nor of the lovely grilled mixed vegetable plate (all of which was delicious, once salt was added, except the eggplant, which was still squeaky chewy under-cooked). Expensive, yes, but not the way others have made it sound – yes, I paid out 660 pesos for dinner with tip, but the half-portions are all priced at about 2/3 of the full portion price, so had we been two, sharing full portions, dinner would have been about 1000 pesos, for a pretty darned good steak-out experience, though a third of that would have been the wine and tip (and the 30 peso per person cubierto charge). I'll drop back again.