Buenos Aires –
Off we went yesterday to the Far East for a stroll in the sun.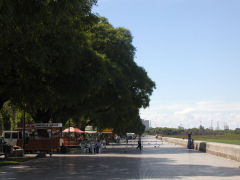 Calle de Canal is a long promenade along the southeastern edge of the city, just the other side of Puerto Madero Este and just this side of the Ecological Reserve. In beautiful weather, like yesterday afternoon, it is lined with folks sunning themselves, out bicycle riding or running, sitting on benches in the sun or under the large central grape arbor, or enjoying snacks from the line-up of vendors (hmmm, a comparison tasting of
choripan
comes to mind). The entire proceeding is watched over by the towering statue of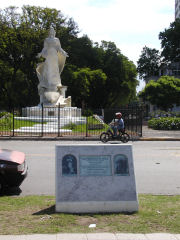 San Francisco de Paola, patron saint of sea folk.
St. Francis of Paola

Francis was born at Paola, Italy and was educated at the Franciscan friary of San Marco there, and when fifteen became a hermit near Paola. In 1436, he and two companions began a community that is considered the foundation of the Minim Friars. He built a monastery where he had led his eremitical life some fifteen years later and set a Rule for his followers emphasizing penance, charity, and humility, and added to the three monastic vows, one of fasting and abstinence from meat; he also wrote a rule for tertiaries and nuns. He was credited with many miracles and had the gifts of prophesy and insight into men's hearts. The Order was approved by Pope Sixtus IV in 1474 with the name Hermits of St. Francis of Assisi (changed to Minim Friars in 1492). Francis established foundations in southern Italy and Sicily, and his fame was such that at the request of dying King Louis XI of France, Pope Sixtus II ordered him to France, as the King felt he could be cured by Francis. He was not, but was so comforted that Louis' son Charles VIII, became Francis' friend and endowed several monasteries for the Minims. Francis spent the rest of his life at the monastery of Plessis, France, which Charles built for him. Francis died there on April 2nd and was canonized in 1519. His feast day is April 2. – CatholicOnline
—————
A group of friends who work for Tempranillo Imports, one of the top Spanish wine importers in the states, are in for the weekend enroute to visiting a couple of wineries in Mendoza and then in Chile. Last night found six of us off to a parrilla that they'd had recommended to them, La Brigada, Estados Unidos 465, in San Telmo. La Brigada ("the team") holds a special place in my tastebuds, or heart, or someplace, as it was the first parrilla I ever went to here. That's something that can be said by many folk, as it's one of the most recommended steakhouses around. (They also have a second locale in Recoleta that I haven't tried.) One of the things that fascinates me about this place is how many people will tell you "Oh, I love it because it's great steak and it's not at all touristy." Three things…
It's got really good steaks. By no means the best, but really good. We ordered a massive array of food – various sausages, kidneys, sweetbreads, hangar steak, ribs, and porterhouse; along with two different types of provoleta (cow and goat, the goat was superb!), and a couple of large salads. We quite nearly finished it all. I'd rate the kidneys the best I've had here. The steaks were above average, along with the sweetbreads. The sausages I'd put in the average category, the chorizos were served partially raw on the inside.
Outside of going to a huge Puerto Madero steak cafeteria reminiscent of a Sizzler or an Outback, and maybe La Caberera, La Brigada is easily one of the most touristy parrillas in this entire city. The walls are lined with soccer memorabilia, including near shrines to Diego Maradona. The waiters hustle and bustle and between them speak relatively fluent English, French, German, and for all I know, Japanese. They are adept in knowing what questions to ask of tourists from countries throughout the world. They do their best to take great care of everyone and make sure everyone has a good time. At the same time, watching the room, I think they managed to make at least one mistake, and at several tables more than one, in the orders of every table. You'd be hard pressed to find anyone local dining at La Brigada, and most of my friends from here know it only as a place that they take visiting friends from other countries, because it is comfortable for tourists, especially those not fluent in Spanish. It has a major plus of, despite being touristy, not having gone to tourist level prices (other than maybe the winelist). It's not on the inexpensive side, but it's not bad.
This was the biggie, and to be honest, if we hadn't been guests of someone else, would have walked out. Henry came late to meet us, and they wouldn't let him in the door, because it "wasn't a place for one you." I know racism is rampant in Buenos Aires, but that kind of crap drives me nuts. He called me on his cellphone and I came downstairs and told the door person to let him in, then I complained to the manager, who more or less just shrugged. Henry was, by the way, wearing a suit and tie, so it wasn't, I'd guess, an economic class decision.
[Edit: A few weeks later I mentioned this to a local friend who knows the owner of La Brigada, he decided to mention it to the owner, who apparently likewise shrugged and responded with "I have the right to choose what kind of people I want to let into my restaurant." I've also been told by half a dozen Casa SaltShaker customers that they'd wished they'd read this before going to La Brigada, as they (in all cases either black or very native looking latinos) were very definitely treated as second or third class citizens or simply not allowed in).] Sorry, but there are anti-racism laws here.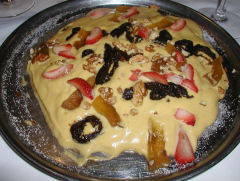 We finished off the evening with an array of desserts – the standard fare, which are fairly good versions here – panqueque de manzana, panqueque de dulce de leche, creme brulee (which our waiter assured us was far better than the flan, which would be more typical), sorbete de limón con champaña and our waiter's top recommendation, the panqueque a la italiana. The last was indeed excellent, and one of the more unusual desserts I've run into here. It's probably a diabetic coma waiting to happen, but tasty as can be – a crepe that has been caramelized in sugar so that it's got crunchy, crispy bits, topped with a rum sabayon, and a mix of strawberries, figs, stewed apples, and walnuts.
Two bottles of wine with dinner – Finca Flichman "Caballero de la Cepa" Malbec 2004, packed full of black raspberry fruit and spices, a forward, fresh, and quite intense wine – excellent! The second, a Humberto Canale Malbec 2000 that was a rich, rustic, and very traditional styled Malbec with dark plum and leathery flavors – a "serious" wine that opened up very nicely. A couple of notes about the winelist – there are no vintages on it, and the waiters don't know, in fact they basically grab a bottle and it is whatever it is – the fact that the Canale was a 2000 was probably a complete fluke, and just happened to be a leftover bottle from a couple of years ago, but was a nice treat for us. The reserve part of the winelist has neither vintages nor prices on it, and if you want something off of it, your waiter will "go check" to see what vintage it is and what price they are going to offer it to you for. We considered one of the higher end wines, the Yacachuyo that I've liked in a couple of tastings, and which would retail for the 1999 they were offering at about 400-500 pesos. They sized us up and offered it to us at 1800. Pass. [Edit: Another friend went in two days later and was offered the same bottle for 1500 pesos. Guess he didn't look as rich.]
While I liked the food at La Brigada, given the blatant racism and the "stick it to the tourists" attitude, there are many other parrillas I'd head to first.