"Once there were brook trout in the streams in the mountains. You could see them standing in the amber current where the white edges of their fins wimpled softly in the flow. They smelled of moss in your hand. Polished and muscular and torsional. On their backs were vermiculate patterns that were maps of the world in its becoming. Maps and mazes. Of a thing which could not be put back. Not be made right again. In the deep glens where they lived all things were older than man and they hummed of mystery." – Cormac McCarthy, The Road
So this week's dinners post is going to be focused on the first dish – oh, there were four more, and two of them were also revisions of past dishes, but minor ones, so the focus goes to this dish.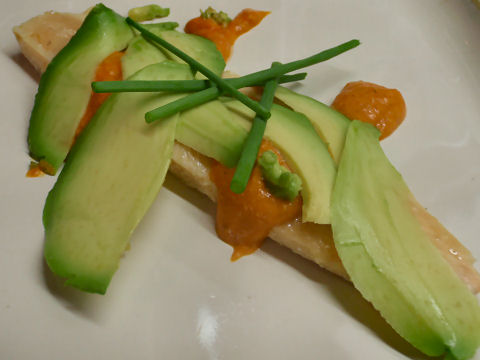 We start four years ago, in March, with a warm, olive oil poached trout topped with romesco sauce, shaved avocado, and chives.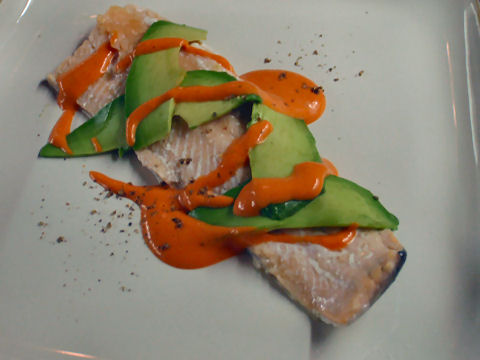 A year later, in February we have that trout now topped with a piquillo pepper sauce, avocado, chives, and a scattering of crushed multi-colored peppercorns. And a "cleaner" plating. These two versions have popped up now and again in dinners.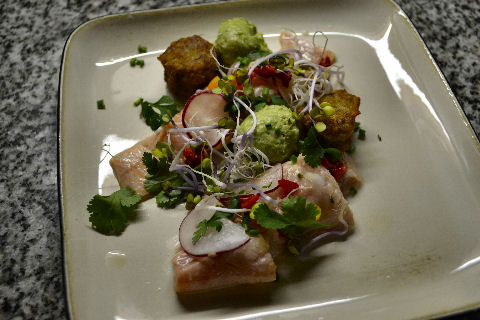 Which brings us to this last week and the start of the dinners, where, bringing in some of our more recent Andean influences, instead of olive oil poached trout, we have trout ceviche, cured in grapefruit and lime, accompanied by our avocado mousse. To give it some texture I though about various things and at some point was inspired by the trout ceviche version in this article, not to duplicate it, beautiful as it is, but to use potato for the crunch factor instead of something corn based. Which led me to making, well, latkes. Mini-latkes. The rest is the window dressing – some radish slices, cilantro, chives, piquillo chilies which are fairly mild, and ají limo chilies which are pretty spicy, and some radish sprouts. But the plating looks a little jumbled, despite lining things up in rows.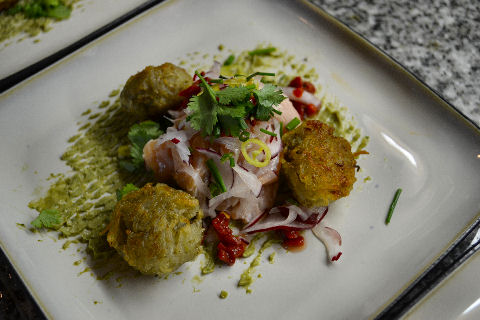 So I thought I'd put the mousse down on the plate in some sort of pattern – but I didn't want to just do a back of spoon smear, or a squiggle out of a squeeze bottle, and then I spotted a piece of plastic netting that was around a bottle – cut it open, cleaned it, and used a palette knife to spread the mousse across it onto the plate. Then balled up the trout ceviche, now cured in a mix of grapefruit, lime and lemon juices with some ginger – it needed a little more zing to it – cut the radishes in a fine julienne, plus the other accompaniments, and voila – the plating for the rest of last week!
So is this evolution, creation, or intelligent design? One could argue for any of the three I suppose.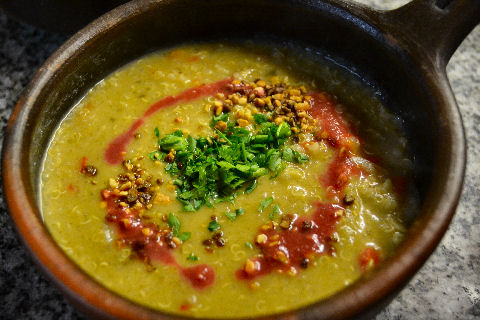 I have made peanut soups before, in West African, Bolivian, and Thai guises. I have even once, before, more than six years before, made a quinua and peanut soup. And, I have even written a whole post on the subject, though I'd completely forgotten that until just searching on the phrase "peanut soup", back when this blog, and I, were far younger. And now, we're back to quinua and peanuts, in a whole new, version 2.0. Vegetable stock, onion, garlic, red bell pepper, peanut butter, quinua, parsley, ancho and chipotle chili powders, all simmered together. Garnished with chopped parsley and toasted peanuts, and drizzle of homemade hot sauce around the top.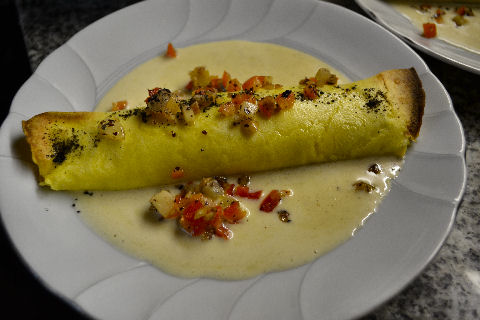 I suppose this dish, too, could be followed through its evolutionary steps. It started from a class where we made fagottini di radicchio, and on to a dinner with a gussied up version of the same. Then went through an evolutionary leap at another dinner. And, this week I made a turmeric infused crepe, rolled around grilled radicchio mousse, served over a roasted garlic cream sauce, and topped with a saute of pears, hazelnuts, and rocoto chilies. Next?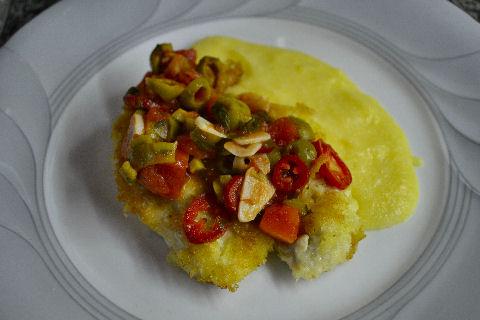 Our favorite spicy green olive chicken, crusted in parmesan and panko, then coated with our simmered sauce of tomato, garlic, jalapeño, green olives and herbs. This is the dish about which a reviewer on Trip Advisor wrote, nine months after having eaten here, "i was disappointed that our main course was fried chicken. As an american there is nothing special about breaded chicken." I'll bet his mama don't make fried chicken like this. And, as it usually does, since it's a dish we bring back over and over it's so popular, it got raves this week too.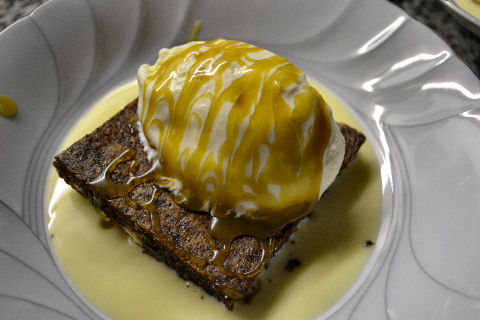 This is one I need to tackle on the presentation front. In fact, desserts are where I need to really work on presentation I think. You can take a couple of simple ingredients, like in the chicken dish above, and it looks pretty just sitting there on the plate, but a few simple ingredients on a dessert and it looks very plain. Much of that is color – bring in some fruit, flowers, things like that. I mean, what makes the chicken plate is the sauce – the vibrant red, green and cream colors. Here, we have brown and white. Yet, that deceptively simple two tone color scheme belies the creamy white chocolate sauce below, the rich, fudge-like flourless dark chocolate brownie, the toasted coconut and almond ice cream, and the mint and lemon zest caramel.
Okay, that's the new goal over the next several weeks – making our desserts prettier without resorting to garnishes that have nothing to do with the flavors in the dish – even this one could have had, say, candied lemon zest, toasted almonds and coconut scattered about, perhaps a mint leaf or two. And reshaping the brownie into something more individual serving-like so it doesn't just look like it was cut from a tray of them.
And that's dinner for last week.