"Shellfish are the prime cause of the decline of morals and the adaptation of an extravagant lifestyle. Indeed of the whole realm of Nature the sea is in many ways the most harmful to the stomach, with its great variety of dishes and tasty fish."

– Pliny the Elder
It was the age of Pisces, not Aquarius, or at least the weekend, and what better way to celebrate the start of this zodiac sign than a seafood dinner? It sort of set the tenor for the evening, and made it pretty clear what we were up to. Still, it wouldn't have been a typical Casa SaltShaker weekend without a few requests for reservations that included "I don't eat any kind of seafood, so could you just prepare a different menu for me?" Not happening, sorry, just come another weekend, or if you can't, well, you'll just have to dine elsewhere or suck it up and try something new. Actually, I'm amazed, week in and week out, how many people don't eat any kind of seafood – and not because of allergies, but they simply won't eat fish, shellfish, or anything related – and often, in conversation, it turns out they've never actually tried any – reminds me of the conversation in this post.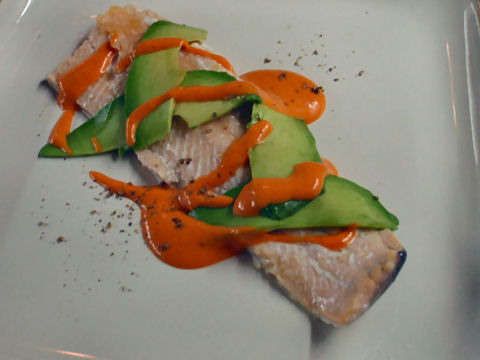 You've seen versions of this dish before here, the two key differences in this olive oil poached trout with shavings of avocado, are that instead of Romesco sauce, I went with a
piquillo
pepper sauce – fire roasted piquillos, egg yolk, olive oil, salt and pepper blended together; and a quick grind of multi-colored peppercorns across the plate.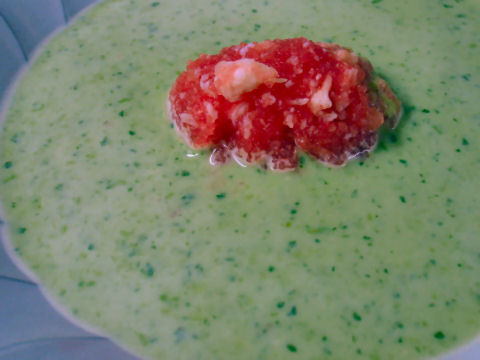 This one was fun – and pretty – it started on August 15, 2007, a note I made after Frank Bruni's review in the
New York Times
of
Cafe Boulud
. He mentioned receiving two starters – a peekytoe crab gelee and a chilled pea soup. My note says, in barely legible scribble, "combine together?" At least that's what I think it says, and if it doesn't it was still what I did. The soup itself, quite simple – saute a couple of leeks in a little butter; add a good handful of arugula leaves and just wilt them, then off the heat add a pound or so of blanched and shocked peas (or frozen peas that have been thawed), about a cup and a half of vegetable stock and a liter of milk – puree in a blender, cool and then chill in the refrigerator. Season with salt and white pepper. For the gelee, 4 cups of pureed watermelon and peeled daikon – I used about ¼ of a watermelon and about a 4″ piece of a good sized daikon. Take about a cup or a little less of that and sprinkle in 4 tablespoons of powdered gelatin, mixing it briefly to let it bloom. Then into the microwave (or in a pan) for about 1 minute to heat it up and activate the gelatin, stir it into the rest of the puree. Add some picked crabmeat (cooked), salt and white pepper. Chill until relatively firm. Serve in scoops, or if you want you could mold this – whatever works – with the soup around it.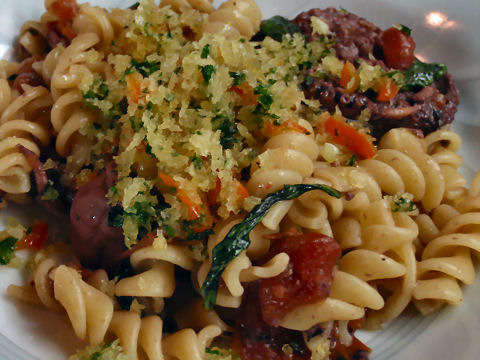 You may remember my raves about the fussili with braised octopus and bone marrow at
Marea
on my last trip to NYC. The recipe wasn't hard to track down, in fact the
Serious Eats
blog has a step by step illustrated walk through of how to make it. But, bone marrow is difficult to get here, and I also didn't want to just duplicate the recipe. Instead, an inspiration from it – I braised baby octopuses in a mix of chopped fresh tomatoes, garlic, red wine, basil stalks, salt and pepper, until it was very tender, about an hour and a half. Let it cool and set it aside. To serve, I cooked a five grain fussili (didn't make them, bought these, fussili are pain to make in quantity). I reheated the octopuses with a good splash of olive oil, then just before removing it from the heat, tossed in all the basil leaves I'd stripped from the stalks just to wilt them. Tossed the pasta with this sauce and plated it. To top it, I went with more or less the same topping Chef White uses, though a bit more of it and more intense – I sauteed chopped jalapeños and garlic in olive oil, added panko crumbs and parsley, a grind or two of pepper and salt, and spooned the mixture over the top of the pasta.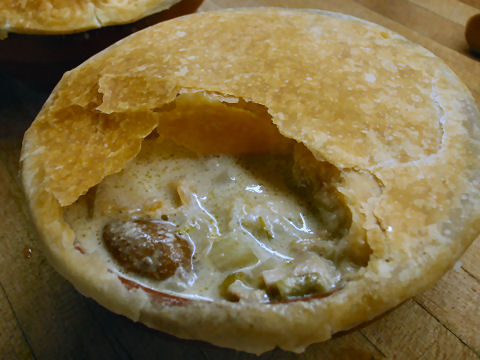 An oyster pot pie for the main course – fairly classic – sauteed chopped bacon, white onions, celery and lots of fennel in butter until they were soft and the bacon browned. Added some white wine and the liquid drained off of fresh oysters and a good number of tiny Andean potatoes. Just a splash more water to cover and let it all simmer together until the potatoes were cooked. Added the oysters, cut into bite sized pieces, and cooked 3-4 minutes, just to firm them up. Poured in a bit of heavy cream. Seasoned with salt and lots of black pepper. Ladled into the serving dishes, left to cool, then topped with empanada pastry. To serve, about half an hour before we needed them, into a very hot oven (425°F) and baked until browned and bubbly.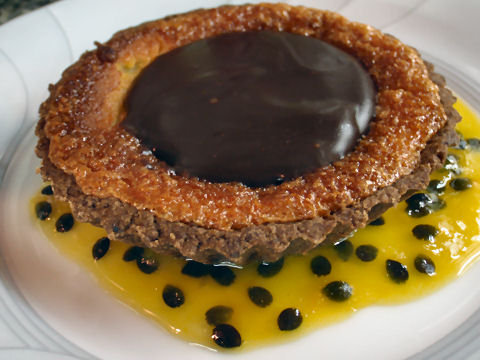 In Paia, Hawaii, there is a famous restaurant called Mama's Fish House. For many years they've had a dessert called
the Black Pearl
. How to make it has remained a secret, and although many brave attempts to duplicate it have occurred, I gather no one really ever has. What we know is that it involves chocolate and passion fruit, a favorite combination of ours already. I made no attempt at reproducing the dish, just used it as the inspiration for this passion fruit curd tart in a cocoa shell, topped with dark chocolate ganache and surrounded by fresh passion fruit pulp and seeds briefly simmered with some sugar. The filling, quite simple, I used the same recipe I use for the
lemon curd tart from Marion's
, just substituting strained passion fruit juice for the lemon juice and leaving out the zest – You could also do it without straining the juice and have the crunchy seeds be a part of the curd.