"If thou tastest a crust of bread, thou tastest all the stars and all the heavens."

– Robert Browning, poet
As always, playing around with new breads.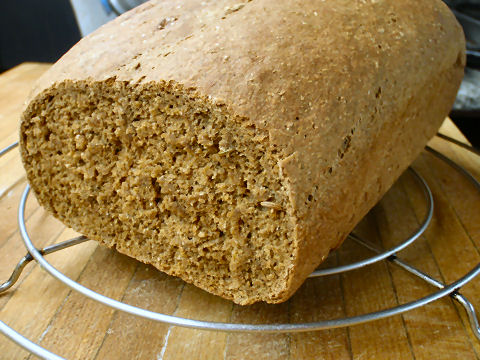 Nothing quite like good pumpernickel rye. Fairly classic recipe with a couple of minor adjustments:
1⅛ to 1¼ cups warm water
25 grams fresh yeast
1½ tablespoons corn oil
⅓ cup molasses
2 teaspoons salt
1½ cups bread flour
1 cup rye flour
1 cup whole wheat flour
3 tablespoons gluten
3 tablespoons bitter cocoa powder
1 tablespoon caraway seeds
Crumble the yeast into about 1 cup of the warm water and let proof for five minutes. Add the remaining ingredients and mix. Add more water as needed to bring it together in a ball. Knead for 5 minutes until relatively smooth. Let rise, covered, in a warm place until doubled in bulk (if you want to develop the flavor more intensely, let rise in the refrigerator overnight. Punch down, knead for 30 seconds and place in a standard loaf pan. Let rise until doubled again. Bake at 400°F/200°C for approximately 35-40 minutes until the bread sounds hollow when thumped on.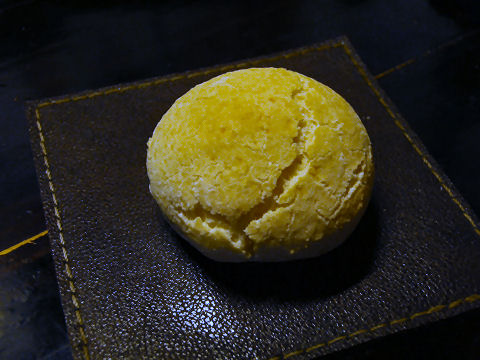 The chipa of Paraguay, or pão de queijo of Brazil is one of our favorite little addictive snacks. A gluten-free cheese bread puff – a basic batch makes about three dozen and we have trouble making them last overnight…. I've experimented with different cheeses (and in the end, less cheese, it was just too much in the original recipe I learned), and just recently, with the addition of roasted garlic, and finally have a cheesy garlic bread that really ought to put The Olive Garden out of business. Hmmm, maybe I shouldn't post the recipe, they might steal it….
500 grams manioc starch (yuca, cassava, mandioca…)
100 grams of cold butter, cut in small bits
90 grams of Pecorino Romano cheese, grated
1 head of garlic, roasted and the pulp mashed
2 large eggs
200 milliliters of whole milk
1 teaspoon salt
Combine the starch and butter and with your fingers work it through (okay, it's a weird feeling, I have to admit, handling manioc starch, like cornstarch, tends to send shivers up my spine) until you have a sort of sandy consistency. Add in the remaining ingredients and mix well to form a soft dough (add the milk a bit at a time so that the mixture doesn't become too soft, it should hold together and not be too sticky). Roll out into small balls, about the size of a walnut and place on a non-stick baking sheet. Bake at 400°F/200°C for approximately 15 minutes until puffed and browned (they'll end up about the size of a ping-pong ball). Try to resist eating long enough to get them to the table.