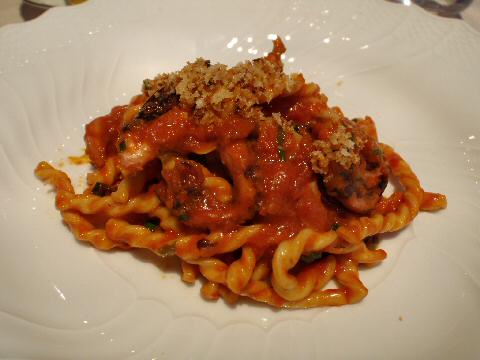 It's pretty, isn't it? Visually I suppose it doesn't have a one-two punch kind of impact, but flavor-wise, it sure does. This is the much talked about fusilli with red wine braised baby octopus and bone marrow at Marea, 240 Central Park South. Another spot I was wondering if it would be hard to get a reservation at, since they'd gotten two Michelin stars on Monday – at lunch, it was about 1/3 full (the same guys, Michael White and Chris Cannon, both casual friends, picked up one star for each of their other two restaurants, Alto and Convivio, so I'm happy for them!). I'd been both told by several people that this pasta was pretty much "the thing" this season in terms of talked about dishes in the gastronomic world here, and, that Marea was going to be expensive, really expensive.
Well, yes and no to the latter. The dinner menu, where everything is a la carte, you could certainly rack up a bill quickly, with appetizers in the high teens/low twenties, pastas in the high twenties, and main courses if you kept going in the thirties, but at lunch, it's all prix-fixe. You have a choice of a two course menu, choosing one dish from among the antipasti and the crudi – pretty much everything being seafood – and one from either the pastas or fish/meat plates – again, mostly seafood, that is Marea's forte – and that runs just $34. The only thing, the portions are really pretty small if you're hungry – we actually thought the first course were some sort of amuse bouche that had come out from the kitchen until our waiter told us those were the dishes – the tuna crudo was three small cubes of tuna with oyster crema and crispy artichoke shreds, the crab antipasti with grilled watermelon (which didn't seem to be grilled, but we'll take their word for it), olives and mint, was a small "v" on the plate. On the other hand, both, especially the crab, were packed with flavor and great combinations. We joked a little about how small the second course, the pasta, might be and whether we'd have to go out for pizza afterwards, but I'm not sure either of us envisioned portions of around a cup of pasta. Here, however, flavor won. Both the pictured pasta, and our spaghetti with crab, sea urchin and basil were simply stop in your tracks and pay attention good. Of course, that's another reason to want a bigger portion! You can order an additional plate of any of the dishes for another $17, though, the bargain is probably to order the five course tasting menu with two primi, a pasta, a main course, and a dessert, for $75 – and, according to our waiter, all portions the same size as what we were having on the non-tasting menu, something to think about. Desserts were mixed – the zucchini torta was just okay zucchini bread, though the accompanying lemon crema was excellent, the fried polenta dessert with blackberry compote was amazing. So, expensive, yes. Impeccable service. Great food though too small of portions. Beautiful room. Certainly worth it at lunch!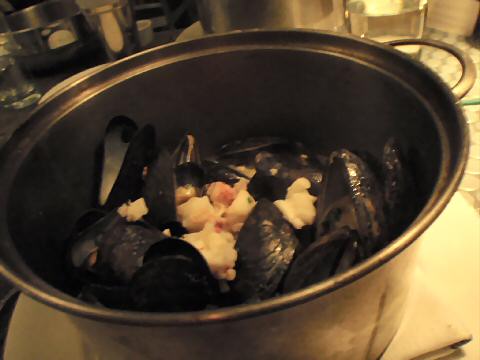 For dinner, I wanted simple. I'd had plans for one of our famed appetizer crawls, but unfortunately my usual companion on these had to cancel, and so did the other person who was joining us. Another friend suggested Flex Mussels, 174 E. 82nd Street, which is close by to where I'm staying, and it sounded like a perfect casual night out. Then he cancelled. I went anyway, took a book, read at the bar, and then another friend came and joined me. A plate of six pristine oysters on the half-shell – all different, though the waiter hadn't a clue which was which, and it really doesn't matter, does it? Then a pot of mussels – available in numerous ways, I decided on poached in lobster chowder – haven't had lobster in eons – we don't really have any in BsAs. Delicious, simple, perfect, inexpensive. A bottle of Coney Island "Albino Python" White Lager brewed with fennel, ginger and orange peel went head to head with the shellfish perfectly. My friend went for a perfectly cooked piece of cod with grilled vegetables, and, as he put it, a completely unnecessary tomato-ginger jam which he moved off to the side. Flex Mussels (cute name, no?) is also famed, or at least talked about, for their doughnut plate for dessert – a choice of four doughnuts but only two flavors, or six doughnuts in six different flavors (and only a couple dollar difference), left no option other than to order the six and just sample a bite of each. Great doughnuts in and of themselves, but the flavors, for the most part, not all that distinguishable – they've simply fried up a bunch of big round doughnuts and then injected them with syrup or sauce – some of them stood out, most didn't. Stick with the shellfish here – should have just ordered more mussels!