Part of why I'd planned two days in Lima before moving on to La Paz was that the young man who used to work for us that I mentioned in the beginning of this series of vacation posts, whose mom has a restaurant in Lima, was going to be in town helping his mom rework the menu. I'd offered to come and spend some time with him and work through some of the ideas. He didn't show up – he cancelled his trip and just didn't let me know until the second day I was in Lima. Ah well, youngsters, what can you do? I'd planned out a morning at the Surquillo markets – two of the food markets in the southern part of the city, and headed there on my own – the Mercado #1 was only a few blocks from my hotel and the #2 just a bit further, but still easy walking distance. There's not a lot that either market offers that I haven't seen before – mostly because they're offering much the same produce as I've seen in the Trujillo markets – despite being an 8-9 hour drive apart, they're both on the coast and share similar climates and sources of produce. So, pictures.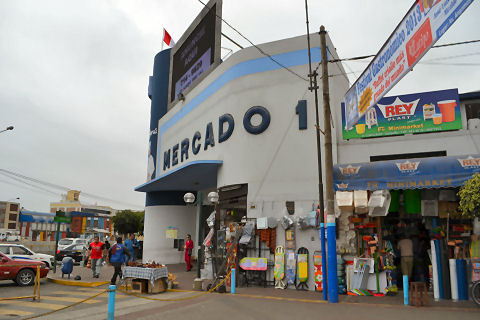 The main entrance to Mercado #1.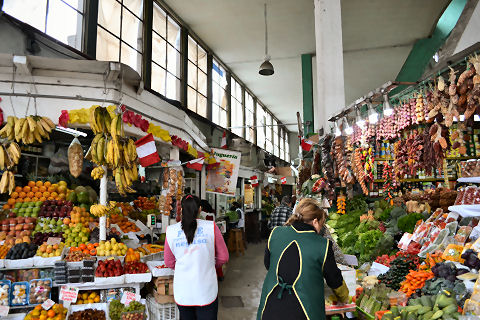 It's a big circular building that's got a selection of food stands covering pretty much everything you might want – an outer circle and then an inner grid that's mostly butcher stands.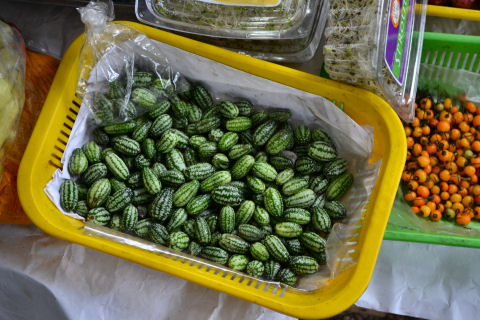 Okay, these were new. Those are, yes, watermelons, about the size of a thumb. What great little watermelon pickles those might make. The woman selling them had no idea what someone might do with them, but she thought they were cute. She hadn't sold any yet.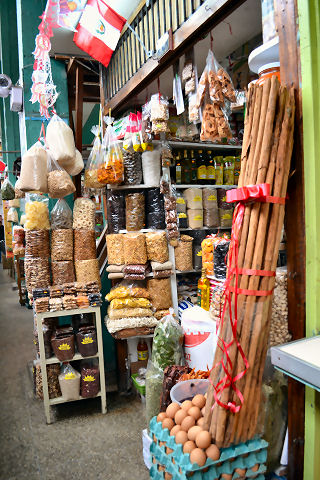 The biggest cinnamon sticks I think I've ever seen.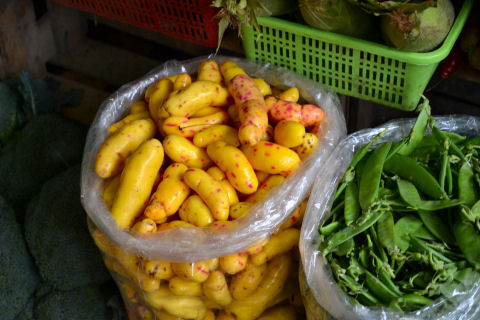 I think these are olluqutios, if not, a tuber quite similar in look – they are a bit shinier and smoother than the ones we get in BA.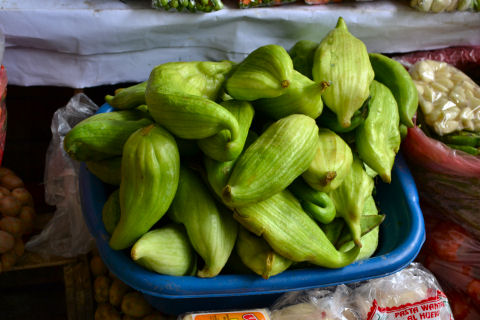 Caiguas – a tree pod that's used as a vegetable. Very mild flavor, we sometimes just slice them and add them to salads.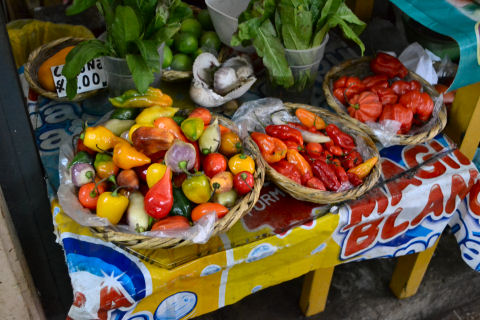 A variety of chilies.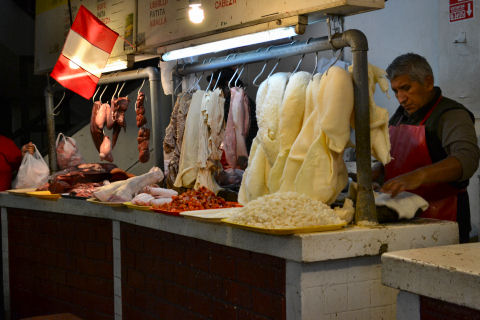 And, all the offal you might consider eating.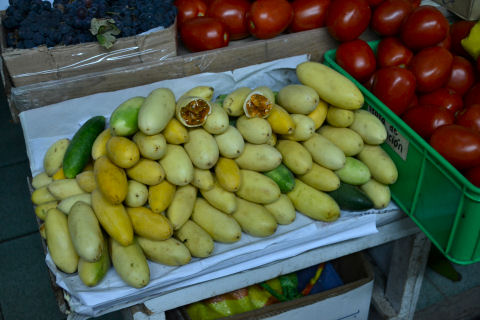 Tumbas – close relative of passionfruits – I found it a little more acidic, but the young man who gave me one to try said that's because he gave me an underripe one instead of a ripe one (the brighter yellow, the riper). Umm, okay, thanks.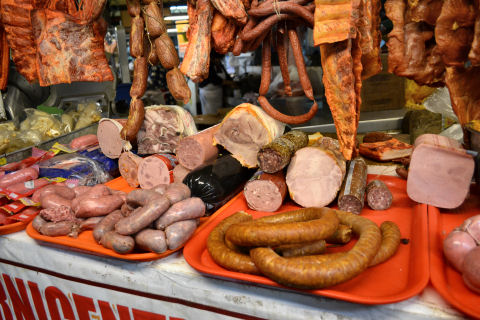 Sausages and cured meats.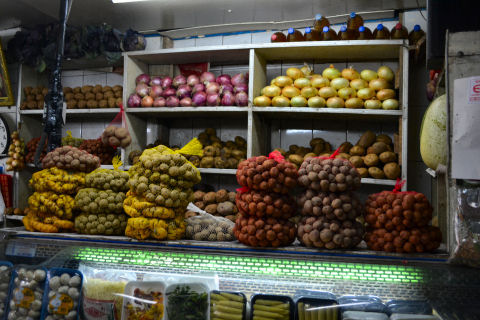 A variety of potatoes and onions.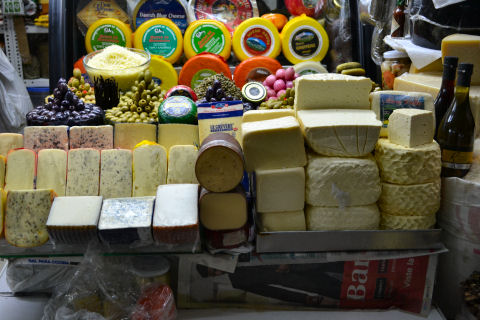 And cheeses galore.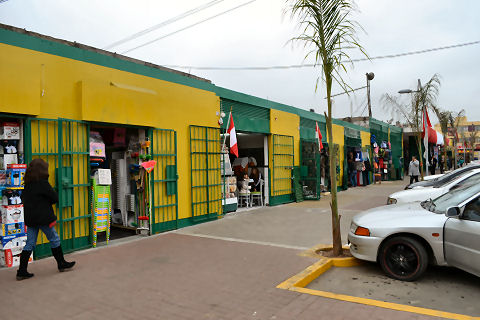 Mercado #2 is a low, single story rectangle taking up a square block or two. It's, shall we say, grittier.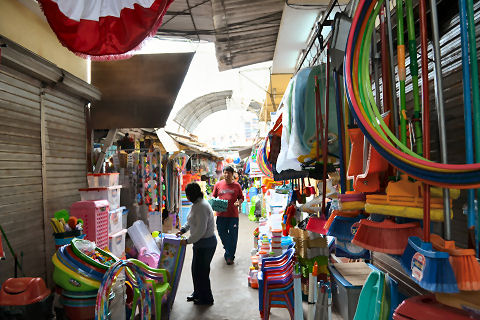 It's also more of a flea market, or at least a mixed market, with everything from household goods to toys to clothing to some produce and meats, though not near the selection at Mercado $1.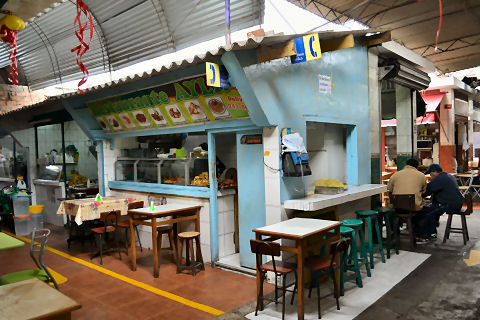 It does, however, have food stands where you can grab a bite to eat. Did I mention grittier?
On to La Paz….