I love it when a menu just completely turns out the way I want it to and I don't find myself needing to make any adjustments over the course of the week. It doesn't happen often, usually there's a little tweak here and another one there, be it in seasoning, an ingredient, or, just presentation. Not this week. Makes my life sail smoother.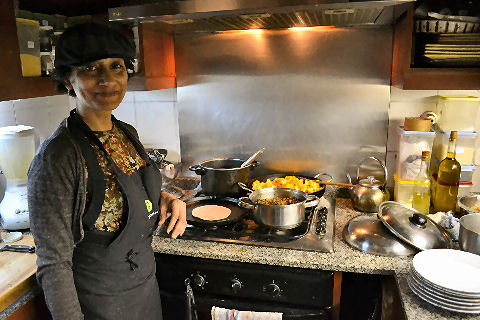 But before we get to that, we began the week with a visit from friend Ronica Sajnani of Ronica's Divans in Toronto, who has returned to BA for her usually annual but this time two years have passed visit. As always, we love to give her a space to show off her cooking here in town and, at the same time, get to sample some of it ourselves! It's always hard for me to give up control of my kitchen, but this time I actually managed to stay out of her way and get some work done on my book while she cooked away. It was a shame we didn't fill up the evening this time, but the seven guests who came seemed to enjoy themselves thoroughly!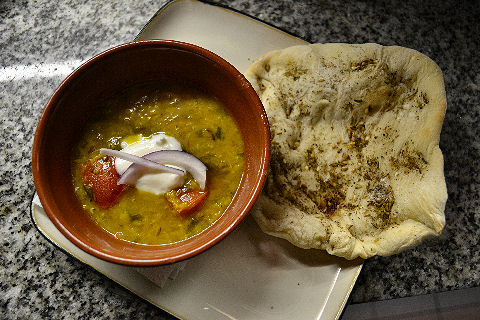 I missed getting a photo of the first course, a vegetable kathi kebab – more or less a chickpea and spinach wrap with an herbed and spiced yogurt. But I grabbed a shot of the masoor daal – and, okay, I did slip into the kitchen at one point because I couldn't deal with the thought of her using plalin flatbreads from the supermarket for her daal and so I whipped up some quick ones topped with cumin, sesame, thyme and mint. She didn't seem to mind. The dish was a hit, too, and several people had second bowls of daal with more bread.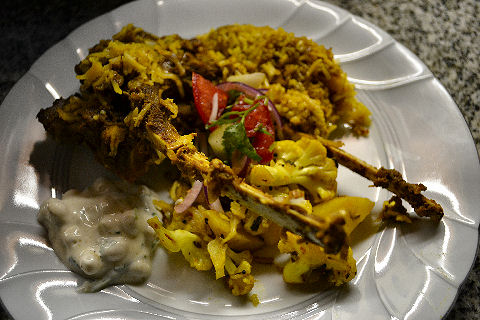 Her lamb biryani was also a winner, served up with rice, cauliflower and raita, piled high on the plate. Okay, nobody's allowed to harass me about my plating anymore. Deliciousness more than made up for the heaped look!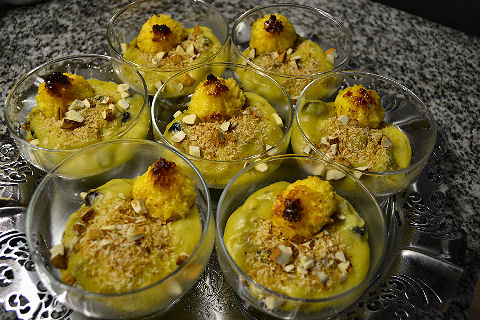 And, the evening finished off with a semolina pudding, kheer, topped with toasted coconut, almonds, and little coconut macaroons. Seven folk wandered out happy as क्लैम.
On to our trio of Casa S dinners for the week.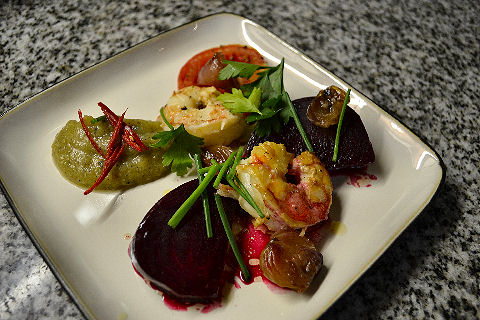 Warm salad of sauteed prawns, roasted beets, roasted tomato, caramelized shallots, smoked eggplant puree with lime and worcestershire, orange and beet vinaigrette, scattering of red chilies, parsley and chives.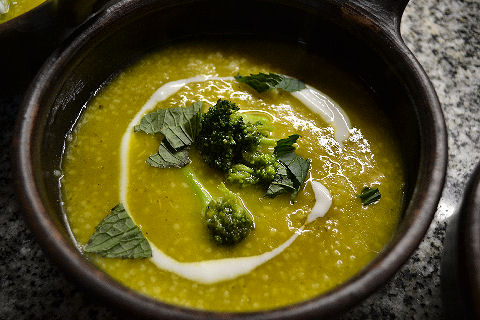 Brought back a favorite broccoli and lemon soup, decided to add some torn mint leaves to the mix and it just adds a nice little flavor dimension. Semi-hidden away (you can see some floating in the soup), a little steamed couscous in each bowl for texture.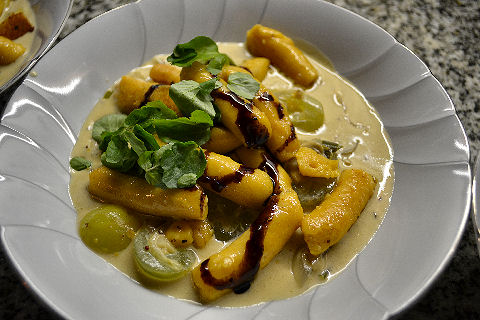 I was perusing through some notes from many, many moons ago and came across a recipe for gnocchi parisienne. I'd completely forgotten that French gnocchi even exist, to be honest. I mean, everyone knows potato gnocchi, many have encountered semolina gnocchi, but how many folk know about gnocchi made with choux paste, the same dough used to make eclairs and profiteroles? Even a quick online search didn't turn up much more than Thomas Keller making an herbed version of them at one or another of his restaurants, and some notes about Jacques Pepin's version from years ago – for all I know Keller is the only modern chef really doing these. I'd also forgotten how good they are – light, delicate, with a cheesy center. I admittedly made them a little longer than they're usually piped out, but that was intentional, normally they'd be about half the length of these. The choux paste is simmered like spaetzle until they float and partially cook through, then drained, dried, and either baked or, as I did, sauteed (well, wok stir-fried) in butter and olive oil. The gnocchi themselves, in this case, are flavored with smoked paprika, coriander seed and gruyere cheese. The sauce below is a mushroom and camembert cream sauce with some added grapes for acidity and sweetness. A drizzle of reduced balsamic vinegar over the top and a scattering of watercress leaves completed the dish. These will be coming back in various guises.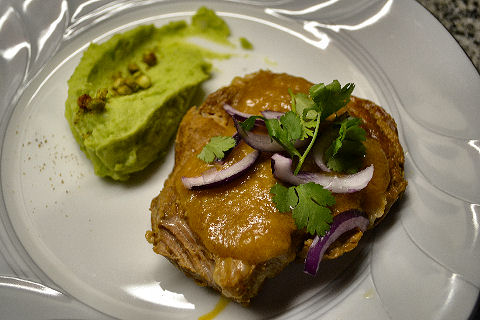 Modernizing a classic adobo de chancho a little bit, or perhaps, fusion-ing it a bit. The pork shoulder prepared classically, but then I took some of the cooking liquid and mixed it with a brown roux to create a thicker sauce to coat the top, and then a scattering of red onions and cilantro. Accompanying, a pea and potato mousseline with a sprinkle of deep-fried and spiced split peas on it for texture and added oomph. I knew I was going to get some flack from Henry for messing with a classic, but when he tried it, all was forgiven, so I know this one works.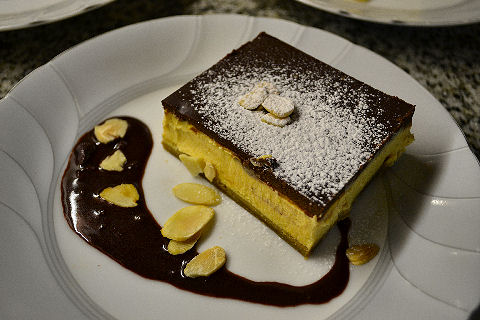 I was going to bring back the last version of our butternut squash "napoleon", but I wanted a more interesting presentation. I kept the flavors but changed up the dessert – espresso shortbread crust, butternut squash and cinnamon cheesecake layer, dark chocolate and mace ganache, toasted almonds, powdered sugar, and a malbec port reduction with espresso and dark chocolate.
I wouldn't change a thing.