We've had just three Cinco de Mayo dinner weekends since we opened Casa SaltShaker. The first was actually our official opening night, in 2006 (we had some trial run dinners beforehand with invited guests, this was the first open to the public one). Now that first one, we actually did nothing related to the Mexican feriado, instead choosing an obvious foodie sort of theme, what would have been James Beard's 103rd birthday. We were open just the single night, me figuring out how this was all going to work or whether it was at all, Henry discovering that waiting a table wasn't exactly as easy as he'd always assumed. Why I thought we could handle different reservation times at two communal tables escapes me at the moment, and thankfully, we escaped from it quickly. (Thanks to Michael & Nestor, Emma and Ollie, Heather & Lisa, Agnes, Bruno, and Rene, plus a couple of guests some of them brought along, for making the night a whopping success!)
In 2007, when the date also fell on a weekend, I decided against the celebration and our theme was Vowels, not, in recollection, one of our most successful dinners, though based on guest comments for the eve, it was better than I recall it. The second time around was just last year, when we decided to go full tilt Mexican style on the menu, garnering us a nice food and travel blog write-up. And finally, this year, where we went semi-Mexican, taking into stride our new style of menu – definite flavor inspirations from Mexico, but not necessarily the more traditional dishes.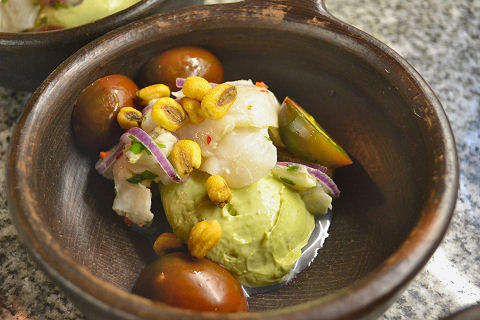 Started off with tequila sunrises for our mixer cocktail, then at the table we began with a ceviche – lenguado (sole) as the fish, cured in lime and lemon juices, salt, pepper, garlic, ginger, celery, red onions, ají lino chilies and cilantro – Henry's family recipe. Bringing in the oft-times used Mexican elements of avocado and tomato, I whipped up a guacamole mousse (ripe avocados, cream cheese, lemon juice, cream, garlic, cilantro, sweet wine, rocoto chilies, salt, pepper and a little gelatin to help it set), and garnished it all with some tomatinos, a sort of red and green mottled cherry tomato relation, and some fried corn kernels. Paired with Codorniú's Brut Rosé from Mendoza.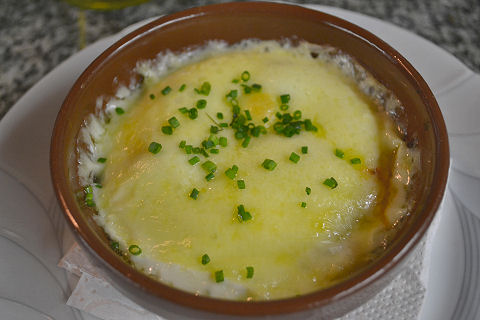 I don't know what it is about this dish, but virtually every time we have a Mexican themed night, I bring it back – it's so simple, but so good. Henry convinced me last time that it was too soup-like to serve after a soup, so I decided to simply use it in place of a soup this time around. It's a puree of roasted tomatoes, garlic and jalapeños, mixed with caramelized white onion. Heated up in a casserole dish, slip in a whole egg, cover with mozzarella cheese (or any other good "melty" cheese), and stick it under the broiler until the egg just sets and the cheese is all bubbly. Punta Final's Sauvignon blanc was the pairing.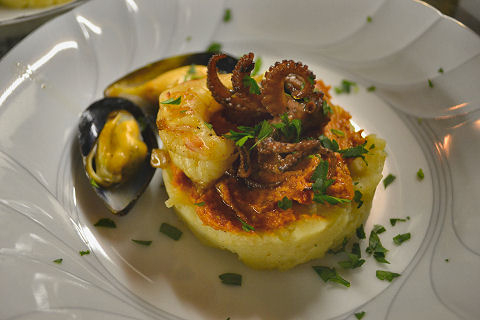 It's been so long since we've had a weekend where I didn't have two or three people eschewing shellfish for either allergy or preference reasons, that I decided upfront there would be at least one (turned out just one) dish that jumped into that arena – and turned down half a dozen reservation requests that demanded none of the creatures. I based this around a modified Peruvian causa, the base a puree of potato flavored with olive oil, lemon juice and ground chipotle pepper. Warmed up to serve it, spread it with a sun-dried tomato and toasted cashew puree. Served up with mussels on the half shell that had been tossed a la plancha – actually just "grilled" in a very hot cast iron pan, prawns that had likewise been cooked in the same pan with finely diced red onion, garlic and smoked paprika, and baby octopuseseseses… the first night I simply cooked them much the same way as the shrimp, but several guests weren't overly excited by the texture – decided for the followup nights to olive oil poach them in advance in oil, garlic, thyme, oregano, and chilies, and then simply toss them into the cast iron pan to lightly caramelize the surface when we were ready to serve them. Went over far better. Served with Monteviejo's "Festivo" Rosado of Cabernet and Malbec.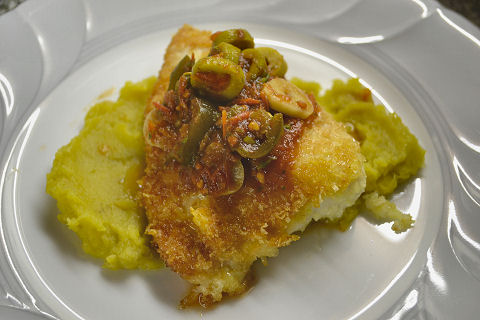 I debated between bringing back the Veracruzano style fish that I whipped up for our Peruvian-Mexican spice battle four years ago, and doing something similar with chicken. And then the Italian influence came in with one of my favorite Tuscan dishes of, essentially, fried chicken in a piquant sauce of olives, garlic and pickled cherry peppers. I flattened out chicken breasts, dredged them in flour, egg, and then a mix of panko crumbs and grated pecorino Romano cheese, browned them quickly in olive oil and finished them in the oven. The sauce, a simmered reduction of finely chopped plum tomatoes, sliced garlic, green olives and pickled jalapeños, some balsamic vinegar, salt, pepper, and at the last minute, wilting in some mixed herbs – parsley, chives, basil, celery leaves – and spooning it all over the top. Served over a sweet potato puree. Paired with Viniterra's Carmenere from Mendoza.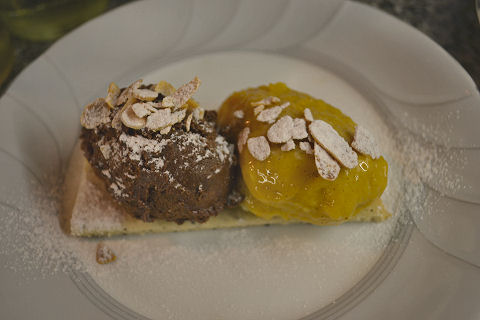 And building on our butternut squash napoleon that I've served several times recently, some change-ups that I really like. Instead of the phyllo dough crisps with sugar and pistachios, I made espresso shortbread. Topped that with the same butternut custard flavored with a little vanilla and cinnamon, and a second scoop, our dark chocolate and olive oil mousse with a touch of mace and sea salt. Toasted almond slivers and some powdered sugar over the top. Accompanied with Latitud 33's late harvest Semillon.
All around, a great Cinco de Mayo weekend.
Now, me, finishing up my next article for the BA Herald for this coming weekend, packing, and heading off tonight to the U.S. for a couple of weeks. Reportage as I have time around my downtime….