You don't want to know, seriously. Five dinners, four different menus, no wonder I'm behind on my social media obligations. I'm not going to go into great detail on the courses, most of them are dishes we've done before.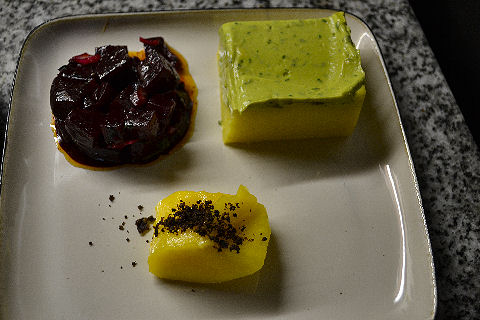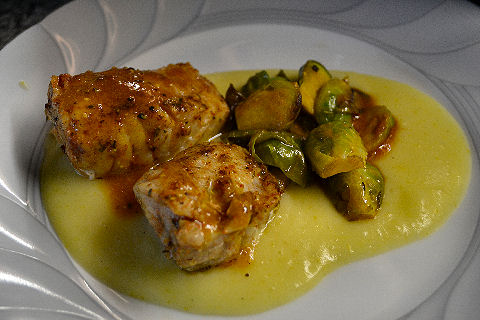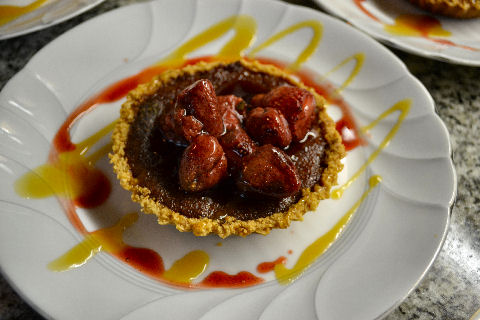 Let's start with a group of seven…. The instructions, "gluten free, dairy light".
Gluten-free, dairy free brioche, Gazpacho with chili cucumber sorbet, Roasted beet causa from the previous week's menu, replated to look a little nicer including turning the avocado wedge into a puree, Smoked herring risotto sans cheese, pictured above, spice dusted Brazilian sandperch over a yuca puree and accompanied by caramelized brussels sprouts, followed by a Honey tart with almond flour crust, roasted strawberries, caramel sauce with just a touch of dairy.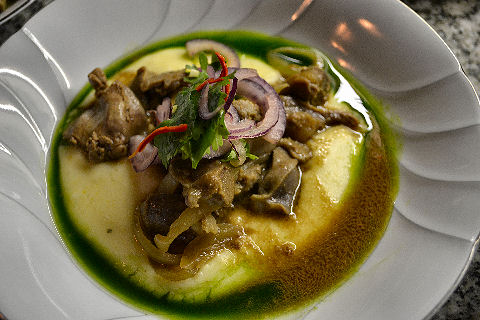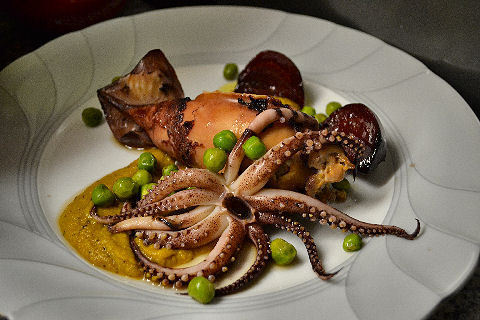 Two years on a return of the Cooks Tour group, this time with only one dietitian in attendance, the rest a mix from various walks of life, and this time around, no restrictions on the menu. My kind of group and I decided to play on a couple of the courses.
A repeat of the gazpacho from the evening before, followed by our sweetcorn and green onion cheesecake, then, pictured above, chicken giblets (the whole works, gizzards, hearts and livers) in a garlic sauce with yuca puree, arugula puree, and cilantro red onion chili salad, then a retread of our recent happy discovery of using calamari as sausage casings, this time filled with a rabbit merguez sausage – sitting over a carrot hummus, accompanied by fresh peas, roasted beet wedges and quickly sauteed tentacles, and, finishing off the evening with our favorite challenge for foodies, to which this group rose admirably, an eggplant tarte tatin with orange cardamom caramel.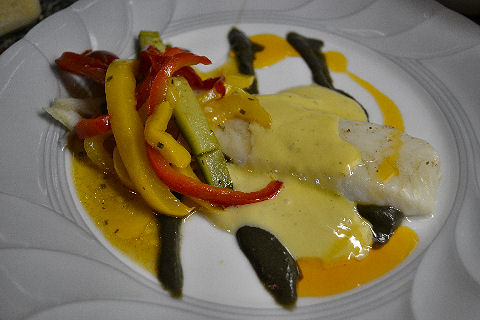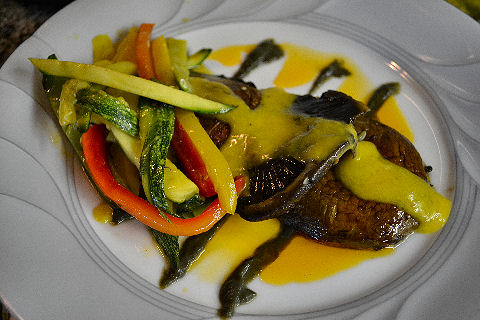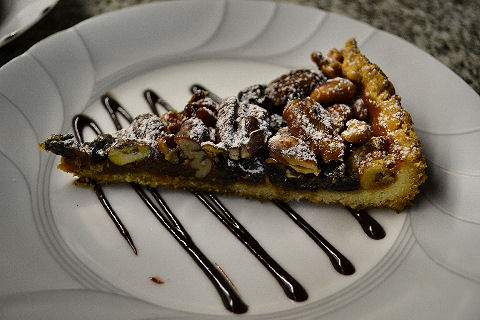 On to two public dinners, though not back to back, same menu however. No shellfish requests received from two different people at last minute, weeks after making their reservations, so some quick adjustments, and, two vegetarian folk in the mix. A roasted carrot soup flavored with sherry, garam masala, coconut milk and herbs; crepes filled with a charred eggplant and roasted cauliflower puree, topped with lemon sauce, this time semolina crepes rather than buckwheat; our spicy shellfish cazuelita, and for the vegetarian and non-shellfish folk, replacing the various molluscs and crustaceans with palm hearts, chickpeas, white beans, and green olives; pictured above, oven baked sole fillet over a black fennel puree, accompanied by quickly sauteed peppers and zucchini with some chili and garlic and topped with a late harvest orange vinegar mayo spiked with chinese long green chilies, for the veggie folk, portobello mushroom caps prepared the same way; and finally, a mixed nut, raisin and caramel tart over a chocolate sauce made with a port reduction and a touch of habanero chili powder.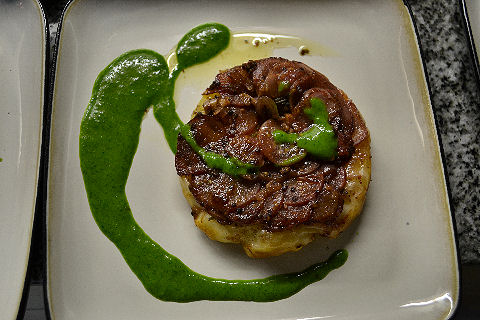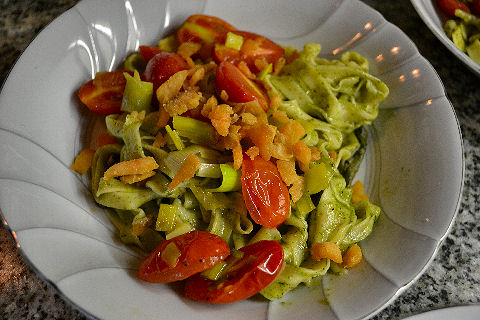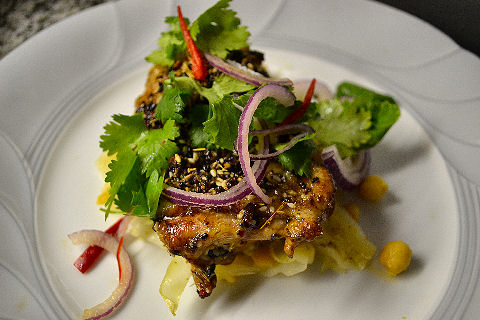 And, last eve, another private party, this time for eight, the only restriction to avoid all tree nuts. We kicked off with our Caldillo, basically a Chilean chowder, followed by the Radish tarte tatin pictured above, then on to some Green tea fettucini tossed with a basil, mint and parsley pesto (no nuts, added some capers) and topped with sauteed leeks, cherry tomatoes and crispy smoked salmon; then onto a redo on our recent hit of "Muslim" chicken, closer to what I'm envisioning – added some pomegranate molasses to the marinade, served over cabbage and chickpeas, and finally, a palacinke, a northeastern Italan dessert crepe, filled this time with a mixed persimmon and orange marmalade and topped with whipped cream.
And that, my friends and readers, catches us up on the dinners for another week or so. Next up, a little look at some local liqueurs, something that's been on my mind for awhile now.