Checking in on last week's dinners including a private party celebrating the birthday of a recent (December) customer with a group of her friends. We also had a nice mix of folk from all parts of the world over last week. Our little "where from?" map is filling in for the month of February.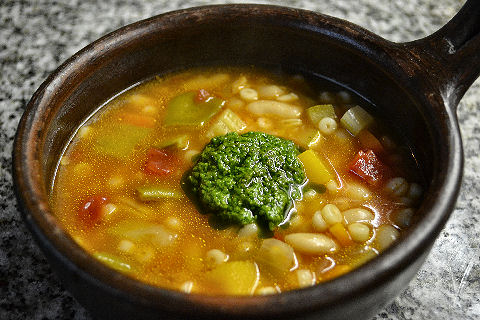 The weather turned slightly cooler this week, I don't know if fall is in the offing or it's just a blip, but the temps are definitely lower and there's been a fair amount of rain. I thought a hearty vegetable soup in order – not to heavy with meat, but still a good way to start into an evening with a slight chill to it. The French soupe au pistou – "pesto soup" – is always a favorite. My version packs in onions, garlic, green beans, green and yellow zucchini, butternut squash, carrots, celery, tomatoes, white beans and ditalini pasta (here called "ave maria") and then a dollop of pesto made from plenty of basil with olive oil, garlic, romano cheese, dried peperoncino chilies, salt, pepper and anchovies (holding aside a small portion for a couple of vegetarians over the week without the anchovies).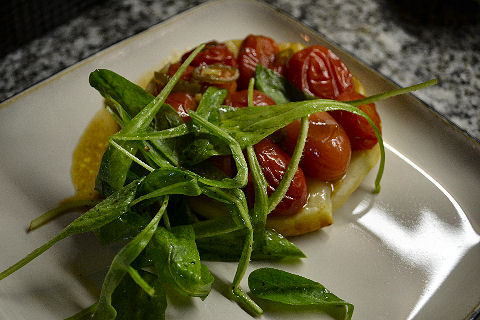 Brought back our cherry tomato tarte tatin, spiked up a little with some Chinese long green chilies in the mix – brown sugar, salt, pepper, the chilies, garlic, smoked mustard, miso, butter – all tossed with the tomatoes, packed under puff pastry, baked, flipped out, and served with a little arugula salad dressed with an orange vinaigrette.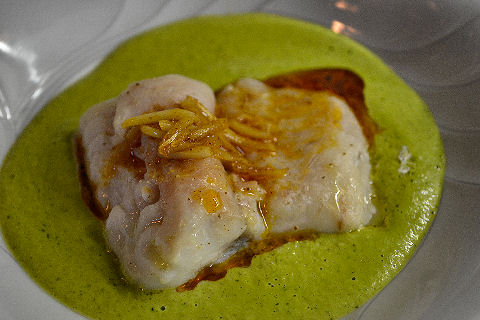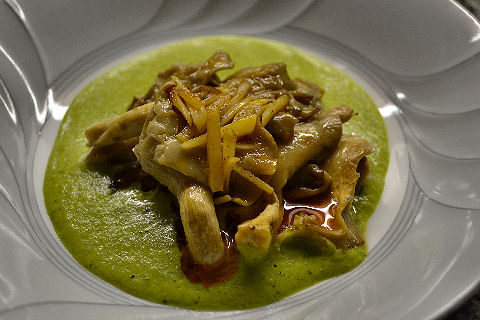 On to one of my favorite repeats, cod with green pepper sauce, a dish that's had minimal evolution since the first time we served it – cod instead of hake because I like the texture more, I use a mix of green bell peppers and Italian frying peppers to give it a little more zip, no water, just cream, and when I puree it I put in a pinch of xanthan gum which keeps it thicker, emulsified, and allows a little touch of foaming – a couple of people asked me for the recipe for the sauce – it's outlined on the link above with those changes. One night someone didn't eat fish and a couple of nights we had vegetarian folk – I tried out both slices of sauteed eggplant and also oyster mushrooms, both worked well in this recipe.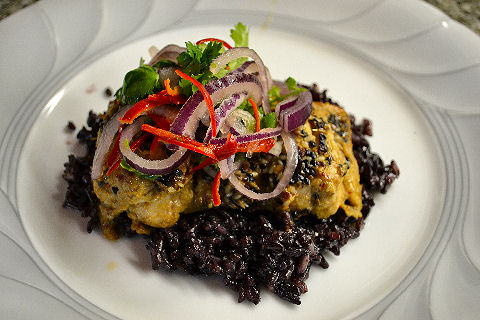 How do you re-create a dish that you've never tasted but only read about? You don't, not really, but you can get inspired – much like the fish dish above, which I'd also never tasted nor even seen a picture of. In this case, I've been reading for the last couple of years about the famed "Muslim Lamb Chops" at a place called Fu Run in Queens (no idea why it's "Muslim" in a Chinese restaurant, other than perhaps a certain middle eastern flair to the flavoring). I've not been able to get any friends to join me for a jaunt there on my trips back to NYC and the dish is a platter, not a one-person dish. At least I've seen a picture and read several descriptions. I've played around a little bit with the idea with lamb chops here – finding a whole lamb breast is near impossible and doesn't really work for our style of service. I finally got a version that I like the spicing on quite a bit, though my guess is it's only vaguely related to the original since I have no idea what the marinade is – it looks in photos to be reddish, so maybe something with pomegranate? And the lamb breast is also braised first, I gather.
I decided to make it with boned leg and thigh of chicken (I'd tried it out with chicken breast and it was good, but the flavor of the chicken got lost). I marinate the "steaks" of chicken in a mix of soy, olive oil, garlic, young ginger, ají amarillo, honey and cornstarch for about 8 hours, then I coated one side in a mix of equal parts white and black sesame seeds, cumin seeds, and chili flakes, quickly fried the seed-coated side in very hot oil, flipped the pieces over and stuck the pans in the oven to finish cooking. Served over a mix of "forbidden" rice and brown rice (the latter kind of disappears because of the leaching of the color from the former, but adds a different texture – I suppose I could cook them separately and then mix them at last minute. I thought the dish needed something fresh and vibrant, so a little salad of cilantro leaves, red onion, and red chilies. And for the vegetarian folk, oyster mushrooms done the same way, just less time in the marinade. This dish will continue to evolve, but I'm already happy with it – look for more versions down the line.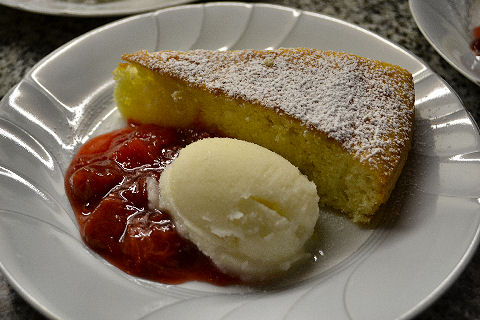 And, finished off the evenings with our lemon and olive oil cake, this time accompanied by a mixed plum compote – yes, I know, I used a plum compote last week on a different dessert – they're in season – and a lemon sherbet. Difference between a sorbet and sherbet? The latter has a small amount of dairy added to the mix, in this case, mascarpone gives it a nice richness.
And that was last week. This week, I"m staring into the lens of a television camera… news soon.