"Caramels are only a fad. Chocolate is a permanent thing."

– Milton S. Hershey, entrepreneur
Buenos Aires – The 102nd anniversary of the opening of Hersheypark, the amusement park created by Milton S. Hershey, seemed about as good a weekend as any to host our second Casa SaltShaker all-chocolate dinner. From my perspective, a far better result than the first dinner we offered – the dishes more creative, the flavors more integrated, and, I think, the guests enjoyed it more.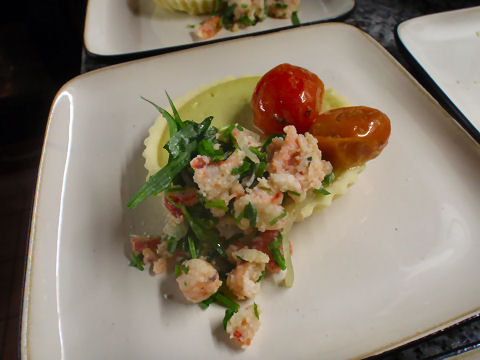 White chocolate is always a hard one to work with – first off, there's the whole "it's not really chocolate" conversation. Yet, while it may not be my favorite form of chocolate, I've never been known to turn it down. Neither, apparently, has Chef Ken Gladysz of The Hotel Hershey, from whom the idea behind this dish came. The differences… hmmm… used my own ricotta cheesecake recipe rather than the cream cheese one he provided – eliminating the sugar from it and adding in roughly the same proportions he advocated of the avocado and white chocolate (hard to find the unsweetened stuff here it turns out). I used king crab legs from Patagonia, chopped up and sauteed with shallots, then cooled, mixed with olive oil, tarragon and parsley leaves and chopped chives. And, I roasted cherry tomatoes in butter and vanilla to accompany. Still, the principle and flavor profile of the dish is probably pretty darned close to his original, and I was quite happy with it, so hats off to him!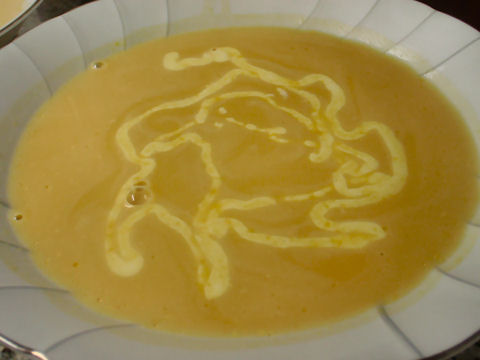 Next up, the soup. Not one of my favorites in the end, and my least favorite dish of the evening – unusual for us, no? The base, I browned chicken wings, carrots, celery, onions and garlic in a splash of olive oil, then added bay leaf, parsley, black peppercorns and salt, and topped it up with the whey from making the ricotta. Simmered that until I had a nice rich chicken stock, about 45 minutes. Then I strained the liquid over some cubed butternut squash, added cumin and bitter cocoa and simmered that until the squash was soft. Pureed it and finished it with cream, and adjusted the seasoning to taste (a bit of salt, black pepper, cumin and cocoa). Drizzled with a little sour cream to serve.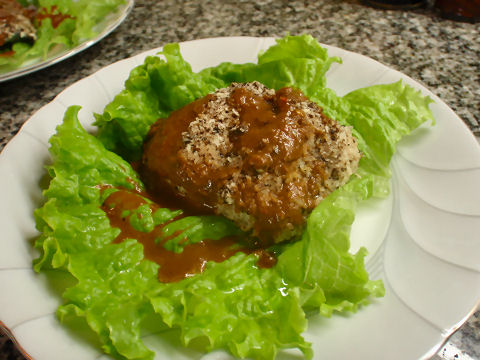 This, I think, was my favorite dish of the evening. First, it's not often that I can find fresh catfish here, so I was happy when I was able to get some. I crusted the fillets in a mix of panko (Japanese bread) crumbs, ground pecans, and powdered cocoa husk – and then broiled them. The sauce, a blend of roasted red bell pepper and chili with bourbon, maple syrup, butter and a stand-in for Mexican chocolate – using grated bittersweet chocolate, pulverized almonds and cinnamon.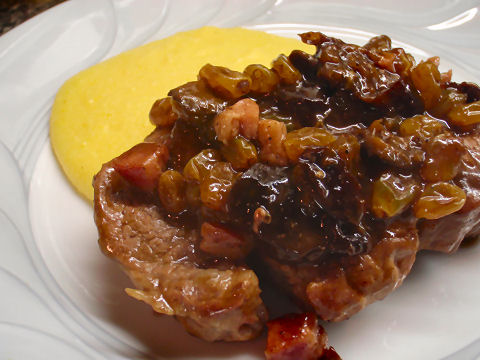 Having recently made this dish several times for our "Color Palate of Italy" class, and it being a hit amongst the students, I had to go with a sweet and sour pork shoulder. It's based on a traditional Sardinian dish of wild boar in a sweet and sour chocolate sauce. I cook a bit of diced bacon until it's rendered most of its fat, then add the pork shoulder steaks (bondiola), lightly dusted in flour, brown them on both sides, then pour a mixture of red wine, red wine vinegar, sugar, bay leaf, yellow raisins, prunes, bitter chocolate, cinnamon and nutmeg over the top, cover the pot, and let it braise for about forty minutes, turning the steaks over once every ten to minutes or so. Towards the end I take the lid off so that the sauce reduces and thickens. We served this over polenta made with half milk and half water and then finished with butter and salt.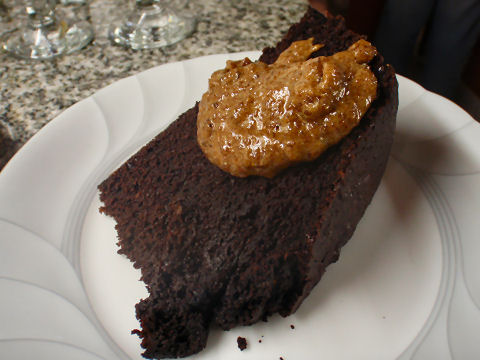 Sometimes, elegant presentation is unneccesary. I mean, who's going to turn down a slab of thick, gooey, rich, dark chocolate cake, spiked with chilies, and served up with a fig icing. The cake based on this recipe on Confessions of a Foodaholic – but made as one large cake rather than cupcakes, used cake flour rather than all-purpose, doubled the amount of chili (wasn't using cayenne, but locally available red pepper flakes, just crushed to be a bit finer), and instead of the chocolate icing, I made an icing of 1 cup confectioner's sugar, 1 egg white, 1 teaspoon vanilla, and a cup of dried figs that I'd reconstituted in ½ cup of warm water – all pureed together.