"The 'double speak' in tourism material, in a country as new and immature as Argentina is to tourism, is lamentably common, much like the "double price" (for foreigners versus locals) that many practice since the devaluation of the peso, starting with our own Argentine government. That 'native cunning', along with the inefficiency of domestic air transport is in my opinion, the major threat to the future of tourism in Buenos Aires and Argentina.

– Diego Bigongiari, BUE, Buenos Aires and Surrounds, Traveler's Guide [my translation]
Buenos Aires – Most of us have gotten used to the double pricing for many things here in Argentina and particularly in Buenos Aires. However, the majority of those have been things that have some level of government sponsorship or ownership, or at least patronage – museums, state theaters, domestic airlines, national and state parks. The general approach is that legal residents (which includes foreigners who have a national identity card and residency visa) get a 50% discount – the tacit assumption being that they pay some level of taxes and that that entitles them to a better rate. The truth is, those without simply pay double – the unspoken part being "they're all rich foreigners and we poor Argentines deserve everything we can take from them". The monetary effect is the same, the psychological is not.
I've even seen or heard of the occasional foreigner who gets hit for "the same price" but gets told that the "$" in front of the price stands for dollars, not pesos. Not true – the standard here, and anyone who lives here knows it, is that if the price is in dollars they use "US$" or "U$" or even "U$S" in front of the numbers – a dollar sign by itself is a peso sign. Period. Punto.
Today, a friend who is headed down to visit sent me a query, as one of the hotels that I've recommended, many times over the last few years, seemed to be charging him an exhorbitant rate. Indeed, it was easily double his last visit, less than two years ago. The hotel, the Juncal Palace Hotel, here in my 'hood. And, I went to their site…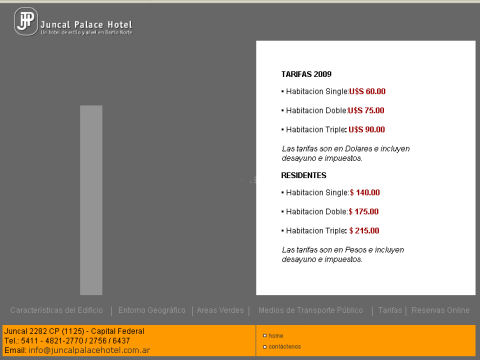 …and, right there, in black and white (and, by the way, illegal here for a private business, I should point out), a rate sheet giving, basically, one-third off to residents, or, more accurately, charging foreigners a 40% upcharge, simply because they're foreigners. Needless to say, this place just came off my recommended list. Now, I know they're not beholden to me, but over the last four plus years I've probably sent them 25-30 customers. No more. Same goes for anyplace else I find doing the same thing. Period. Punto.