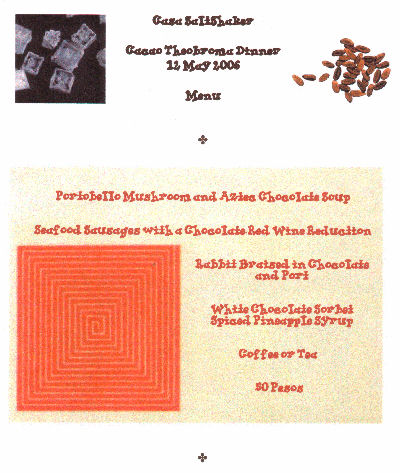 Buenos Aires – Chocolate? Did he say chocolate for dinner? Every course? Yes indeedy folks, never let it be said that I'm afraid to experiment. It's not molecular gastronomy or gastronomic molecularity, it's just a bit outre. I don't remember where I first got the idea – I think someone in a food magazine years ago mentioned having created an entire dinner using various types of chocolate, and I thought, why not? So umpteen years ago I gave it a shot. It wasn't one of my more memorable dinners, but it was interesting enough that I thought I'd try again. I took the same menu, but tweaked it, hopefully to fix all the things that I thought didn't quite work so many moons ago.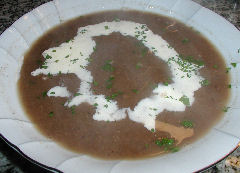 I had based this soup originally on using Mexican chocolate, a semi-sweet chocolate that encompasses almonds and cinnamon, among other flavors. As best I can determine, it's not available here, and besides, although I liked all those flavors with the richness of portobello mushrooms, my notes were that it was just a bit too sweet. So this time, I used a bittersweet dark chocolate and added the spices separately. Although admittedly, it's not the most eye-appealing soup I've ever made, sort of looking a bit like lumpy gravy, I think this turned out just as I envisioned it. Two of last night's guests have already e-mailed me asking for the recipe, so I wasn't the only one who liked it.
Portobello Mushroom & Aztec Chocolate Soup

This makes a fairly large quantity, but can easily be cut down in size.

Thinly slice 2 medium white onions, and saute in a little olive oil with a teaspoon of smoked salt until the onions are lightly golden. Add 1 teaspoon of cinnamon, 1 teaspoon of black pepper, and ½ teaspoon of cayenne pepper and continue cooking for another minute. Add 6 chopped up large portobello mushrooms, and 1 cup of dried mushrooms (shiitake or porcini or a combination). At this point, you have a choice, you can fill the pot with just water, or use mushroom stock if you have it (or you can by mushroom stock cubes and add them to the water), or if you want a meaty flavor, use beef stock (I used mushroom stock). While the liquid is heating to a boil, liquify a cup of almonds in a cup of water to make "almond milk". Add it to the soup along with 3 ounces of bittersweet chocolate. Bring to a boil, reduce the heat, and simmer, stirring regularly to make sure that the chocolate doesn't stick and burn on the bottom. Puree using an immersion blender if you have one, or in batches in a blender or food processor. Serve topped with a drizzle of cream and some chopped herbs.
My personal favorite dish was the Seafood Sausages with a Chocolate-Red Wine Reduction. First, I enjoyed making the sausages – which I'm about to share a little photo essay with you on the process. Second, I love the balancing act of flavors with the red wine and chocolate. The dipping sauce was made from a bottle of a Cabernet-Malbec blend, 2 ounces of bittersweet chocolate, 1 teaspoon of mixed peppercorns (a mixture that here includes some scattered allspice, so include a few if your mixture doesn't), and 1 dried chile pepper. Reduce it over low heat until you have only about 1½ cups left, strain, add 1 tablespoon of red wine vinegar, and salt to taste. Serve warm with the sausages.
The sausages are easy in terms of ingredients, and kind of fun to make. In a food processor, I pureed 2 pounds of mixed shellfish (I bought a pre-mixed cazuela, which included clams, mussels, squid, crab, shrimp, and periwinkles), 1 pound of scallops (scallops have a natural "gelatin" that helps keep the sausage together), 1 cup of heavy cream, 3 egg whites, ½ cup of chopped chives, 2 tablespoons of sea salt, 1 teaspoon of ground white pepper, and 1 teaspoon of ground dill seed. That's the easy part – a matter of tossing everything into the food processor, and letting it do its thing. Now comes the interesting part, and the photo essay.
Tear off roughly 1 foot squares of plastic wrap. Put about ½ cup of the seafood mixture in the center of each square. Roll it up, making sure not to leave any large air pockets. Then, grasp the two ends, and twirl it like you were getting a towel ready for snapping at someone. You may have to undo it once or twice to get the air out until you get the hang of it. The twirling process automatically rounds out the sausage and creates the right shape. Tuck the ends underneath – if you have a plastic wrap that doesn't stick to itself, you'll need to either tie knots in the ends or tie them off with string. Chill the sausages at least three hours in the refrigerator – trust me, you need to do it to make sure they set firmly. Then, poach them in simmering water, turning occasionally, for about 15 minutes. Let cool – all this can be done in advance, the day before isn't a bad idea – put them back in the refrigerator to firm up again. When you're ready to serve, grill them off on a stove top grill or in a saute pan, with a bit of oil to prevent them from sticking. Brown all sides, serve with the dipping sauce, and garnished with some chopped chives.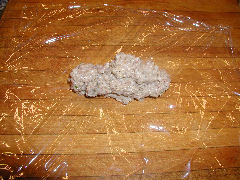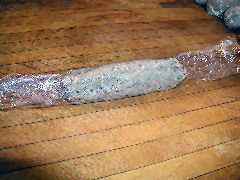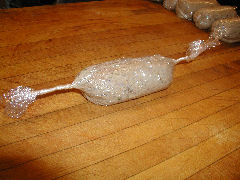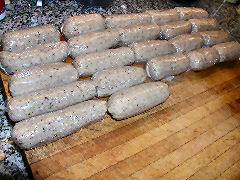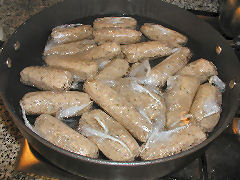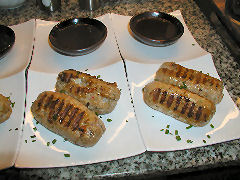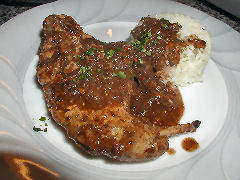 This is the Rabbit Braised in a Chocolate and Port Sauce. I'm not going to claim credit for this one. The recipe comes from Felipe Rojas-Lombardi's The Art of South American Cooking. I made some minor tweaks to the recipe, but not enough to make it worth claiming a new version. The book, by the way, is excellent, and a great read, and I recommend it highly. I did have one of those "moments" when I got home and went to start sectioning the rabbits into serving portions and discovered that tucked between the forelegs, was the head, still attached. Totally unexpected, and just gave me a pause, but I gamely lopped them off, not needing the heads for anything in particular (oh my, he wasted an ingredient!), I suppose I could have made rabbit head stock or something. The recipe, by the way, uses the hearts and kidneys, but not the liver, so we had a nice afternoon snack by sauteing up the three livers (yes, three whole rabbits) with a little salt, pepper, and rosemary. Yum!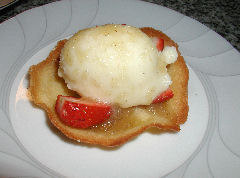 I'm not a huge white chocolate fan, but felt like I needed to include it just to be different. Plus, everyone would be expecting a dark chocolate dessert of some sort. I also decided to make this a sorbet rather than an ice cream, because the rest of the dinner had been fairly heavy. This is an extraordinarily simply recipe, dissolve ½ cup of sugar in 4 cups of simmering water. Remove from the heat, add ¾ teaspoon of vanilla extract and 8 ounces of chopped white chocolate. Let it sit for a few minutes, then whisk it together. Cool, then chill in the refrigerator, then make according to however your ice cream maker works. The sauce was a spiced pineapple sauce, which I think works well with white chocolate. Puree 1 cup of pineapple and then heat with ½ cup of brown sugar and 1 teaspoon of five-spice powder until the sugar is dissolved. Remove from heat and set aside.
Now, this may sound strange to those who haven't cooked professionally, or maybe not. But as I was figuring out how each plate was going to look, I realized that I didn't want to just serve a scoop of sorbet with some sauce. So, first, I got a pint of strawberries and halved them as a garnish. But it still needed something. So, at 4:00 in the afternoon, with pots simmering all around, I decided to make some tuiles. Those are those soft cookie cups that make such nice presentations in restaurants… you've all seen them. I went with one of the best, Ming Tsai's Honey Sesame Tuiles, mixed up the batter, and made tuiles. It worked. Far more expert folk than me have tuile making demonstrations on their websites, so I'm not going to give it a shot here. It's not all that hard, really…
Wines of the evening…
Luigi Bosca Riesling Johannisberg 2004 – very intense, elegant Riesling, truthfully the only Riesling from South America I've tried that I could say that about – wonderful flavors of peaches, spice, and a touch of classic petrol – absolutely delicious!
Miguel Escorihuela Gascon Pequeños Producciones Barbera 2002 – big, spicy Barbera, with lots of red fruit, a dollop of vanilla from the oak, but the fruit really showed through – long, lingering finish – another excellent one!
Les Forts de Latour Pauillac 1982 – Brought by one of last night's guests, but got a chance to taste it, truly a special wine – smoky, blackcurrant fruit, a bit of earthiness and ripe tobacco – everything a great Bordeaux from a great vintage should be!