"I come from long ago, from a magnificent and great empire, from a cast of sorcerers, holy men, and the masters of the sun.

– Mamani Mamani, Artist
Buenos Aires – It always sounded like a hole-in-the-wall, one of the ubiquitous Peruvian eateries that fill the neighborhood near to the Abasto. And so, given that there were places around that we really liked, and that looked like you might actually have a good meal in them, we hadn't bothered with Mamani, Lavalle 3034, now at the corner of Lavalle and Agüero. So, we make mistakes. The name, both the Quechua and Aymara word for either a hawk or falcon, is also a fairly common altiplano surname. The place looks just like the sort of place that you'd hover at the door, trying to decide if you really wanted to enter and subject yourself to the service and food that is to come.
As I said, we make mistakes. The place is no real hole-in-the-wall, it easily seats a hundred and some folk, and apparently in the evening, does so with others waiting for tables. They're famous amongst those "in the know" for their spit roasted chicken, which we didn't try, not knowing that the day we wandered in – and several local amateur critics commented that nothing else was worth bothering with. So we're not the only ones who make mistakes.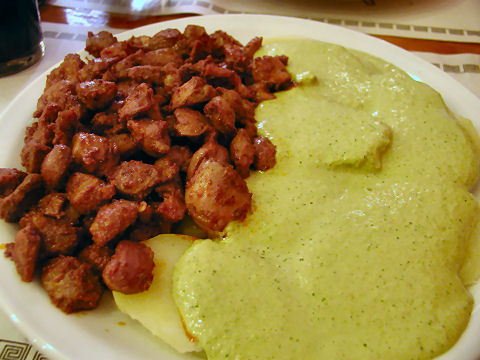 Looking around the room it was clear that portions here are huge. They're also cheap. We opted to split an appetizer plate of mollejitas de pollo – chicken giblets. We asked about whether they were the traditional garlic or soy version, and our waitress, friendly from the start, shrugged and said, "our version". Then she asked if we wanted them with salad, ocopa or huancaina – wait, weren't those separate appetizers on the menu? Odd, we thought – but we were thrilled when the platter arrived, because it was far more than just a plateful – a good pound of chicken giblets done up anticucho style in a spicy red pepper sauce, and accompanied by easily the best ocopa we've encountered here in a restaurant.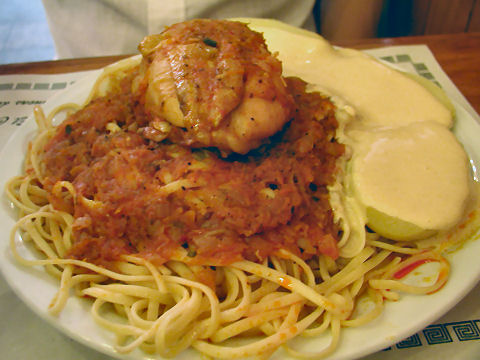 We followed on with one shared main course, and simply didn't have the room to eat it, so we nibbled at it and then brought it home to eat later – but it's the first place where we've found pollo con tallarines made with the traditional reddish-orange carrot based sauce that's from the north of Peru – at Mamani called "salsa roja". The chicken sat atop a mound of spaghetti enough to feed two or three people, and with another whole portion of potatoes, this time huancaina style, on the side.
We also went for a pitcher of chicha morada, the purple corn soft drink – which I normally find too sweet in restaurants here, but this version, in an easily 1½ liter pitcher, was just semi-sweet and packed with fruit and spices, the way Henry taught me to make it.
Overall, great marks for truly traditional homestyle Peruvian cooking, low prices (lunch cost us a whole 44 pesos for all this), friendly and reasonably efficient service. Ambiance, más o menos as they say here, but when digging in to this kind of food, who cares?
[Note: read update comment below]