"SAUCE, n. The one infallible sign of civilization and enlightenment. A people with no sauces has one thousand vices; a people with one sauce has only nine hundred and ninety-nine. For every sauce invented and accepted a vice is renounced and forgiven."

-Ambrose Bierce, Writer, Devil's Dictionary
Buenos Aires – It took me a while to figure out what "the regular sauce" was. I suppose if I was back in New York and someone said, just make pasta with regular sauce, I'd know what they meant – basic tomato with some meat in it – a bolognese of sorts. But I'm living in Argentina, with a Peruvian, and trust me, that one wasn't it. Not to say that bolognese didn't go over well, it did, but it wasn't the "regular" one. At least I've now got it being referred to as "regular Peruvian sauce" when it's being requested – so I am having some sort of culinary influence down here…
It's possible there's a name for this in Peruvian cuisine, it's possible there's not. I don't know. Maybe one of my Peruvian readers can weigh in on it. I'm not even sure why it's considered the regular sauce, since I've only seen it used on one dish – pollo con tallarines rojo – chicken with red noodles. I will say that if you take the time to do it right – slowly – it's absolutely delicious. Henry claims he likes it best if the chicken is marinated first for an hour or two – in a mix of salt, pepper, cumin, pureed ají­ panca roja (which you reconstitute first by boiling in water), and red wine. It does add flavor directly to the chicken, but in that method, the chicken is then cooked separately from the sauce; I find that I get the same result by lightly browning the chicken and then essentially stewing it in the sauce until it's completely cooked.
The sauce is a little time consuming, though not overly so, and certainly not by comparison to a slow cooked bolognese, though it requires more attention; and it's made from simple ingredients.
Pollo con Tallarines Rojo

Sauce:

1 tablespoon olive oil
1½ cup peeled and grated carrots
1½ cup minced or grated onion
1½ cup finely diced seeded tomato
1½ cup red wine
1 teaspoon pimentón rojo (a powdered version of the pepper mentioned above, kind of like a medium hot paprika)
½ teaspoon ground cumin
2-3 dried bay leaves (optional)
salt and black pepper to taste

Chicken:

2 whole chicken breasts cut in bite size pieces
1 cup red wine
1 teaspoon salt
½ teaspoon ground black pepper
½ teaspoon cumin
2 reconstituted ají­ panca roja

Pasta – classically spaghetti or fettucini, but any will do

Puree the marinade ingredients together, mix with the chicken and let it marinate for about two hours. If you can't find the dried chilies, use the powdered version that's used in the sauce. If you can't find the powdered version, a medium hot paprika will work well. If you have less time, skip the marinade – although it does seep the flavor deeper into the chicken, I find that just making the sauce and stewing the chicken in it produces just fine results – and I generally don't bother with the marinade – and he has yet to notice. Note that the sauce ingredients are conveniently, other than the spices, in equal quantities…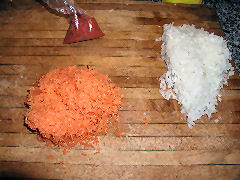 The carrots really do need to be grated, and the onions very finely chopped or grated, as you want them to basically end up dissolving into the sauce.
Over medium-high heat, saute the grated carrots in oil with a pinch of salt. Cook until they are completely soft and just starting to turn golden.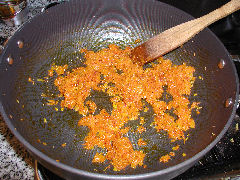 Add the onions, pimentón, and cumin, and continue cooking, stirring regularly, until the mixture is dark golden in color – all the liquid will have evaporated and it will almost be like a coarse paste.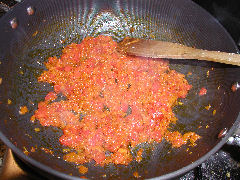 Add the tomatoes and bay leaves if using (I didn't here) and cook until the tomatoes are falling apart and the liquid has evaporated.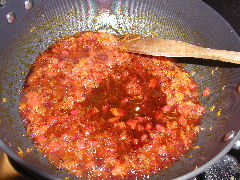 Add the wine and bring to a boil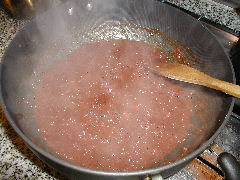 Continue to cook until the sauce is fairly thick.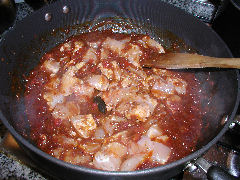 Add the chicken, continue to cook over medium-high heat until it's lightly browned on the outside, then cover the pan and reduce the heat to low. Let the chicken simmer in the sauce until it's done. Add salt and black pepper to taste. Remove the bay leaves if you used them.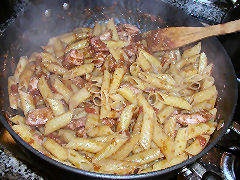 Meanwhile, cook the pasta, drain, add to the sauce, toss to coat. Serves 4.