To say simply that the Wright Brothers invented the airplane doesn't begin to describe their many accomplishments. Nor is it especially accurate. The first fixed-wing aircraft — a kite mounted on a stick — was conceived and flown almost a century before Orville and Wilbur made their first flights. The Wrights were first to design and build a flying craft that could be controlled while in the air. Every successful aircraft ever built since, beginning with the 1902 Wright glider, has had controls to roll the wings right or left, pitch the nose up or down, and yaw the nose from side to side. These three controls — roll, pitch, and yaw — let a pilot navigate an airplane in all three dimensions, making it possible to fly from place to place. The entire aerospace business, the largest industry in the world, depends on this simple but brilliant idea. So do spacecraft, submarines, even robots."
Buenos Aires – The world has become a smaller place, as we hop on planes to whisk from place to place, or so it is said. Yet it's hard to remember sometimes that controlled flight has only been with us a mere hundred years, and most of that not open to passengers. Yet with rising costs, increased hassles, more and more people whom I know are choosing to simply not travel, and instead opt for the internet for social and educational contact with other parts of the world, documentary television, even the news. As a friend of mine who recently retired put it, he simply refuses to do all the unpleasant things associated with going to and being at the airport, let alone on the flight, and now just chooses not to travel, despite having worked his entire career looking forward to a period of retirement when he would be able to. I understand completely – I had full intention when moving here to get in a good amount of traveling about and continuing to explore the world, but the ridiculous costs of a flight these days, and the notable decline in quality of service, doesn't motivate me to spend much time doing so. The Wright Brothers, on this last weekend's 100th anniversary of their (well, Wilbur's) first public demonstration of flight, at Le Mans, France, would so not be pleased.
My first thought was to do some sort of take on a fancied up airline meal, but there's just so much one can do with what amounts to a tv dinner. I went from there into researching the idea of some luxury airline menus – some of the major first class cabin sorts of soirees – particularly the menus from flights of the Concorde. And we almost went that way here at Casa S, and then it occurred to me that we could go with a menu focusing on those who inspired flight in the first place, birds – I know, it's a bit ironic that those who inspired find themselves expired… on the plate. Circle of life and all that.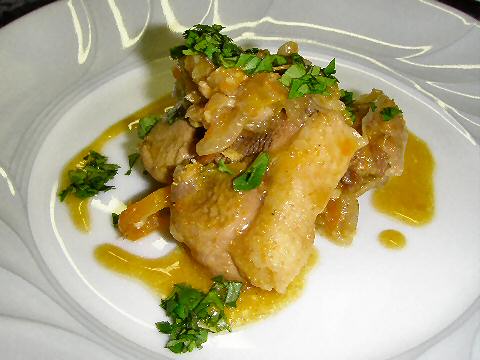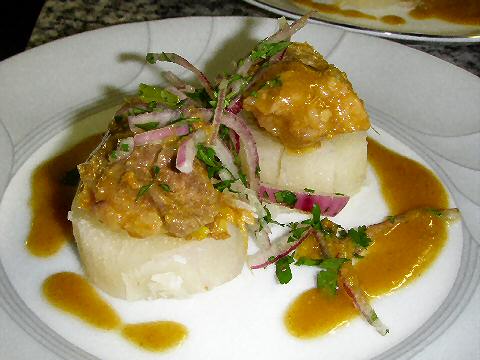 The buzz was generated by the ceviche de pato, or duck ceviche – and just to set your mind's at ease, no, I didn't serve raw duck that was simply marinated in citrus juice, the dish does get cooked. It's actually a reasonably traditional dish from Peru, along with ceviche of chicken, though perhaps less common simply because of availability and cost. My take on it – I trimmed and then sliced duck breast into slices about 1/2″ thick and marinated them for two hours in a blend of lemon and orange juices, salt, garlic, and ají mirasol, the dried yellow Peruvian peppers (reconstituted first). Then in a saute pan I cooked a good amount of red onions with rocoto peppers, ginger, cumin, salt, and white pepper, until just soft, then added the duck along with its marinade, brought it to a simmer, covered it, and let it cook for 30 minutes. Then cooled and chilled it in its sauce. Now, between the two nights I made a change, mostly in presentation – the first night, I simply served each portion on the plate, leaning against each other and sprinkled liberally with cilantro. The second night, I added a couple thin disks of boiled yuca, topped each with a piece of duck, and then made a little salad of thinly sliced red onion, rocotos, and cilantro to sprinkle about. Much prettier, no?
From there, and not to give short shrift to the rest of the dinner, but I wanted to focus on the one dish here… we moved on to a pheasant soup, inspired by a traditional Mexican dish – I cooked a mix of chopped celery, onions, carrots, garlic, jalapeños, and corn in a little light oil for a few minutes, then I added in shredded pheasant meat (I roasted the pheasant in the oven first), and water, and cooked the soup until the vegetables were done. I seasoned it simply with salt and pepper, and then for presentation, dolloped in a couple tablespoons of a puree of the celery leaves, some cilantro, and lime juice.
On to a Laotian inspired turkey stir-fry, a dish I've made before, the only change being that instead of finely dicing the vegetables I sliced them into thin disks. And then, the main course, a pretty traditional Kai Pad Med Mamuang Himaphan, just the way your mother makes it, you know? Actually a very simple dish, and delicious – Thai style cashew chicken – chicken breasts marinated for a couple of hours in a mix of equal parts fish sauce, oyster sauce, honey, chili-bean paste, and rice wine, along with a good amount of black pepper. Then cooked in its marinade. While it was marinating I'd roasted some cashews in the oven until lightly golden, about midway through the chicken cooking I added them to the pot. And then we served the chicken pieces atop some little nests of thin noodles and garnished with a good amount of green onions.
Finally, I wasn't going for a bird in the dessert, at least not exactly, but a nice egg-based postre seemed appropriate – an eggnog cheesecake, sprinkled liberally with nutmeg, no? My basic cheesecake recipe with some extra egg yolks for richness, and a good splash of whiskey in the mix…