My new pig out food is Indian food. I eat Indian food like three times a week. It's so good."

– Jennifer Love Hewitt, actress/singer
Buenos Aires – A few weeks back I'd been wandering around Las Cañitas looking at one thing or another, and I noticed a new restaurant done up with some sort of Taj Mahal-ish facade. I stopped for a glance and discovered it's a new Indian vegetarian restaurant. On to the list it went for checking out soon, and this week I got back there for what turned out to be a completely delightful lunch. With our western Indian dinner coming up this weekend (and filled up, we may even open an extra day), it seemed a good moment for inspiration. Opened just four months ago, Namaskar, at Benjamin Matienzo 1616, 4772-0276, is turning out delicious north Indian vegetarian fare with a flare. Beyond just the comfortable, casual dining room, attended by the owner of the restaurant, I was won over completely when as I placed my order the first thing he asked was did I want the food spiced for local palates, medium, or Indian hot. I chose the latter, of course. [Unfortunately, this place didn't even make it to its first birthday, a true shame as, for my tastes, it was the most authentic Indian spot in town.]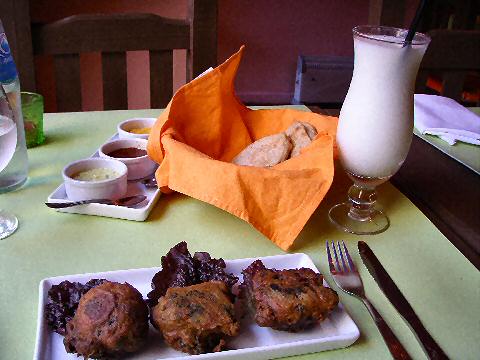 Now, I've had hotter, but they did themselves proud, and I even broke a sweat on the main course. I was thinking about ordering one or a selection of their breads – they offer up a trio of different types on the menu, but the owner suggested that since I was solo it might be a bit much, and he'd just add an extra paratha to the basket that's served after you order. Excellent paratha I might add, and served up with a trio of dipping sauces – not the NYC standards of tamarind, tomato onion, and mint – but a spiced potato puree, carrot, and a sweet-spicy tomato dip. Then I dug into a trio of wonderfully light and flavorful vegetable pakoras – each basically a floret of broccoli surrounded by a paste of other vegetables and then deep fried. While admittedly deep frying anything makes it taste great, I wasn't complaining.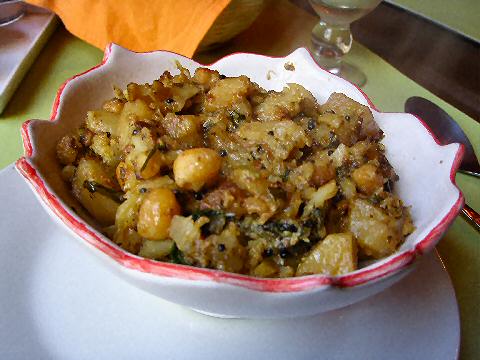 I could smell the chilies and onion on this one as he set the steaming bowl down in front of me. Aloo gobi is a favorite dish – I love cauliflower, I love potatoes, I love spice – what's not to like here? I dipped in and was instantly happy – a blend of spices, both hot and savory – really well balanced. Perhaps a minor complaint that I found the vegetables a little overcooked – texturally the dish was pretty close to mush, but that aside, I'm already trying out recipes here at home – sometimes it takes a reminder to pull out the offbeat cookbooks at home.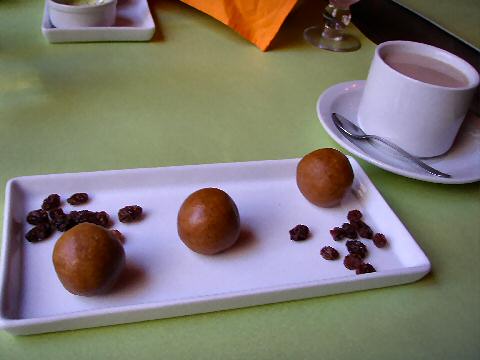 I decided to take his recommendation for his favorite dessert, laddu, which are sort of caramelized toasted chickpea balls – and his "exquisite" was pretty much dead-on. One thing I think is a shame – three of the four desserts on the menu are served as a trio of balls – just with different ingredients – why not offer up a "sampler" of one of each. They do have a dessert sampler platter, but it's all four desserts and only comes in a portion for two people. Regardless, I was completely happy with what I had, and a complimentary cup of chai on the side hit the spot.
Namaskar isn't cheap – this three course lunch, including a bottle of water and large glass of mildly sweet lassi, a favorite yogurt drink (and a perfect foil for spicy dishes), came out to 76 pesos. On the other hand, they serve up easily the best Indian vegetable dishes I've had since coming to Buenos Aires.