Oh do I wish I had an expense account for days like yesterday. Then again, I work for myself so it would end up the same I suppose. We spent the morning out clothes shopping with Henry – it's his number one passion after dance, so he ended up with several new pairs of shoes, jeans, and more. I did get myself a pair of new shoes too. Then he headed off with his friend Margarita from BA who is living here now with her boyfriend, and I headed off to meet a wine colleague who I've been corresponding with for a couple of years, Greg, who's living here and is the wine director at one of the city's top restaurants.
We met up for lunch at the relatively new La Picanteria, Santa Rosa 388 in Surquillo (their website says Francisco Moreno 388 – apparently that's a new name for the street, but none of the signs have been changed, nor the maps, and not one cab driver who I tried knew where it was. I finally got one to take me that way based on the cross street and we just asked around until finding it. The restaurant is under the charge of Hector Solis, a well known chef from Chiclayo, who still has a restaurant there as well as another here and two more in Trujillo and Tacna. The reports on this place were that he's doing classic comida criolla but raised to a new level.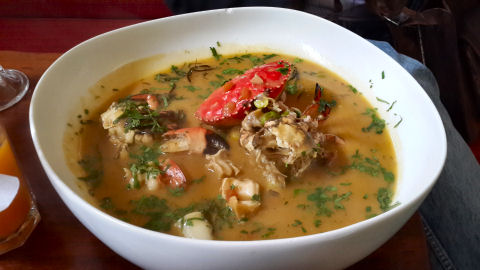 And, that's exactly what he's doing. This parihuela, usually a fairly tomato-ey and thick seafood soup was filled with fresh crab and prawns and the broth had an amazing depth of flavor. It was also a portion big enough that we could have just split it for lunch – you can't really tell from the photo, but figure that that bowl is about 16″ across.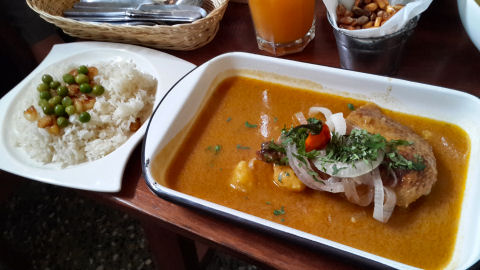 But, we didn't know that and also ordered a ceviche de pato, duck ceviche, a dish we made a couple of times at Casa S, though without ever having tried the traditional version. I thought it lacked a little acidity in the sauce, but it was still delicious. The rice was a little dried out, rather surprising for a Peruvian restaurant of this quality – it almost seemed as if they'd stuck the plate of rice under the broiler to toast it or something. A little odd, but mixed into the sauce completely unnoticeable. Two plates, two fruit juices, and a bottle of water totaled out to 101 soles, which is expensive for the neighborhood though not for the quality (197 argentine pesos, or $36). No complaints at all.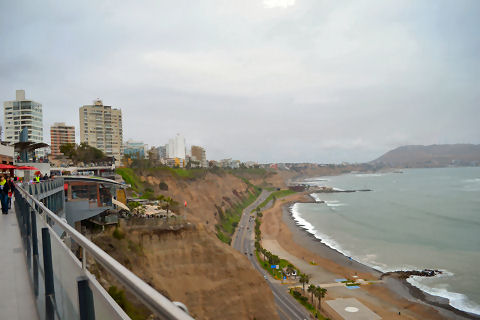 From there we took a cab over to Larcomar area along the coast near where Greg works. I wandered for a bit while he headed back to the restaurant, where we were slated to meetup with another friend in the evening. Unfortunately Greg wasn't able to be there, but we still planned on what we had high expectations for – Central, Santa Isabel 276 in Miraflores made it onto Pellegrino's list of the top 50 restaurants in the world this year. And, with a bit of relaxing and wandering in the center of town near to the hotel, that's what we headed to do in the early evening.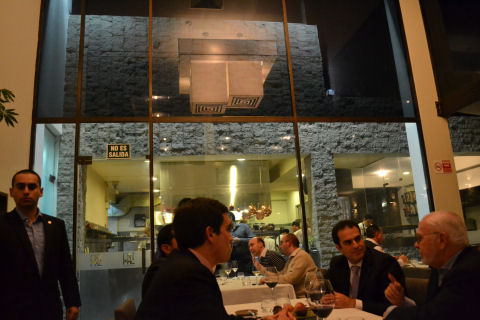 We arrived at the appointed hour of 8pm and were directed to the bar where we sipped on a couple of different versions of pisco sours, Henry's made with pisco infused with coca leaves and mine infused with Szechuan pepper and then blended with a touch of fresh orange juice. After a bit and our friend hadn't arrived, the hostess offered us a table if we wanted to proceed ahead, which we did. She started to take us to the upper level, sort of out of sight of everything and we asked if we could sit downstairs near the kitchen – which is open, though behind glass. She initially declined, letting us know those tables were all reserved. I figured on trying the tack of seeing if dropping Greg's name would help, and it did, it turned out that he'd mentioned our coming to the staff, but it hadn't gotten into the reservation book, so we hadn't been connected with him. Solved the problem and we got a nice table on the main floor with a view of the kitchen.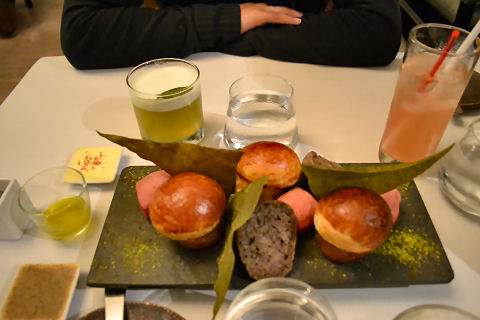 Our friend arrived, got herself a cocktail, and we proceeded to the menu. We decided against the 10 course tasting menu, which sounded interesting, but, also expensive at 285 soles, a little over $100, before drinks and wine. I'm sure it would be interesting to do one time in the future. A selection of breads flavored with different local herbs and fruits, like airambo and coca leaves arrived – I particularly liked the little triangular flatbreads flavored with coca leaf.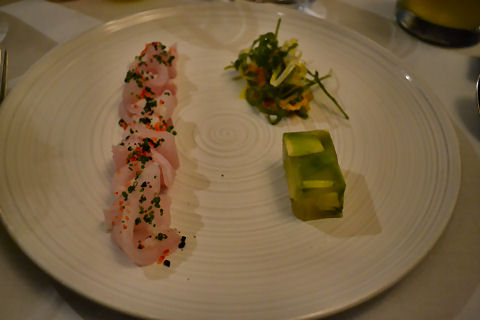 Henry, not surprisingly, headed straight for ceviche and a tiradito de mero – grouper in long strips. served up with a strange block of gelatinized avocado and a tangle of salad. Not in the picture, a small plate that had individual 1cm cubes of different root vegetables – yuca, potato, and I think sweet potato, each infused with different spices; plus a leche de tigre, the curing liquid for ceviche, which was reduced to a syrupy consistency and then poured over the ceviche at tableside. And, of course, Henry ordered some extra rocoto chili puree to give the dish more zip. Really quite good and I like the idea of reducing the liquid to create a sort of sauce in addition to having already cured the fish.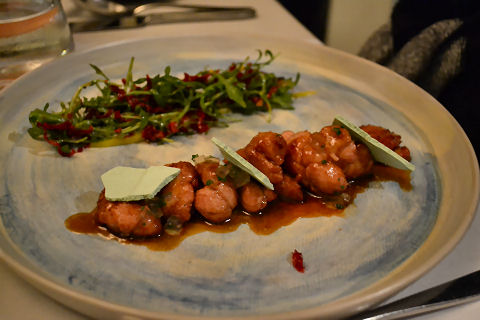 I should have taken a photo of the menu to remember all the stuff that went into the various dishes because at this point I haven't a clue other than vague remembrances. Jo ordered veal sweetbreads that were beautifully cooked and a very interesting texture – not the usual creaminess but almost a sort of texture like good foie gras (which we also considered ordering, but it turned out that it's not served as a piece or a pate or terrine, but rather just shaved over a dish, which sort of loses out on that ethereal experience of the texture). The sweetbreads were lacquered in, well, something that was vaguely sweet – my recollection is it was an Amazonian fruit of some sort – it was excellent, that was the most important thing!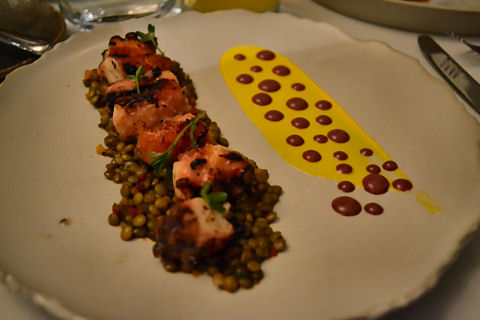 I ordered the confited octopus, which Greg had highly recommended. I know that there's an infusion of charred maiz morada, the purple corn we use for making chicha morada. The octopus itself, delicious and tender, and the two sauces to the side great complements. The lentils were good, though a little undercooked and slightly chalky. Not enough to stop me from eating them, but noted.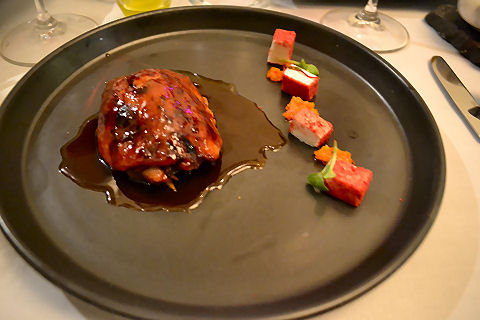 Henry headed for the slow braised goat leg for his main course, accompanied by a sort of gelled foam of goat's milk. The goat itself, perfectly falling apart tender and tasty. Off the shot, a little pot of buttery potato puree.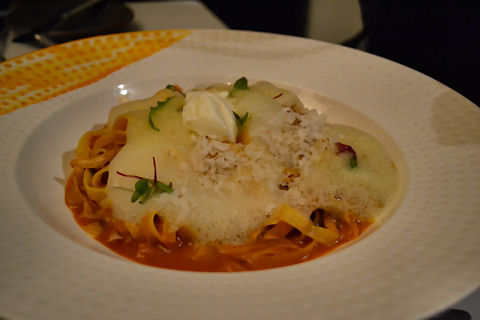 Jo went for the tagliatelle with rabbit and a goat's milk yogurt-ish topping and a foam of some sort of herb or spice (sorry…). Delicious flavors, though I thought the pasta was a bit undercooked and that overall the dish was sort of lacking in rabbit, which was just sort of shredded about here and there.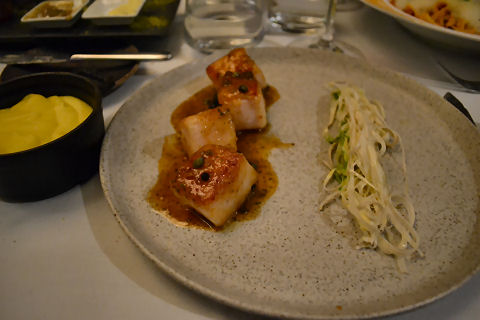 I decided to try the paiche, an Amazonian fish – figuring we'll likely get to try it prepared traditionally while we're in the Amazon this coming week and I wanted to see what this chef was doing with it. Not ever having had it I didn't really know what to expect. It's a pretty tasteless white fish, so all the flavor comes from the sauce, which was a sauce made with capers and little gelled bubbles of seaweed extract. More potato puree to the side and a tangle of ribbons of some sort of slightly stick vegetable – maybe it was chayote squash, I think I recall that from the menu. Good dish, probably our least favorite of the entire evening though.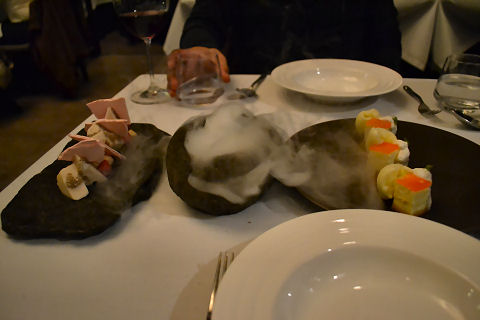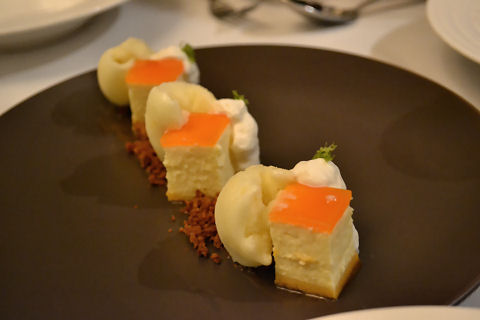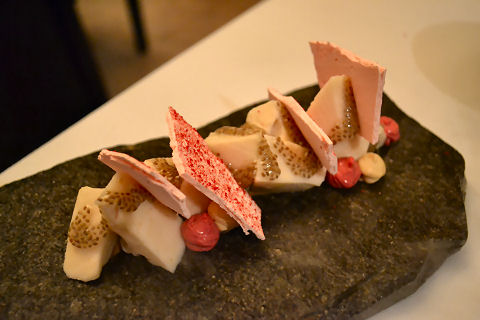 We decided to split two desserts. Those of you who know me well know I hate the whole presentation thing of presenting steaming dry ice with some sort of aromatic whatever in it that billows "smoke" across the table. And probably even more so when it's a bowl packed with eucalyptus leaves which made the whole area around us smell like a cough drop gone rogue. We snapped the photo and then unceremoniously removed it from the table, to the dismay of our waiter, who wanted to put it back. The desserts – a sheep's milk cheesecake – or some little bites of one, served with a quickly made, probably liquid nitrogen, citrusy sorbet that was so cold it had no flavor – once it warmed up it was a great complement to the cheesecake; and, fresh cherimoya with a dehydrated fruit infused milk foam (which sounds bad, but isn't), a technique that the chef used in a couple of places in the dinner – there was another one infused with some sort of herb with the sweetbreads as well – excellent dish.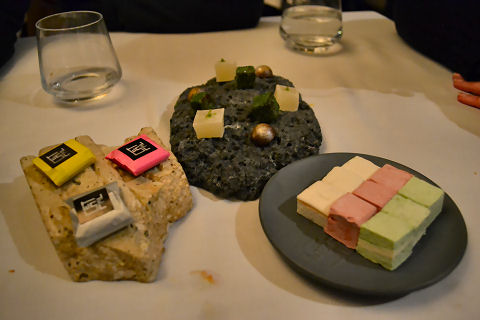 And, a selection of petits fours. To the right housemade marshmallows flavored with different local herbs; in the back cubes of gelled pisco sour and two different chocolates, and to the left, three different grades of dark chocolate, individually wrapped. Best, the pisco sour cubes. I'm not a marshmallow fan except in s'mores.
Okay, overall. Beautiful room, and particularly nice if you can sit down by the kitchen. Service – very attentive and efficient and friendly, though definitely with a touch of pretentiousness thrown in – but I think that's part of the whole Miraflores high end restaurant thing, the upper crust limeños want to be treated that way and expect it, from what I've experienced here, admittedly not a massive amount of experience, but still. One thing I've noted in high end BA restaurants also happened here – staff completely unwilling to make recommendations – the usual "everything's good" response. Cocktails – well made and delicious, and pretty reasonable at 22 soles apiece for good sized drinks. The wine list, kudos to Greg, very well thought out and organized – focused on European wines, particularly Spanish, French and Italian – we went with a bottle of Tenuta Loacker "Morit" Magdalener, a little known wine blended from 90% Schiava 10% Lagrein, from the Trentino region of Italy that I'm impressed has made it to the Peruvian market, and was a perfect lighter red to accompany our main dish choices, online wine-searcher searches show prices in different countries equal to everything from about $40 to $60, and in NYC it's on Hearth's wine list for $52, so the 250 sole price tag, or nearly $100, seems a bit out of line; and overall my sense of the wine list is that it seemed expensive. But, I don't know the Lima market or wholesale pricing – in BA wine lists, for the most part, aren't priced a huge amount over retail because porteños simply won't pay those prices, that could be very different here. Food – delicious, beautifully presented (though if you look at the photos, virtually everything is presented exactly the same way, a little one-note), and a couple of minor missteps (undercooking lentils and pasta), we though the portions a bit small for the prices – running around 45-50 soles per appetizer and 60-90 for main courses. So it was an expensive meal, though much of that the combined cost of the water, wine and cocktails, which by themselves totaled up to around 400 soles (one service objection, they kept refilling our waters, which came in very small, 250ml bottles, without asking if we wanted them to open more waters, and we weren't paying that close of attention and didn't notice until the bill arrived) – the total overall was 837 soles, with tip 920, a whopping 1800 argentine pesos or $330 – which I believe makes it the most expensive meal I've ever eaten in South America. Still, much of that was obviously our own fault in the choice of wine, there were certainly less expensive wines available, as well as far more expensive ones. Was it worth it? As a splurge evening out, yes. Is it the sort of place I'd rush back to? Probably not – it's the kind of food I enjoy trying but not a regular basis, and for the price not that I'd expect more quality, which was top notch, but more quantity, which was a little lacking. Still, Recommended.
[Followup from Greg: "The taxes here are killer. There's a tax called the Impuesto Selectivo that applies to certain goods, including wine and spirits, which is 25%. Then to that you add the IGV which is 18%. And when you consider the exchange rate of the Euro vs. Nuevo Sol, and freight from Europe, wine quickly becomes very expensive."]