The global importance of the Middle East is that it keeps the Far East and the Near East from encroaching on each other."

– Dan Quayle, former U.S. Vice President
Buenos Aires – On to the third post of last weekend's whirlwind of dinners, and a private dinner. Now, originally, they'd simply booked out the second night of our Pioneer 10 dinner and I'd more or less planned to go with the same menu. But then in conversation with the hostess, she mentioned that she and her husband had had a previous reservation with us for one of our southeast Asian dinners awhile back and had to cancel, much to their disappointment. We weren't sure which dinner in particular, so it seemed a moment to play around with various favorites and new ideas from throughout the Far East. I've been reading through Hot Sour Salty Sweet: A Culinary Journey Through Southeast Asia by Jeffrey Alford and Naomi Duguid, and there are plenty of interesting recipes to try in there (and a beautifully put together book, as are most of theirs).
We began the evening with a grapefruit salad – a lovely tossed melange of grapefruit supremes, toasted coconut and peanuts, chilies, shallots and mint in a dressing of fish sauce, brown sugar, and lime juice. A nice start to the evening – definitely a tastebud awakener! From there we moved on to a creamy squash soup flavored with red bell pepper, coconut milk, cilantro, szechuan peppercorns and garlic that went over extremely well.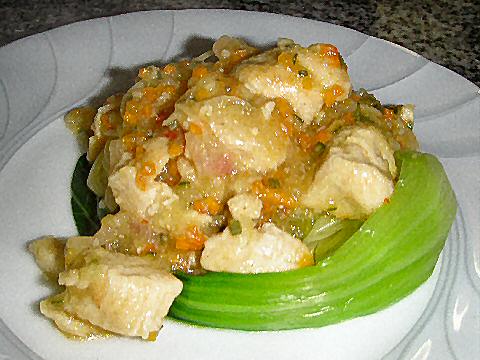 This was my favorite part of the evening. It started out from a Laotian recipe that seems to be a variation on laap gai, one of my all time favorite Thai dishes. I thought it would be interesting to turn it into a similarly flavored hot dish instead of as a cold turkey salad. I diced the turkey breast and coated it in a mix of rice flour, salt, and cayenne pepper. Then I sauteed it in very hot peanut oil to give it lightly crispy coating. I tossed in thinly sliced chilies and shallots, and finely diced, or brunoised, carrots and cucumbers, sauteing those lightly and then adding in a sauce of pureed white onion, chilies, fish sauce, sugar, lime juice, mint, basil, and a little bit of MSG. I let that bubble away, covered, over low heat, until the turkey was cooked through and the sauce had lost its raw taste. It also thickened up nicely with the rice flour from the turkey coating. I served it over little nests of angel hair pasta and some quickly blanched bok choy.
For the main course, I went back to what is probably my favorite Japanese recipe after anything sushi… piri kara nasu, a moderately spicy and slightly sweet dish of eggplant, pork, and all sorts of good stuff, all served over Japanese short grain rice.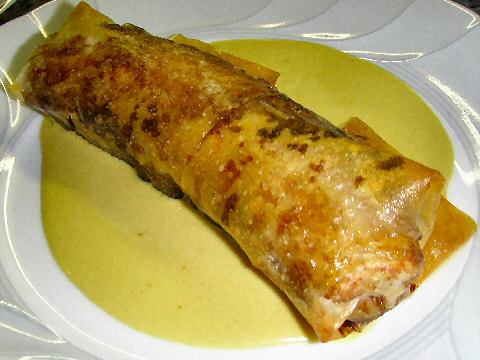 And, we finish off with what has become a much requested banana dessert, especially for our Asian style meals – banana springrolls – with baby bananas rolled up in phyllo dough with butter and brown sugar, and served in a sauce of coconut milk, white and brown sugar, turmeric and salt.
All seemed happy…!