"The native foodstuffs of the Americas radically changed eating habits the world over. The Americas gave the world corn, tomatoes, squash, beans, potatoes, and chocolate, to name a few. Most of these ingredients are now staples of our everyday diets, and one can't easily imagine life without them. Unfortunately, due in great part to the ignorance displayed by the conquistadors, very little solid evidence remains of how these ingredients were prepared and consumed in ancient American societies."

– Claudia Alarcón, The Austin Chronicle
Buenos Aires – Our most regularly requested cuisines are those that contain a fair amount of spice… picante spice in particular – Southeast Asia, Mexico, and Perú to be more on target. With the number of such requests, we decided to offer up a face-off between the cuisine of the descendants of the Incas and those of the Aztecs – with a Peruvian-Mexican battle royale. There was enough interest in this dinner that we ended up opening up four nights in a row, with a waiting list of people in case anyone cancelled. Our first thought was a true face-off, plate by plate – but looking at preparing ten different dishes each night, even if in small proportions, and pairing them on our plates just looked too onerous, and we decided to just even things off with two plates to each cuisine, plus one side-by-side.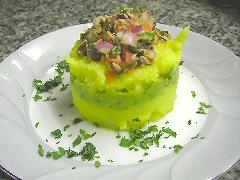 We began the evening with one of my personal Peruvian favorites, a causa – a dish I've played with on and off since learning to make it almost a year and a half ago. I like to think it's evolved, both in balance of flavor and in style of presentation. Here, I've flavored the mashed potatoes simply with lemon juice, salt, ají amarillo, and olive oil, and sandwiched a filling of pureed avocado, cilantro, lemon juice, salt, and just a touch of mayonnaise to give it a more creamy texture. Atop, a chopped salad of the more typical ingredients used in a causa – tuna, tomatoes, black olives, rocoto peppers, red onions, cilantro, and again, salt and lemon juice. The potatoes are kept at room temperature – I've found that if I chill them, they take on a texture that I'm not fond of, the tuna mixture and the avocado puree are both well chilled.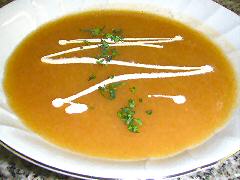 We moved over to the Mexican side of the menu. I've mentioned a couple of times, and made, many times, a potato and melon soup recipe from the Yucatan, spiced with chipotle peppers (smoked jalapeños). I was looking through a great little cookbook called Cuisines of Hidden Mexico, by Bruce Haaig & Dudley Nieto, which focuses on the cooking of the Mexican states of Michoacán and Guerrero. An interesting recipe for sopa de milpa, a tomato, corn, and zucchini blossom soup, struck my eye, but it turned out that we just passed the blossom season and none were available. A bit of thought and experimentation went into it, but I ended up combining the soups – the spicy tomato broth tempered by fresh cantaloupe melon, and originally I was going to use a little potato for thickening, but decided it needed just a touch more sweetness, and used batatas, or yams, instead. The soup is very simple to make – peel and slice a large batata and boil until just soft. Puree in a blender or food processor with the flesh of one good sized cantaloupe, half a dozen medium sized tomatoes, and about a cup of packed basil leaves. Season with salt and chipotle pepper to taste. You may have to process this in batches, depending on the size of your blender, etc. Chill and adjust the seasoning. Top with a drizzle of cream.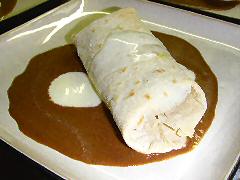 I knew that for the Mexican side of the menu I had to make a mole dish. It's simply one of my absolutely favorite class of sauces to make. I decided it would not be for the main course, which would be left to our face-off plate, and wanted to keep it a little bit lighter than a typical meat based dish. Several vegetarian sites suggested the combination of a squash, pumpkin, or sweet potato dish with mole sauces of various sorts. Most of the moles were of the "throw this stuff in the blender and then cook it and there you have a mole", which isn't really what the sauce is about, though you can come up with a reasonable facsimile of one… I suppose. I wanted something a bit more complex that the results of that approach. I first cooked some onions, garlic, and habanero pepper in oil, meanwhile dry toasting some sesame seeds, coriander seeds, flaked almonds, black peppercorns, and cloves together. When the seeds were all lightly toasted and popping and the onion mixture lightly browned, I mixed them together and ground them into a fine paste. At that point I added some pureed tomato, cinnamon, and bitter cocoa powder, and continued to cook for about 15 minutes. To finish, I added in a couple of ounces of bittersweet chocolate. This was made a day in advance – mole is almost always better the second day… The filling was a mixture of sauteed squash, portobello mushrooms, oregano, salt, and pepper. I made fresh flour tortillas – 3 cups unbleached flour, 2 teaspoons baking powder, and 1 teaspoon of salt crumbed together with 5 tablespoons of margarine (normally I'd use lard, but we had several people coming over the nights who didn't eat red meat), and then just enough warm water to form a smooth, elastic, and not sticky dough. Let it sit for about an hour, then roll out small balls into the size tortillas you want (this quantity made roughly 30 8″ rounds). Wrap the filling in the tortillas, heat in the oven, serve with warm mole and sour cream.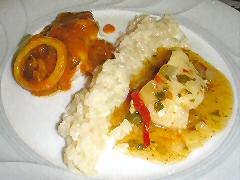 We'd decided on a fish course for our main dish(es). I decided on two plates that start with a similar base. From the Peruvian side, pescado a lo macho – a sauce made by sauteeing onions and garlic together until soft, then adding ají rojo powder (or pureed reconstituted ají mirasols if you have them), tomato paste, and white wine. Cook that all together and then add a mix of shellfish – we used small shrimp, cockles, and squid rings – and when cooked, finish with a good handful of parsley and adjust the seasoning. When ready to serve, bring just to a simmer and add a small amount of potato starch dissolved in water, and simmer just until the sauce thickens. Now, one of the reasons that I liked this particular sauce is that it was, in some ways, similar to a Mexican favorite, Veracruzano – saute onions and garlic together until soft, add chopped vinegar preservered jalapeños or tabasco peppers, chopped tomatoes, cinnamon, bay leaf, and cloves, and a good wine based fish stock. Cook together, and then add a mix of chopped green olives and capers, and finish with a good handful of parsley. When ready to serve… hey, potato starch dissolved in a little water and simmered until just thickened. The fish, a good solid white fish like grouper or cod, are both baked in the oven – the one difference, for the Veracruzano, about 30 minutes before it goes into the oven, douse it in fresh lime juice and sprinkle with a little salt, and let it cure – almost like ceviche – before it's cooked. Both dishes are generally served with rice, the Macho usually with potato as well, though we went with just a separating line of detente of rice cooked in vegetable stock.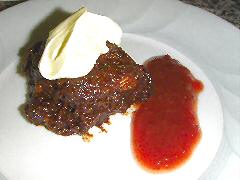 Back to the Peruvian side of the menu and a base that comes pretty much straight out of Tony Custer's El Arte de la Cocina Peruana – Turrón de Chocolate. The closest thing I can think of from our culture might be fudge, but it's not really the same. Beat six large eggs until very light and pale yellow, and while still beating them at high speed, slowly add in 2 cups of sugar. Meanwhile, melt a pound of butter and add 1½ cups of bitter cocoa powder, stirring to completely dissolve. Heat until just boiling, and then pour in a continuous stream into the beating egg and sugar mixture, to just lightly cook the eggs with the heat of the mixture. Fold in a cup of raisins, and a cup of mixed, finely chopped or ground pecans and walnuts, plus four cups of chopped up soft vanilla cookies. Pour the mixture into a plastic wrap lined mold and chill for at least 6-8 hours, a full day is even better. Cut into squares and serve with a little whipped cream, and I also added a good spoonful of the fresh fig preserves that I made recently.
Though we didn't take a formal vote, my general sense is that the battle royale came out pretty much a tie.