Buenos Aires – He rang the bell and more or less whispered "sushi" into the microphone. Standing on the sidewalk, head shaved, dressed in a bulky navy blue flak vest, black pantalones tucked into mid-calf high jackboots, he looked for all the world like a commando ready for a raid. Wordlessly he handed me a bag, accepted my money, handed me change, and then spoke a quick "gracias" and headed up the block. I didn't see the truck he came in, but I'm sure it was armored. The website had only claimed it to be refrigerated.
Welcome to the world of Furusato, the delivery-only sushi service known to the sushi cognoscenti in Buenos Aires. I'd heard about the place from my friends Pete and Ron a couple of times, but I generally like to go to a sushi place the first time to check it out for freshness, cleanliness, etc. – I'm picky that way with raw fish. Since Furusato only has the website to look at and then a phone number to call which is only answered for a short time each day, it had just gotten pushed to the back of my mind. Then Heather mentioned it the other night when we were eating our raw vegetables – Henry was off to La Plata yesterday, he doesn't like raw anything, so it was the perfect chance to check it out. I went to the website, found an interesting sounding combination, and, as instructed by Pete, called precisely at 7:00:01 to make sure that I got in on the beginning of the queue. Indeed, I spent a couple of minutes on hold, even at that moment. The website promised my sushi would arrive within 1 hour and 40 minutes. The woman on the phone promised it would arrive by 9:15. No one knows where the fleet of refrigerated (and armored, I'm sure of it) trucks comes from, though I'm sure the delivery delay is purely due to loading up each truck with as many deliveries as possible. They cover not only the city, but the entire surrounding suburban area as well.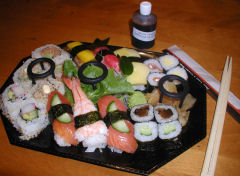 At 8:46 my bell rang and we enacted the scene above.
The sushi arrives well packaged in a plastic plate with lid, wrapped in several layers of plastic wrap. A squeeze bottle of soy sauce (60ml, more than one could use for one platter of sushi) tops the film canisters I admire from my usual sushi place, though, the film canisters are reusable. The selection is certainly more varied – especially if you order the sushi a la carte, there are at least a few varieties of fish and shellfish. Most of the combinations focus on the usual, salmon – but not all of them. I picked this one because it mentioned tuna, shrimp, egg, and some vegetable sushi. I missed that it said everything was cooked on this one – so I ended up with smoked salmon for the various salmon pieces and tuna salad for the tuna. But, it was all good, the pricing is quite reasonable given the amount of food – this plate of 20 pieces cost 47 pesos, or roughly $15 – far less than some places I've tried. [Just a price updates as I've checked a couple of times, early 2013 this same combo, 160 pesos; mid-2014, same combo 253 pesos.]
The food is also delivered with a full menu that offers many things beyond what is listed on the website, and the largest iman I've ever seen. An iman is a business card done up as a refrigerator magnet, extraordinarily common here – virtually any business that delivers anything has them. This one is nearly the size of three standard business cards – clearly they don't want to get lost in the clutter on the refrigerator door. Overall? Quite good, and certainly a better selection than my usual spot, though not remotely as good as Dashi or Osaka, the former of which delivers to my neighborhood and offers a wider selection of fish, though a poorer selection of combinations, and is much pricier. The nearly two hour wait is a bit excessive, but at least you know it in advance.
I'm still curious about their facilities – I have visions of a secret underground factory churning out combo plates…