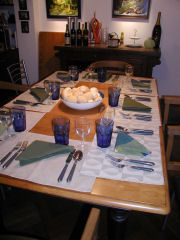 Buenos Aires – I've mentioned a few times my old dinner group that used to get together once a month for the Second Sunday Supper Circle, generally on, not surprisingly, the second sunday of the month. The alliteration doesn't work in castellano, and besides, I no longer am working every saturday of my life, so, it has been reborn as the Segunda Sabado Circulo de la Cena, which works out for the alliteration and saturdays are better days for dinner parties anyway. I always have some sort of theme to the dinners – often based on a holiday or historical event associated with the day, sometimes a particular ingredient, or technique, or color, or texture catches my attention and I use that. Yesterday was the Worldwide Day of the Romany (or gypsies), and that seemed like a fun choice for a theme. It gave me a chance to do a little research on gypsy food – not that I was able to find out a lot about it – when a people move around a lot, the food brings in a lot of varied local dishes and embraces them. I decided to start with some basic, interesting sounding dishes, that may or may not have anything solidly to do with traditional romaní cuisine, and go from there.
We started off the evening with a Coctel Gitano or Gypsy Cocktail in hand, a mixture that I'm fairly sure has no historical connection to the theme, other than the name. It's a 50:50 blend of gin and sweet vermouth, with a maraschino cherry dropped in. I have an aversion to maraschino cherries, though not the liqueur, but try finding something else to use as a cocktail cherry in this city, on short notice! This was, by the way, the first time I've realized just how difficult it is to get many ingredients – usually I just don't think about it and figure out substitutes, but wanting to use certain things like various fresh herbs, only to be told repeatedly that all that was available was cilantro, chives, and parsley, brought into sharp relief a major food shopping difference to New York, where I could pretty much find anything, anytime. I used maraschino cherries. The cocktails weren't bad.
We moved on to a bottle of 1990 Pol Roger Brut Chardonnay, one of my favorite blanc de blancs champagnes, and it was time for the Olla Gitana, or Gypsy Pot, partially inspired by a timely recent posting over at The Traveler's Lunchbox. Now this dish does appear to have some solid basis in the themed cuisine, though I found many variations on the recipe. I took some of the key ingredients, like chickpeas, squash, and carrots, and played with it from there. One of the really interesting things for me is that the soup, or stew, is thickened with a mixture which in many ways is similar to a sofrito, a staple base and flavoring agent of soups and stews throughout much of Latin America. It's a bit more complicated, but starts much the same. As you've probably figured out, I like variations on key ingredients, so I used, for example, a variety of alliums (onions and garlic). The mixture starts off by frying a mix of these, plus some almonds, in a bit of oil. It changes at that point with the addition of some tomato, and spices more typical of romany cooking – saffron, paprika, and cinnamon. From there, the already finely chopped mixture is pureed, and then added into the soup a little while before finishing.
Olla Gitana or Gypsy Pot

Soup:

48 ounces of chickpeas (4 small cans), drained
2 large carrots, cut in coins
3 quarts of vegetable stock
1 large butternut squash, peeled and diced in 1″ cubes
1 pound green beans, cut in 1″ lengths
4 small, underripe pears, peeled and dice in 1″ cubes
2 bay leaves

Put all ingredients in a large pot, bring to a boil over high heat, reduce heat to let simmer, and simmer until the squash is falling apart, at least an hour. Several recipes recommend adding the green beans later to preserve their color – I leave that up to you. You could also parboil and shock them. I wasn't worried about their color.

Seasoning mixture:

4 garlic cloves
1 red onion
1 white onion
1 large shallot
1 cup of almonds
¼ cup of pure olive oil
1 tablespoon salt
1 teaspoon black pepper
2 tomatoes
¼ cup red wine vinegar
1 large pinch of saffron strands
1 tablespoon of paprika
¼ teaspoon of cinnamon

Toss the onions, garlic, and almonds into the food processor and process until fairly finely chopped. Then saute in the oil with salt and pepper. Note that I used pure olive oil, not extra virgin. Very simply, cooking with extra virgin olive oil is a waste of time. Heating extra virgin olive oil to a level where it's capable of cooking anything in destroys its flavors and nuances – use pure olive oil for cooking, extra virgin is for adding to a dish at the end. While that mixture is cooking (and stir regularly), put the tomatoes into the food processor and more or less puree them (yes, you could substitute a canned or boxed tomato puree or crushed tomatoes). When the onions and garlic are lightly golden, add the tomato puree, vinegar, and the remaining spices to the pan, and cook for about 2 minutes more. Puree the whole mixture until very smooth in the food processor or blender.

When the soup is cooked to the point where the squash is more or less falling apart, which if you stir a lot will thicken it, add in the flavor base. Continue to cook for at least another half hour, simmering, you could even let it go longer if you want this soup thicker, letting more liquid evaporate. I left it more soup like than stew like, since I was serving it as an appetizer and not as a main course. A traditional garnish for this stew is chopped fresh mint, but I couldn't even find any dried mint yesterday, so no garnish. This makes a lot of soup – I served it as an appetizer course for 8 people and only used a little over half of it.
Next up, a small appetizer of Mejillones Romaní­, or Mussels Romany Style. Fresh mussels are near impossible to get here it seems – in fact, a lot of shellfish is difficult to find in its fresh state. Virtually all of it is frozen, and a large percentage of it is cooked before freezing. Such is life. I picked up two bags of pre-cooked, frozen mussels, and let them thaw overnight. At least I didn't have to clean them, and in the end, I didn't have to remove them from the shells in order to present them the way I wanted to. I also found that no one had any fresh oregano, however, as I was walking home from the market, I passed a plant shop that happened to have one oregano plant left – I bought it, used a few branches, and the rest goes in the garden today. Served this with a bottle of 1994 Louis Jadot Clos Vougeot.
Mejillones Romaní­ or Mussels Romany Style

2 pounds of mussels, cleaned and removed from the shell
4 cloves of garlic, thinly sliced
1 teaspoon of dried chili flakes
¼ cup pure olive oil
¼ cup ouzo or arak
1½ cups crushed tomatoes
2 teaspoons of fresh oregano leaves
salt and black pepper
¼ cup extra virgin olive oil

You could also serve this dish with the mussels in the shell, but I specifically didn't want to. Fry up the garlic and chili flakes with some salt and black pepper until golden brown. Pull the pan off the heat and add the ouzo or arak (anise flavored liqueur – you could also use something like pernod or ricard, but their flavors are more subtle, not the same; don't use sambuca, which is sweet). Return to the heat and prepare for the flames – because you're going to get a lot of them – just let the flames go, burning off the alcohol, being careful that there's nothing else flamable close to the pan. When the flames have died down, add the tomato and fresh oregano leaves, and continue to cook for 2-3 minutes. Adjust the seasoning. Put the mussels in small ramekins, and top with the sauce. Then put them in the oven at 350°F for about 10-15 minutes, until the sauce is bubbling. This is the moment for some extra virgin olive oil. Drizzle about a teaspoonful atop each ramekin after you've removed them from the oven – it will warm and add flavor. You could also garnish with a few more oregano leaves if you like. Serves 8 as an appetizer.
Moving on to the main course, I started with various recipes for Gypsy chicken, Gypsy beef, Gypsy veal, etc. – the heart of them seemed to be a schnitzel, or milanesa, cut of meat, breaded and fried, and then topped with a cream, bell pepper, and mushroom sauce. Trying to keep the meal a little lighter, I decided not to bread and fry the meat, instead I asked the butcher to cut me some slices of veal as if they were going to be used for milanesas, and then grilled those. A side note, veal here is quite different from veal in the U.S. – first off there's nothing like "milk-fed" veal, the practice of caged ranching just doesn't exist here. The calves are free-range and "nature fed". This results in veal that is less tender than U.S. veal, but more flavorful, and also red in color rather than pink. I opened up a couple of bottles of 1996 Mastroberardino Lacryma Christi del Vesuvio, one of my favorite southern Italian wines.
Ternera Gitana or Gypsy Veal

8 veal scallops
1 red bell pepper, thinly sliced
1 green bell pepper, thinly sliced
1 beef bouillon cube
1½ cup water
1 medium onion, thinly sliced
1 pound of button mushrooms, white and brown, sliced
2 tablespoons of butter
2 tablespoons of flour
1 cup of heavy cream
salt and pepper

Put the peppers, water, and bouillon cube into a small saucepan, bring to a boil, covered, reduce the heat and let them simmer until soft. You could also just use an equal amount of beef or veal stock. Saute the onions in butter until limp, then add the mushrooms and continue to cook, stirring regularly, until the mixture is just lightly golden brown. Drain the peppers, and add them to the mushroom mixture. Sprinkle with the flour, and continue to cook for 1 minute, just to cook out some of the raw flavor of the flour. Add the cream and continue cooking until it all comes together as a nice thick sauce. Adjust the seasoning.

When the sauce is ready, throw the veal scallops on the grill (I used a stovetop grill), and brown lightly on both sides. They will cook very fast, as they're quite thin, only about ¼". Plate, and top with a scoop of the sauce. Serves 8.

This dish, and the one before it, brought up something I've talked about before. As we were eating, one of my guests informed me that she can't eat anything in the pepper family – i.e., bell peppers, chilies – not that she's allergic, but she doesn't feel well after eating them. This, if you are going to be a guest at someone's house, is something to let them know in advance – not after the food is all cooked and on the table (we were midway through the soup). Now, I forgot that there were a few chili flakes in the mussels, so I'm glad she wasn't actually allergic, this would have been a problem, and I separately cooked up a little of the mushroom and onion cream sauce without the addition of the peppers, and in the end it all worked out. I'll admit, being a little out of practice, I forgot to ask everyone coming if they were allergic to anything; but, it's still, in my view, incumbent on the guest to let the host know about something that important (not dietary preferences, but necessities).
And finally, we come to dessert. I'd seen a couple of references to more or less barbecued apples – the idea being that they were wrapped up with some butter and spices and either baked next to an open fire, or around the edges of a grill while you were busy grilling up other meats. Since I hadn't fired up the grill for this dinner, I decided to simply bake them. Obviously they won't pick up the smoky barbecue flavor this way, but I think they turned out quite well.
Manzanas a la Horno, or Baked Apples

8 large Granny Smith apples, cored
1 stick of butter
1 cup of golden raisins
¾ cup of walnuts, chopped
½ cup of light brown sugar
1 teaspoon ground cinnamon
1 cup of apple juice

Make a mixture of the butter, raisins, walnuts, sugar and cinnamon. Stuff the apples with the mixture. Put into a baking pan that will hold them, I used a paella pan. Pour the apple juice (or cider) around them. Cover and bake at 350°F for an hour or more, until the apples are soft, but still holding their shape – you don't want them to turn into mush. Serve.
Stayed tuned for future SSCC dinners…