Buenos Aires – I've mentioned before that it is possible to have anything delivered here. Not that sushi is a particular unusual item to have brought, but I thought I'd try out my phone skills and hopefully not end up with something totally off-the-mark. (Trying things like this always reminds me of an old New Yorker cartoon where a couple is seated at a table and one is saying "Are you sure you can speak French?" as a waiter in the background is wheeling out a cart with an elephant's head on it.) I'd seen a small hole-in-the-wall sushi place a couple of blocks away, Maki Sushi, Ayacucho 1208, and grabbed a menu and a refrigerator magnet one day while passing by. (Refrigerator magnet business cards are ubiquitous here, I think virtually any business that does any kind of delivery service uses them rather than a regular business card.) At street level, the place has five counter seats, but there's a small stairway that I think leads up to more seating.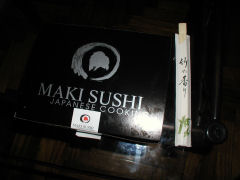 Maki is currently promoting their "new" Rainbow Roll, which unsurprisingly is based on salmon, but also includes: avocado, shrimp, white-fish (listed in the menu as "blanco del dia," or white of the day), smoked salmon, cucumber, and crab). It turned out slightly different, having grilled octopus substituted for the smoked salmon, but other than that, was excellent. Not knowing about the substitution, I'd also order three pieces of grilled octopus sushi. Overall? Even given that it was a Sunday, the fish tasted fresh, the sushi was well-made, and delivery was prompt (even though the menu warns that it could take up to 45 minutes; it didn't).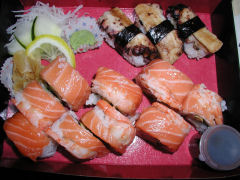 Now, take note, all you folks back there in New York (or wherever), delivering your sushi in those skimpy little tin trays with plastic lids. Maki's selection arrived in a tastefully designed plasticized box, with a decent set of disposable chopsticks instead of those ones that split like a turkey wishbone. You know those stupid little plastic cups that they send soy sauce in, where the lid pops off half the time and you end up with a mess (and not just for soy sauce on sushi deliveries, but lots of sauces and cuisines), and it's never enough anyway? Maki, while I'm sure they didn't think up the idea, uses… a clear film canister! Something with a nice, tight seal; big enough to hold enough sauce to actually make it through dinner.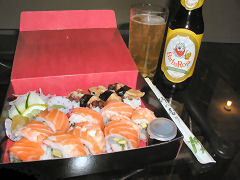 Maybe I'd been primed for beer by my stint at the Festival of the Virgin earlier in the day, but it sounded like a good idea. Now, most authorities seem to dismiss the idea of there being much in the way of decent beer from Argentina. Arguably the world's leading authority, Michael Jackson (not the pedophile singer), mentions, on his website, one artesanal brewer in Patagonia, and talks briefly about Quilmes, which is sort of the national brand here (and seen everywhere). In fact, I'd seen this line of artesanal beers, BarbaRoja at the local market, and picked up a selection – but an internet search basically yielded no reviews or information other than their own website. I thought I'd try the lightest of the selection, their "Trigo," or wheat beer. It reminded me of spiced, baked apples, it was fresh and clean tasting, it did have a slightly cloying finish, but overall, it was pretty darned good, and a great match with sushi.