Buenos Aires – The current issue of El Gourmet, the magazine of the Argentina based South American food channel, opines that Peruvian food is the new hot commodity in Buenos Aires. This is, of course, music to Henry's ears. The magazine's evidence for this is the relatively recent opening of a whopping count of two restaurants that offer cuisine "inspired" by that of Peru. One of the two was opened by a chef from Trujillo, his hometown, so off we went yesterday for lunch to Zadvarie DOC, Uriarte 1423, in Palermo Viejo. (I'm guessing the DOC comes from the common usage in the wine world of Denominacion de Origin Calificada to designate wine regions of quality.) Their business card describes the food as cocina de inspiración peruana (Peruvian inspired cuisine), and sabores del altiplano (flavors of the high plains). [This place closed over a lease dispute in early 2009.]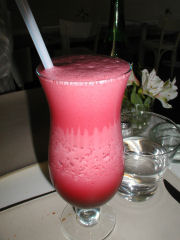 The place is very sleek and modern looking, all done up in various hues within the white to beige range. There's an open kitchen, a small patio, and a rooftop terrace for dining. The restaurant also offers a well stocked bar and a decent wine list. We were immediately presented with menus and a basket of traditional Peruvian breads, plus offered water and/or drinks without the usual wait for our full order. Major brownie points. We ordered a round of chicha morada, a traditional Peruvian soft drink made from purple corn. Instead of the usual extract, water and ice, Zadvarie very smartly turns this into a blended drink quite similar to a liquado.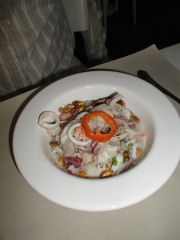 The menu is a little confusing in its layout, with no real guide to which dishes are considered appetizers and which are entrees other than price. There are random placements of what seem to be able to ordered as either side dishes or appetizers as well. Many dishes have two prices after them, on asking, sometimes it's a difference between appetizer and entree, sometimes it's a difference in whether you select the dish a la carte or as part of a set menu (which have set prices, so I wasn't clear why there was a need to do this…). Henry decided to order a ceviche mixto, his litmus test for whether a Peruvian restaurant is worth visiting again. It was pretty spectacular, with a mix of fish and shellfish, perfectly seasoned, just a little spicy with the use of rocoto peppers, not easy to find here.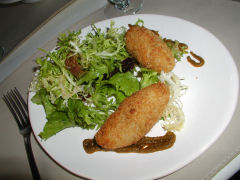 I started off with the yuca rellena con camarones, deep-fried and stuffed fingers of mashed yuca root filled with a simple mix of shrimp and corn. Somewhat bland in themselves, they were elevated to excellent by the use of a salsa llajwa, something we weren't familiar with. The manager explained that it is a traditional sauce from the Andes, especially Bolivia, that is made of dried tomatoes, rocoto peppers, and two herbs – huacatay from Peru and quirquiña from Bolivia. The former is found in other parts of the world and is also known as the John Henry herb; the latter is an aromatic herb reminiscent of coriander. The sauce, with a quick internet search, appears to be a very common condiment in the Andes and is also known as Bolivian Hot Sauce.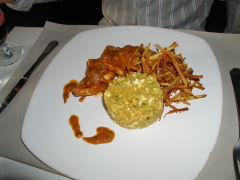 While the main courses listed several pretty classic Argentine selections, clearly a bow towards local custom, the more interesting selection were the Peruvian inspired selections. Henry dug into a pepian del pollo, a very classic dish. A pepian is a sauce that is thickened with ground nuts and seeds, in this case peanuts and chickpeas. The presentation was appropriately fancied-up, the main courses are presented on inordinately large square plates, making the food look a bit skimpy when it's actually more than enough. The sauce was, once again, dead-on. The dish was served with a squat cylinder (a form that I saw used on pretty much every main course plate that came out of the kitchen) of quinoa lightly sauteed with eggs and herbs and a mound of papas pays, or shoestring potatoes.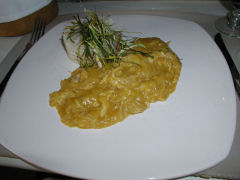 I chose an ají de gallina, one of my personal favorites. Although ají typically means chili pepper, in terms of dishes it is a term for a sauce made from oil, vinegar, garlic and chilies. In this case, thin strips (hebras) of hen were stewed in the sauce, which was thickened, probably with a little manioc starch. The sauce was appropriately spicy and quite garlicky, which I really liked. The accompaniment was a simple cylinder of rice. An interesting garnish of crunchy, deep-fried, threads of green onion was strewn about the plate, it made a nice contrast in texture, and added a little depth to the flavor.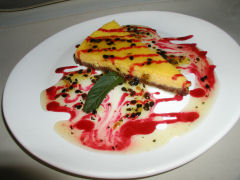 At this point, despite being quite full, we couldn't resist sampling one dessert. Though obviously not at all classically Peruvian (in fact, none of the four dessert offerings were Peruvian, or for that matter, particularly "Latin American" in style), we ordered a cheesecake de maracuyá, or passion-fruit cheesecake. I have to admit to a preference for a deep dish style baked cheesecake – very classic Eastern European. This was far closer to the New York style which I'm not overly fond of. Still, it was pretty good, and a puree of passion-fruit had been mixed right into it, giving it a fairly intense yellow color. The crust was chocolate, a nice touch, and a trio of passion-fruit, raspberry, and mint sauces graced the plate, along with a garnish of passion-fruit seeds.
Overall, high points for food, service, and ambiance. Truthfully, also worth the price of just under 100 pesos ($32 right now) for lunch, though that obviously makes it a place where I'm not likely to pop by daily for a bite.