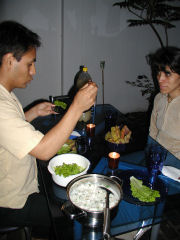 Buenos Aires – Last night was the first really warm night, and as we'd already planned dinner with friends coming over, it was far nicer to have it outside in the garden rather than move the table indoors (still waiting on furniture deliveries). We'd picked up an inordinate amount of fresh cod earlier in the day, something around the 2-kilo mark, especially given that there were only to be four of us. That dropped to three, so we had more than enough food. Henry and I decided to split the cod, and each make a favorite dish.
He claimed rights to the appetizer and a freshly made Peruvian ceviche. I can't tell you the exact quantities because he kicked me out of the kitchen claiming that I was in the way. I do know that in addition to the cod he picked up a bag of limes, which are all gone, some chili peppers, cilantro, and onions.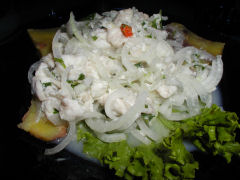 Beyond some salt, I don't think a lot else went into the dish. He chopped the cod into bite-sized bits, salted it and added the chopped chilies, juiced all the limes and bathed the cod in it (I know, I saw it all submerged). At the last moment he added what seemed a huge amount of thinly sliced onions and a little finely chopped cilantro to it and adjusted the salt. He served it on top of lettuce leaves and thickly sliced batatas (yams) and mandioca (yuca) that had been simply peeled and boiled. After eating through two plates of it, we drank the remaining "broth," which is really just lime juice with bits of cod and chilies floating in it. Excellent!
I'd decided on something a little bit classically French. I'd originally planned on fresh trout, but the fish market was out of them. The recipe is one from Alsace that uses fresh young green onions, which are perfectly in season here. I adapted.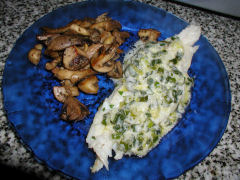 The filets of fish were simply salted in advance and cooked in a little butter with some parsley. For this dish I like to cook them on only one side, with a lid on the pan, so the fish cooks through but remains exceptionally moist, as for the most part, it steams, with just a little browning underneath. The sauce is a simple green onion sauce, recipe below, spooned over the filet. For a side dish I'd picked up some mixed mushrooms – in this case portobellos, buttons, and two different types of oyster mushrooms. I stewed them in their own juices, some salt and thyme, in a little butter and olive oil, in a covered saucepan, for about 10-15 minutes, which really concentrates their flavor. Then I removed the lid, turned the heat up high, and tossed them until they browned nicely. A second excellent, and a great first dinner in our garden!
4 green onions or scallions, finely chopped
2 tablespoons of olive oil
½ teaspoon of flour
2 tablespoons of vermouth
½ cup of milk (cream is classic, but for me too heavy)
salt and white pepper to taste

Over low heat, sweat the onions in the butter until soft, about ten minutes. Add the flour and stir for 2 minutes just to cook it slightly and get rid of the raw flour taste. Turn the heat up to medium and add the vermouth, stir continuously and cook for another minute to burn off some of the alcohol. Add the milk, bring to a simmer, stirring continously. It will thicken slightly with the flour, remove from heat and spoon it over the fish filets. If you decide you'd prefer to use cream, skip the flour. Makes enough for 4 decent sized filets.