Not a trio of birthdays, but a trio at a birthday, here at Casa S. It started out as a larger dinner birthday party for a young man from Michigan, arranged by a friend. But circumstances combined to ending up with just a threesome coming to dinner on Monday. I offered to fold them in with one of the dinners last or this week, but the person organizing it wanted to keep it private. So the social aspect of our communal table was a bit sparse, though the three of them did have a lively conversation on their own. For us, it felt odd, as it has in the past when we've had a small number of people at the table – but that may just be because we're used to the larger groups.
Because it flowed right from the weekend's dinners we kept a couple of the dishes the same – the spicy peanut soup and the chocolate and hazelnut dessert. We decided to start off with our "ensalada amazonica". The other two dishes we played with a little – one a reworking of an old favorite, the other a new dish I've been working on.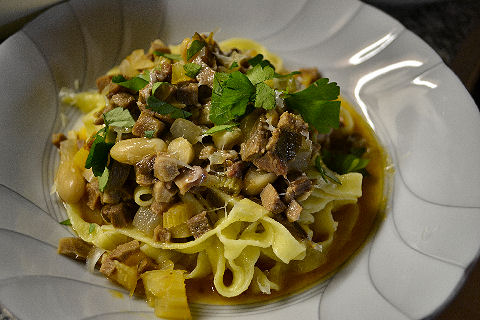 Homemade semolina tagliatelle with a classic sugo – here using the remaining slow poached veal tongue from the previous night's dinner in place of roast pork shoulder. Let's face it, tongue, while being an "organ", isn't a gland and is basically just muscle meat. Heart too. Just very lean.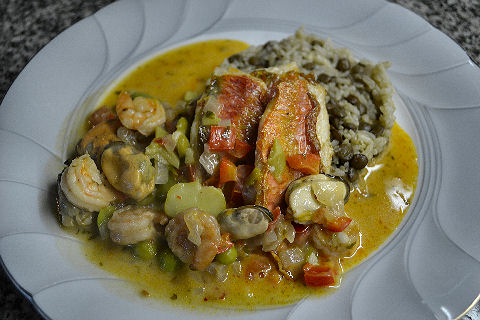 One of my favorite Peruvian dishes is fish "a lo macho" – basically served in a shellfish, tomato, chili and cream sauce. More down the line when I feel like it's at the point to do a step-by-step – it's really good, but it's not quite "perfect". Here, served over trilla that were quickly cooked in olive oil and butter, and a medley of brown rice and lentils. Trilla is a type of red mullet, officially in English called the Argentine goatfish. I tend to just call it red mullet.