Oh, what to do, what to do? C.S. Lewis only wrote seven volumes to his Chronicles and I have so many more shawarma to eat. I have no book to quote from to open the show. It's a sad state of affairs, made better only by seeking solace in carved meat, salad and sauces wrapped in dough. Although not in order, we may as well start off here with the Lebanese community festival which was yesterday here in BA along Av. de Mayo. These ethnic festivals happen regularly all summer long for different communities – great fun, always interesting, not to be missed. Generally Sunday afternoons in the same spot – the first two blocks of the avenue after leaving Plaza de Mayo. You can find out about them, and other cultural events on the city's cultural website, available in both Spanish and English (setting at the top of the entry page) – they also have an Android app that they advertise, but at least as of now it doesn't seem to be working.
I know, I know, it's shaky. Was trying out the video feature on my DSLR, zoomed in, and without a tripod, just couldn't hold it steady – should have used my phone. But, it's a fun way to start the post – just enjoy the music in the background while you read on.
So there were six different stands serving up shawarma at the festival. They were also serving up falafel at some, and some pastries at others, but that's not what I was there for. I wasn't about to ingest six shawarma in rapid succession, and I was able to eliminate two right off the bat since I've covered them before – Arabian Food was covered in Book I, in fact, it's where this whole project started, and Oasis was covered in Book III and is my "go to spot" since it's relatively close to home. The remainder were two different caterers and two different community groups, which pretty much means none of them are shawarma you can go eat, and one of them I knocked off because they couldn't seem to keep their rotisserie lit and they were basically trying to serve up either nearly raw shawarma or just moving so slow because they could only serve one every ten or fifteen minutes. I didn't feel like waiting. On to the other three, a manageable number of shawarma for an afternoon's entertainment.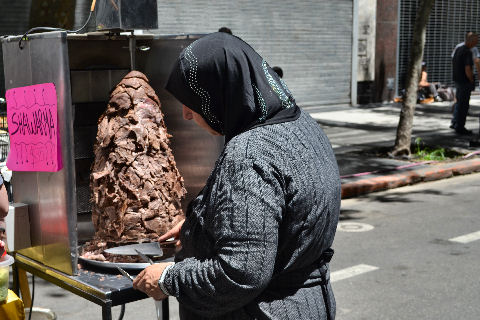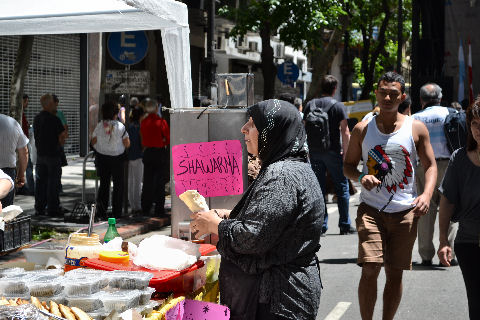 Los 7 Mares seems to show up at various street festivals throughout the city – they have a big, professional looking sign and they advertise themselves as a Casa de Comida and caterer. You'd think they'd have business cards, but they never seem to, and I can't find them searching the web, so, the place to check them out is street festivals, and not necessarily for the Lebanese community, I've seen them at a variety of different spots. They also always seem supremely bored by the whole thing. Generous sized shawarma, for me the meat is a bit thick cut – you can see it's rather large slices just draped over each other – I'd guess they do it themselves – but it leads to pretty thick and chewy pieces of beef. Seasoning is decent, and they topped the shawarma with a little lettuce, tomato, onion, lemon juice, and tahini. Not bad, not great.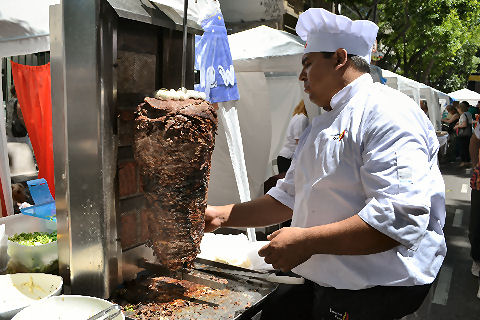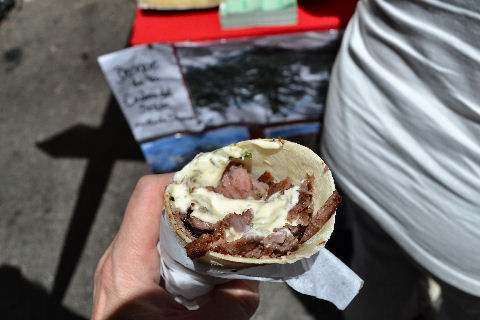 Caterer Shawarma Party, who definitely need a better designed website, were, on the other hand, friendly, cheerful, up for chatting away about shawarma and other delicacies, and, you can guess that the chef enjoys his food there, no? A bit of a meat only shawarma – so little of anything vegetable as to not be worth mentioning, good, tangy, herbed yogurt sauce. One I'd happily eat again – I have the feeling these guys can put on a good party.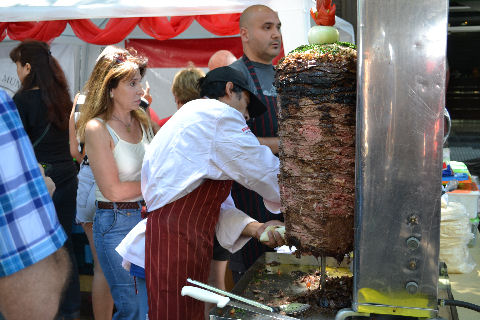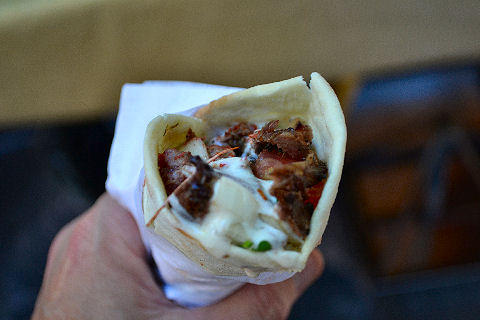 I think this organization was the Unión Cultural Argentino Libanesa. Weirdly organized, or more, disorganized, and really slow, it took near half an hour to get a shawarma out of them as they had a four step process to get one – line up at the cash register, order and pay, the register guy then told someone else what ticket to give you, you had to then move to that person to get the ticket, then mill about waiting for a third guy (the tall bald one) to call out your ticket number, at which time you presented it to him, and then he would pull out a pita bread, put some salad on it, and lay it on the counter next to the other guy. The rotisserie wasn't turning, so he was turning the meat by hand every few minutes, and then he'd carve off a few meager shavings into the dripping fat, scoop them up fat and all in a spoon and dump them onto the pita, then he'd set that down, move over to where they had the yogurt sauce (and, the only ones with available chili flakes, not a great way of getting your picante, but better than nothing), put those on (flakes only if you asked), and then wrap it up in paper and hand it to the big guy to hand to you. Bizarre. And a measly half-sized shawarma in contrast to the other folk serving up at the fair, using maybe a six inch pita in comparison to everyone else's eight inch ones. Decent flavors. Oh well, it's not like there's a place to go and feel hungry after eating this one.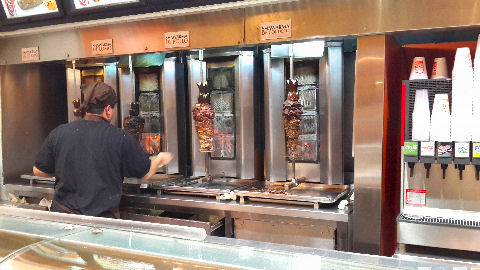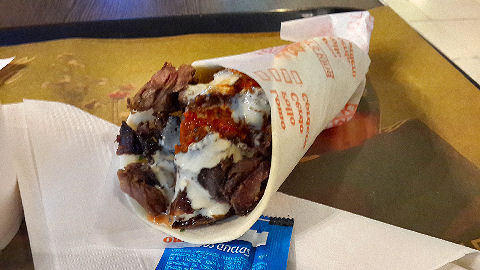 Okay, enough at the fair, back to regular spots where you can actually go. This will sound odd, but I've avoided this place, Arabian's King, in the Abasto Shopping Center (and 1 other spot in the city, DeVoto Shopping, and three outside the city), because it was a fast food shawarma. Think about that… I mean, shawarma is fast food practically by definition. And several folk have recommended this one. But it's in a shopping mall food court. Turns out to be pretty decent. First off, you have a choice of beef, lamb, chicken or pork (my goodness, another spot with pork shawarma!). Advertised on their menu are various combos, clearly pointed towards the Argentine set – all of them come with a huge mound of fries and a coke, and the shawarma is meat only, no salad inside, they serve that on the side if you get a combo and you can stuff it yourself. But, asking, it turns out they'll also just sell the sandwich although then it's sans salad. It's a decent sized shawarma, here I went with lamb, the meat is well seasoned, maybe a little gristly in spots but mostly pretty tender. The bread is a very thin flatbread rather than a pita. Choice of tahini, yogurt and hot sauce, the last of which actually has a decent kick to it. Not bad at all. Color me surprised.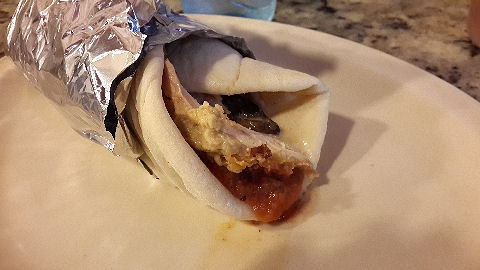 And a very different take on shawarma at kosher spot Yafo, Paso 747 in Once. In fact, I'm surprised there aren't more shawarma spots in Once, I mean, it is the heart of the Sephardic Jewish community here. At Yafo they offer up chicken shawarma only, and being kosher, no dairy to be added, so no yogurt sauce, though they have a thin, tangy white sauce they squirt over it that I wasn't quite clear what it was, and hot sauce available. I can't say that chicken shawarma is generally a fave, it's usually pretty dried out, but this one was surprisingly juicy, and there's an array of a dozen condiments and salads that they'll add to your wrap in whatever combination you want. I had hummus, grilled eggplant, and a cucumber parsley salad on mine. And, it was quite good. I'd eat there again.