First up, a couple of additions to The Chronicles of Shawarma, both downtown.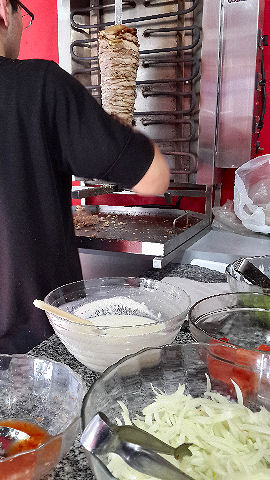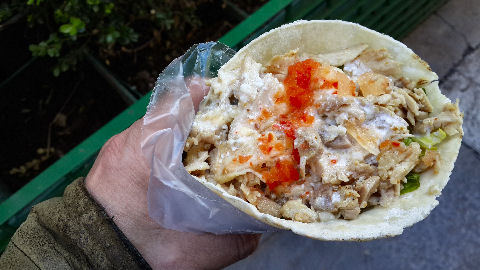 I've heard about
El Pato
, Florida 23, for awhile now. It was touted by several different people as "specializing in chicken shawarma, but only on Fridays". Misunderstanding on my part, I assumed that meant that was the only day they served shawarma (the place is a to-go hot dog spot). So, given that I'm rarely available on Fridays to run downtown for a shawarma, it remained backburnered on my list. Finally, with a Friday free at last minute when a private party cancelled, I decided to give it a shot. Turns out that the deal is that Monday to Thursday they serve beef shawarma and Fridays they serve chicken shawarma (Thursdays used to be lamb, but no more, "too expensive" they tell me). So, this is the chicken shawarma. It is good, and I suppose give that there are very few chicken shawarmas out there in town, one could easily claim it as the best. I found it a bit under-seasoned, they also wait until after the whole thing is wrapped up into a cone and then drizzle the sauces on top, rather than spread them throughout – so you get all the yogurt and hot sauce in the first couple of bites and then, nothing. As chicken shawarmas go, I prefer the one at
Yafo
on flavor, though this one is certainly better packed with meat.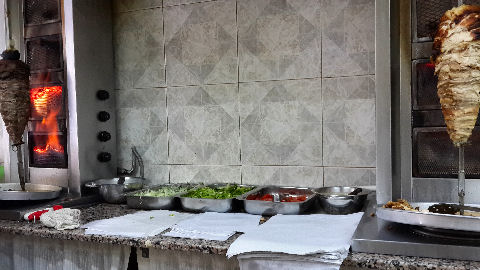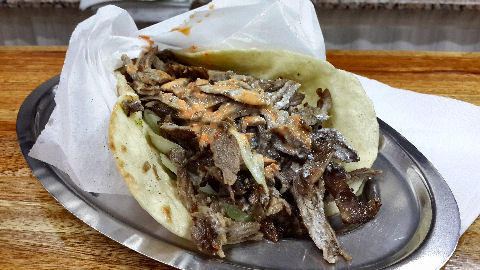 I think it's probably safe to assert that generally any place called "Express" anything is often a bad move (the only exceptions that leap to mind are Federal and Pony), so I wasn't holding out high hopes for
Shawarma Express
, Suipacha 772, primarily a takeout place though they have a couple of counter barstools and I think two tables for two. And, so therefore, I wasn't disappointed. Sorry, but this one just didn't do it for me. The beef shawarma (the menu says chicken and lamb as well, but like the place above, no lamb on offer) was so chewy and burnt it could have been charred rubber bands. The thin bread is packed with the stuff, which doesn't make it any more appealing, nor does the wimpy piece or two of onion and tomato slipped in there. The only saving grace here was a rocking good hot sauce available on the side to be added at your pleasure. Unfortunately, it doesn't save the shawarma. I ate a few bites and tossed this in the trash down the block.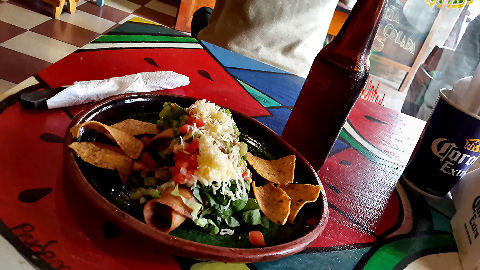 A few months ago a friend in San Telmo pointed out a new little Mexican restaurant, but added in that he'd never seen the place open, so hadn't tried it. I've passed by numerous times and likewise, never open – but, it turns out that they simply don't open for lunch, except on Sundays (when they don't open for dinner), and are closed on Mondays – all in all, doesn't work well with my schedule. But, I managed to find my way over there this last Sunday and grabbed a seat at
Che Taco
, Balcarce 873. The menu is a blend of reasonably traditional Mexican food, some Tex-Mex, and a bit of Argentine. Two of the tables were taken up by parties of Mexicans, one group from here, the other visiting, most of the rest, expats or tourists. I decided on a round of
taquitos
– crispy, perfectly fried meat stuffed flour tortillas (on the regular tacos, which I didn't try, they come with soft wheat tortillas, but you can order them with crispy corn tortillas if you prefer, for an upcharge), followed by a carne al pastor burrito, more packed with rice and beans than meat, but delicious all the same. Washed down with their housemade chili and lime beer, which I'd drink anytime. Only complaint – the pricing. For what amounts to snack fare at a hole in the wall, it gets up there fast, added to by the fact that nothing on the menu comes with hot sauce of any sort – you have to order and pay for hot sauce, and it comes in, I think eight different levels, from mild vinegared jalapeños to a wicked habanero sauce, and ranging from 5 to 40 pesos, just for sauce (oddly, however, though the chile de arbol sauce that I ordered was listed at 30 pesos, they only charged me 15, so perhaps the regular order is enough for a table to share, rather than the small ramekin I got which was just barely right for me). Lunch for one, with a beer, and tip, came in at over 200 pesos. Still, I'd put it a step up from
Real Revolucion
, another recent opening that I liked quite a bit. Now, if only Che Taco was open for lunch during the week (my waiter said it's the biggest complaint they receive, almost daily – you'd think that would be a hint – and, I mentioned it to the two guys from the place during last weekend's
Chili Cook Off
and they said "soon").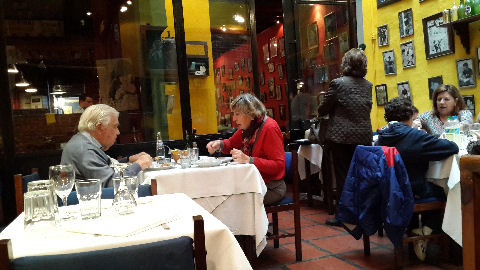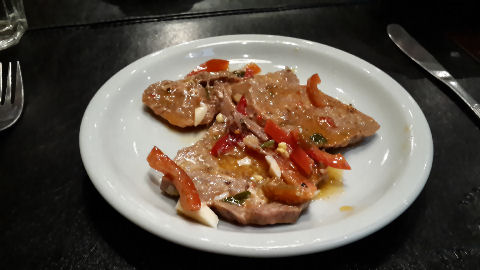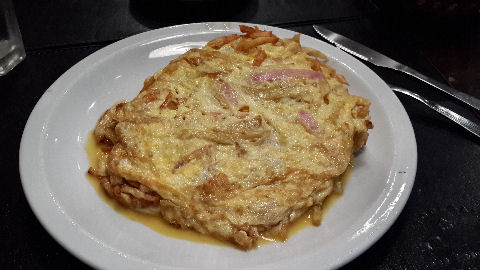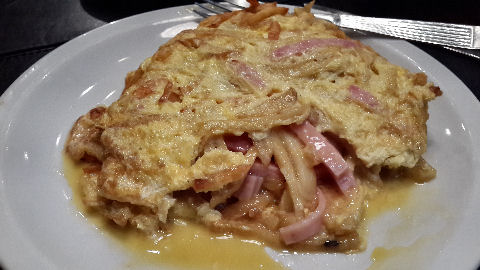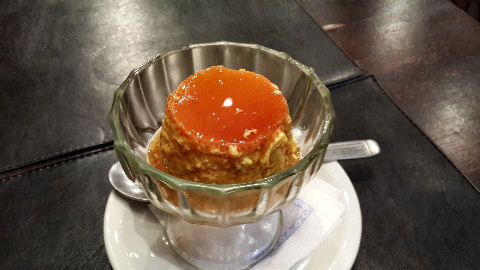 Although I'd sworn off trying any more BA Food Week spots a couple of days ago, I found myself on the last day of both it, and the Semana de los Bodegones Porteños events. Since I hadn't gotten myself out to any of these classic, old school spots for the latter, I figured I'd try the closest one to home – it's a place I've passed by for years and never stopped in at, Teodoro Arenales at Arenales 1424. On a Sunday afternoon I found myself likely the youngest person there by about 20 years, other than the occasional accompanying grandchild, most of the tables were older couples, and clearly regulars. Friendly if harried service – each waiter seems to be handling an inordinate number of tables, especially for a busy place. Mine wasn't immediately forthcoming with the special menu for the week's event, but the regular lunch menu special isn't bad with two courses including a beverage for 125 pesos. But, the two course 85 or three course 135 peso special was what I was there to try, and on asking, he brought me that menu. I ordered up the latter – starting off with lengua a la vinagreta, pickled tongue, perfectly done, tender, well seasoned, just what one would hope for. On to one of my favorites, revuelto gramajo – interesting presentation, basically two open omelettes sandwiching a filling of the ham and potatoes – well cooked, just unseasoned. The addition of salt made the dish – I would have liked pepper too, but, like many of these old time spots here in BA, they don't have any. A perfectly good, creamy smooth flan to finish. And, to top it off, the waiter only charged me for the 85 peso menu – he said that it's easier on the computer the way they have it programmed to just charge that at lunchtime and the higher price at dinnertime.