Despite the threat to my waistline, I figured I'd continue working my way through the new pastry shops here in Recoleta. The round-up on the last post didn't uncover a whole lot worth getting excited about – the torta bombon at Tips and the nut and caramel tart at Parnasse were the only ones out of six checked out that I'd bother getting again. And so we continue…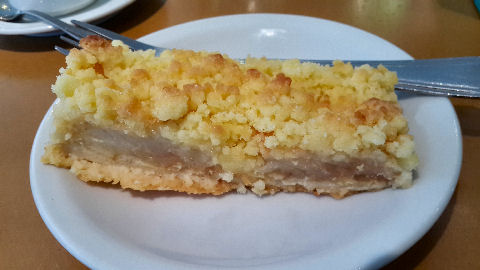 And luckily we start off with a winner of a pastry, the apple tart at
Santos Sabores
, Pacheco de Melo 1865 here in Recoleta (they also have another shop in Belgrano at Aguilar 2104). Flaky pastry below, chock-ful of well seasoned, sweet apples, a touch of pastry cream or custard in the mix, and a lightly crunchy streusel style topping. Better than any apple tart I've had here in town since Martín Baquero closed up
Almanza
in Palermo where he had one of the best apple tarte tatins I've ever had. And to think, this spot is only two blocks from home, where I now have to work to avoid going in and ordering another slice. But hey, it's fruit, right? That's healthy.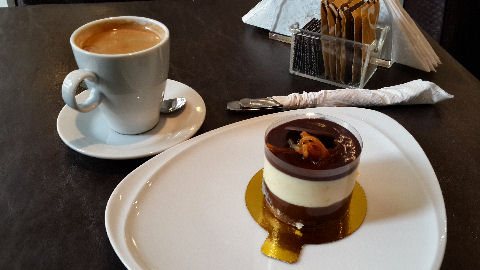 A couple blocks in a different direction there's the new
Sasha
, Juncal 2110 at the corner of Junín, opened up by a recent grad from IAG's pastry chef program. And kudos to both her and the program, because if she's turning out desserts like this after just graduating from pastry school, plaudits are in order. After the disastrous marquise at Chez Lupe in the last roundup, I was had trepidation in regard to trying another one – yeah, I know, a different place, a different look – but the memory was fresh. No regrets here though, a perfect little flourless chocolate base, smooth and rich, topped with a delicate orange mousse that was like a citrus cloud, and then a thin layer of dark chocolate over the top and some candied orange peel. The only negative, it's really small, especially for the fairly high prices, and I don't quite get why the leave the little plastic sleeve on it to serve – I'd remove that just before presenting it to the customer. Still, delicious!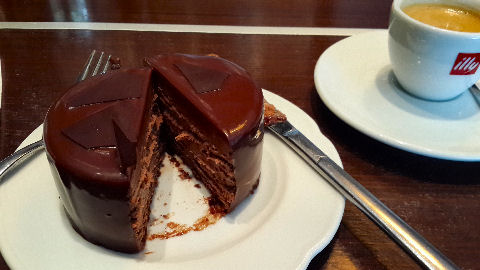 Although a little further away I decided to include this one – it is, after all, still Recoleta, and 9 blocks isn't all that far away to go in search of pastry. In fact, there are three pastry places all right around the same corner of Uruguay and Juncal, but this one is the one everyone talks about –
Smeterling
, Uruguay 1308. There are a few counter seats and a small table at which you can sit and sip on an Illy espresso while you dig into one of their treats, though mostly they're focused on purchases to go. Colleagues have waxed poetic about "La Smeterling" which may be a chocoholic's dream, but perhaps they haven't tried "Mas Smeterling" which is a chocoholic's wet dream with layer after layer of different, rich, textured chocolates, one after the other. A bit of a tussle when they couldn't get my credit card to process and I didn't have the cash with me to pay – they even put me on the phone with their card processor who informed me that he had personally called my bank and been told my card number was non-existent in their system and that I was trying to pull a fraud – yeah right, he called a bank in New York on a Sunday and talked to someone – he was on the phone with the waiter for the 3-4 minutes prior. I left what cash I had along with my card – you could tell they didn't really believe I'd be back, particularly my waiter. I returned next morning with the cash and a tip which seemed to shock them all. Oh, and I used the card ten minutes after leaving there on Sunday at the grocery store, without a problem.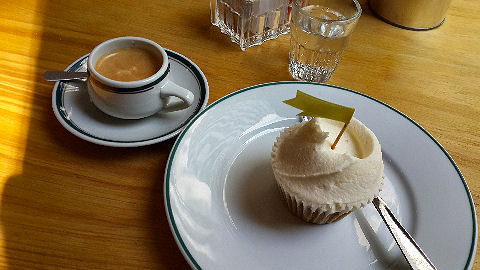 Crossing over Pueyrredón by a block or two I stumbled upon a couple of more new spots. First up,
Anima
, at Peña 2665, a specialist in cupcakes. It's a cute little place, and indeed, the majority of what's on display are cupcakes, though there are also large, soft cookies, and a few other small pastries available. Waitress highly recommended their carrot cake, which is always a personal favorite – hmmm, idea for another series of baking posts. This, unfortunately, didn't quite fit the bill – the cake part, which I think in volume was actually less than the frosting, had no discernible flavor of carrot and little in the way of spices – a hint of cinnamon perhaps. But it was all overwhelmed by the mound of grainy, sugary flavorless icing. Coffee was good. In proper local "indulge children in whatever they want" style, a young woman at a nearby table let her young (5 years old maybe?) daughter have free reign – which she used to run up to the counter and proceed to pick up cupcakes one after another in her hands, can carry around the store, and poking her grubby little fingers into them (I just imagine they're grubby because she's five and running around like a little banshee), and then just returning them to the counter. No one, neither mom nor staff, said anything nor did anything – no, that's not true, mom said "be careful with those". The cupcakes were left out on display for customers. #fail 
[Closed]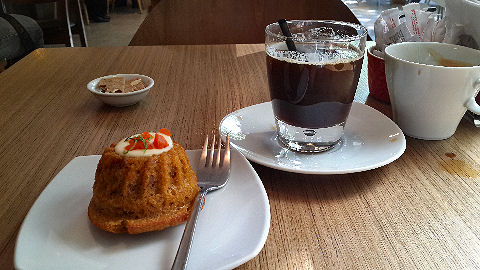 On the other hand, the carrot cake at
Delicious Café
, Laprida 2015 at the corner of Pacheco de Melo, also recommended by my waitress as her favorite, was dead-on. Beautiful carrot flavor and you can even see it, great spices, and just a hint of a cream cheese frosting on top to give it a little tang. And one of the first places I've been in BA where when asking for an iced coffee (it was a hot day), there wasn't even a blink – just, "I'll bring you a double espresso and a glass of ice, will that be fine?" Other great looking pastries on display as well, including a much touted on FourSquare white chocolate and passionfruit cheesecake, to be tried at some time in the future.