I wasn't back 24 hours before I was in the kitchen, cooking up a reinterpreted dinner of all the various things that we encountered while in Iquitos, Peru last month. In fact, that's going to be the sort of theme of the next few weeks – a redux from Iquitos, Trujillo and Calamarca, Lima, and La Paz – our style. And, of course, there will have to be substitutions because there are ingredients in these places that we simply can't obtain here.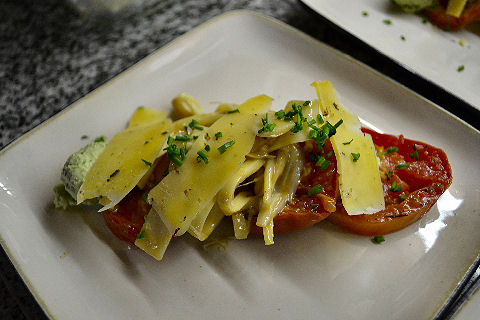 Salads seemed to have been quite popular there, and always centered around three main ingredients – tomatoes, avocados and hearts of palm. Here, oven roasted tomato slices with thyme and oregano; an avocado mousse; thin strips of palm hearts dressed in a garlic vinaigrette; and shavings of a local cheese, criolla con albahaca – basically an aged farmer's cheese with basil.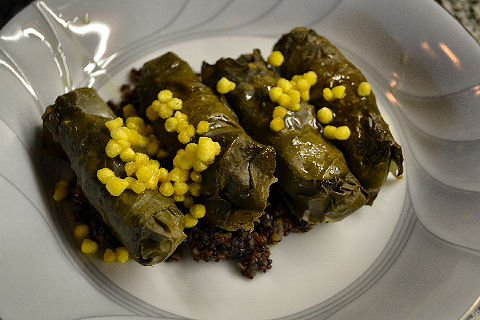 If you were following along on our adventures, you probably noted a couple of stabs at the principle classic dish of the region, patarashka. Basically, it's a fillet of freshwater fish laid on a bijao leaf (there is no real translation, it's a somewhat aromatic leaf used a lot as a wrapper for foods up there), and then topped with, more or less, a sofreito – onions, garlic, tomato, herbs, and sometimes capers, all grilled in the leaf package, and then accompanied with some sort of starch – yuca or sweet potato seem to be the most common – and maybe a salad on the side. Here, I roasted sweet potatoes and then mashed them, then mixed them with trout and pejerrey, local freshwater fish, and chopped tomato, onion, capers, garlic, thyme and oregano, and placed the mixture onto grape leaves, rolled them up like dolmades, and broiled them. They're sitting over a bed of toasted red quinua and topped with quinua "popcorn". We also put out a duo of dipping sauces – simple ají amarillo chili sauce and a light mayo of cilantro and roasted garlic.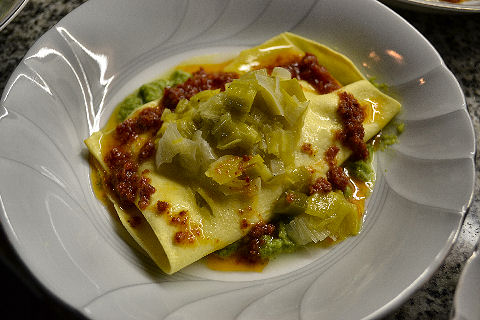 Loreto is the region that Iquitos is located in, and at one of the restaurants we ate at we were treated to a delightful dish of "raviolies loretos" – my version is a semolina pasta folded over a filling of homemade cream cheese whipped with finely chopped sopressata, parsley, salt and pepper. It's served over a bed of green bean and cilantro puree, and topped with butter sweated leeks and chorizo oil.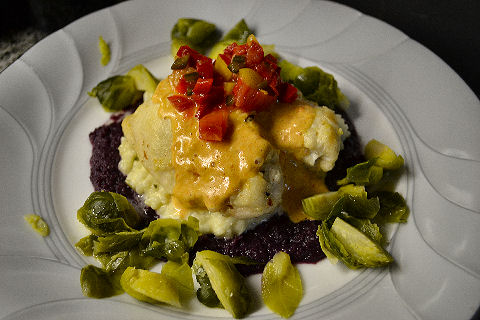 This is definitely the most reinterpreted of the dishes. I started with the idea of a juanes, which is a bijao enclosed package of rice, cilantro, hard-boiled egg and chicken – all steamed like a tamale until it's cooked through, and then it's served up with, normally, a cocona and/or ají charapita based hot sauce. Neither of the latter are available here (until my charapita seeds grow into plants, assuming they do) – so a different chili, and then, for the cocona, the flavor is a sort of cross between tomato and lemon. So, let's look at the layers of this dish from the bottom up: puree of red cabbage cooked down in red wine, red wine vinegar and tangerine juice; chicken stock risotto finished with a touch of cream; chicken breast dusted in flour, cayenne, salt and pepper and pan-roasted; sun-dried tomato hollandaise; a salsa of chopped limequats, tomato, red bell pepper and jalapeños; and, a surrounding scatter of sauteed brussels sprouts. Fun dish! We also, by the way, used a similar profile of cocona for our welcome cocktail for the evening – a blend of cachaca, limoncello, and a mix of tomato and plum juices.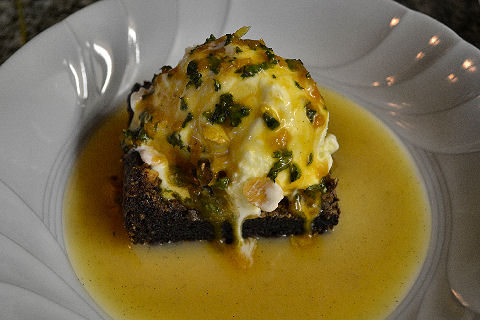 While most of what we saw for dessert was pretty basic, either fruit, or flan, or something equally simple, one of the things we noted was the liberal use of coconut and almonds and mint in various dishes, from a soup we had on the first day to some of the desserts we looked at. Here, a mixed white and dark chocolate flourless brownie topped with butter almond and toasted coconut ice cream, all sitting in a pool of white chocolate sauce, and then over the top of it all a drizzle of a mint gremolata caramel (caramel sauce with chopped mint, blanched lemon peel and just a touch of salt and freshly ground white pepper).
And that, my friends, was my first weekend back.