Before we get to the juanes for our main course, let's start the day with a little Juanes, Yerbatero…
…and, on to last week's dinners, which I really ought to get written up considering we've already started this week's.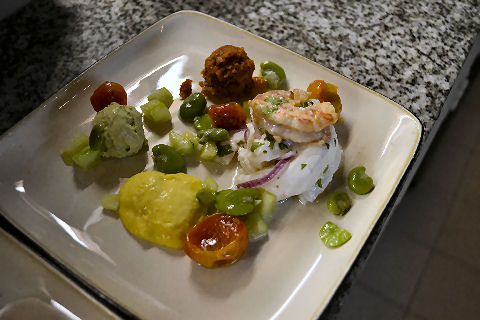 Our signature flounder ceviche, capped by a grilled prawn, trio of sauces – guacamole mousse; toasted cashew, tomato and chipotle; and corn puree (a little softer than normal), plus fresh fava beans, salted cucumber, and fried cherry tomatoes.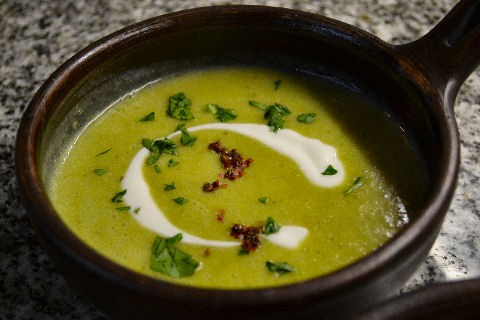 I was going to make a chilled spring pea soup, but the weather turned chilly and rainy, so at last minute I switched it up for a reworked version of our warm pea soup. Sauteed leeks, celery and a couple of green chilies in olive oil until soft. Added in some potato and topped off with vegetable stock, cooked until the potatoes were soft, then a good amount of freshly shelled peas, cooked about five minutes to soften them, pureed the whole thing, served topped with salted yogurt, chopped parsley, and some crushed pink peppercorns.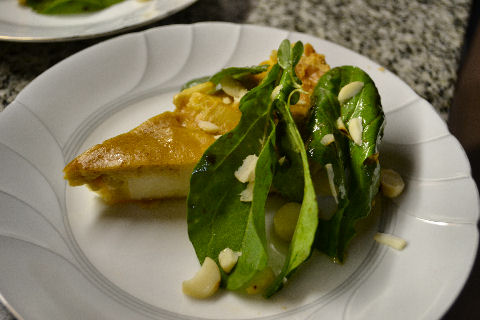 Completely new dish for the week, a heart of palm tart. Base, a sour cream short crust (tried out the Maggie Beer recipe – absolutely brilliant crust) – since we don't have sour cream down here, I used what's called Casa 'n Crema, which I mentioned in a recent post – it's sort of cross between sour cream and whipped cream cheese – worked perfectly. Chilled, rolled, chilled again, then filled with chopped palm hearts and an ancho chili and manchego cheese bechamel sauce with a couple of egg yolks added. Into the oven and baked until golden brown. Dressed with arugula leaves tossed with a balsamic and mustard vinaigrette, and some toasted macadamia nuts. I could eat that any day. Especially over the usual really eggy, stodgy vegetable tarts that are so prevalent here.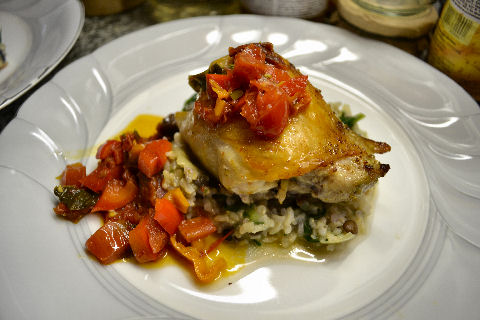 When I first got back from our vacation I tried out a reinterpretation of juanes, a classic street food of the Iquitos area. It was good, but the plate felt a bit busy. Here – keeping the flavors, but streamlining it a bit, the base is brown rice (we're trying to be a little healthier now and again) with added lentils, swiss chard, red cabbage, leeks, onions, and garlic, finished with some grated parmesan. Chicken thighs coated in salt and rocoto chili powder and pan roasted. Salsa of chopped sun-dried tomato, fresh tomato, red bell pepper, ají amarillo, lemon zest, shiso leaves, olive oil, salt and pepper. Much brighter and fresher tasting! Both this and the tart I'd happily put on a casual restaurant menu.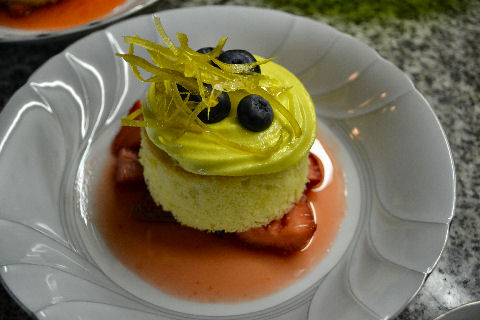 Just playing with presentation of our lemon and olive oil cake, made individual rounds of the cake rather than slicing a whole cake, topped with lemon icing, blueberries, and candied lemon peel. Below, strawberries macerated in limoncello and sugar. Maybe a little too "sweet on sweet", though, virtually everyone finished it each day we were open, so that may just be me.