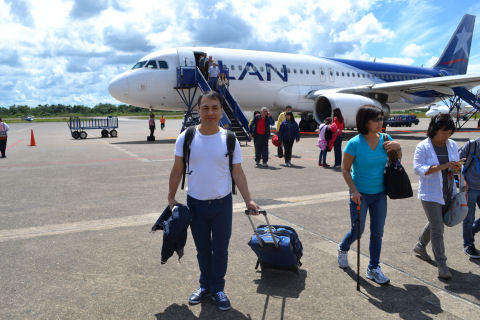 Henry and I have been wanting to spend a little time exploring some of the Amazon basin for a couple of years now and we're finally here. We decided against one of the long boat tours, partially because of the group tour motif and partly because we both like a sort of set place to come back to for sleeping – so we booked a hotel in Iquitos, the capital of the region, a city of nearly half a million folk taking up somewhere close to 500 square miles. Contrast that with Buenos Aires city proper at 3 million people and 77 square miles and you get a sense of how spread out it is, and, a certain lack of buildings over 1 or 2 stories. Iquitos is also the world's largest city not reachable by road – only by river or air.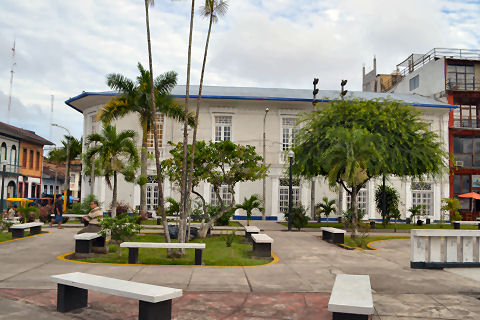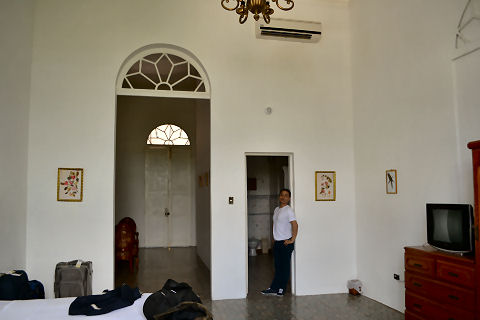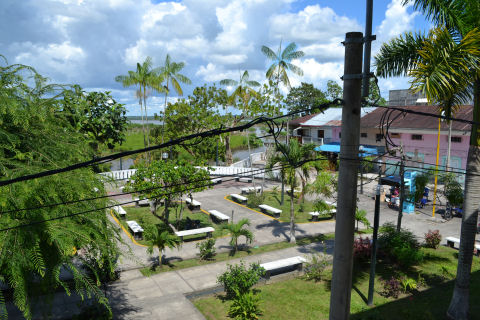 We were picked up at the airport by arrangement from our hotel, Casa Morey and whisked into town. The combination of the mix of rundown neighborhoods, lots of poverty, contrasted with what appear to be some relatively affluent section, and the heat, reminded me of my trip to Asuncion, Paraguay. I don't mean this in an insulting way, but I am so ready for a vacation that isn't third world poverty oriented…. Thankfully, our hotel fits that bill, the converted former mansion of a titan of the rubber industry, which is what the city was built around, it's pretty spectacular and has a great view of the Itaya river, a tributary of the Amazon.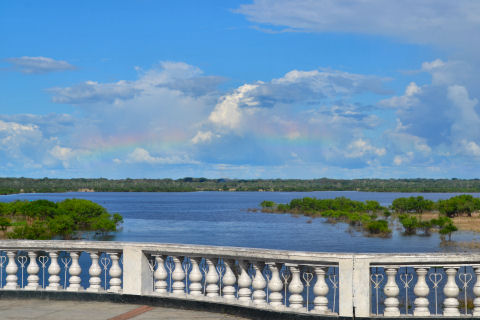 After getting settled we headed a couple of blocks away to the Dawn on the Amazon Cafe where we met up with the owner, who also rents out apartments, runs a tour boat, and just generally helps people out. I'd found him while sending out inquiries to multiple tour operators trying to get something that fit what we were really looking for – more or less a private guide for a few days, to take us to the places we were interested in. We were just finalizing our agenda, and figuring on a bite to eat in the cafe. And, we were greeted by a faint rainbow over the river, a promising sign.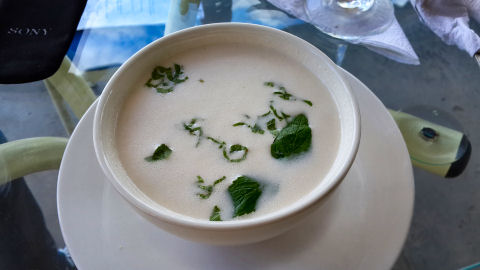 The menu at the cafe is pretty extensive, and covers all day breakfast, lunch and dinner, as well as a bar selection (not so much on the wine world). For those looking, it's a favorite of the vegetarian set – there are two dozen vegetarian items on the menu – and it also became clear quickly that it's a hangout for the North American tourist and expat set. I started off with a chilled almond and coconut milk soup spiced with garlic and mint – kind of like a white gazpacho with coconut milk filling in for the bread and milk or cream.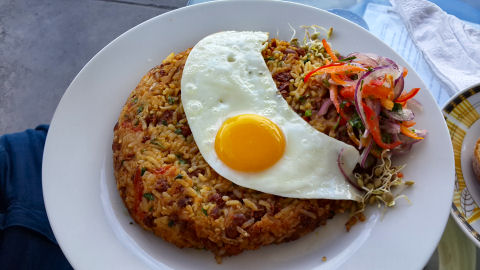 Henry decided against an appetizer and went straight for a classic tacu-tacu, fried rice and beans, the vegetarian version topped with a simple fried egg and a little onion salad. Quite good.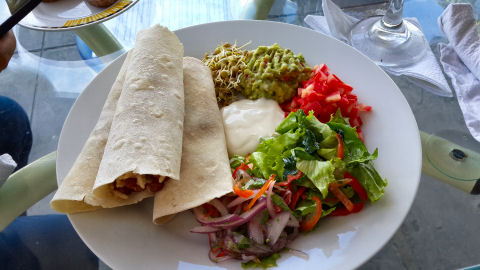 And while we didn't come to the Amazon basin for Cal-Mex cuisine, I was just in the mood for something vegetable packed and green – and the vegetarian burritos sounded perfect – very thin wheat tortillas (maybe slightly too thin) filled with beans and a little rice and accompanied by the array of vegetables and sour cream you can see. Yum!
Back to the hotel for a bit of a nap – we hadn't gotten much sleep the night before.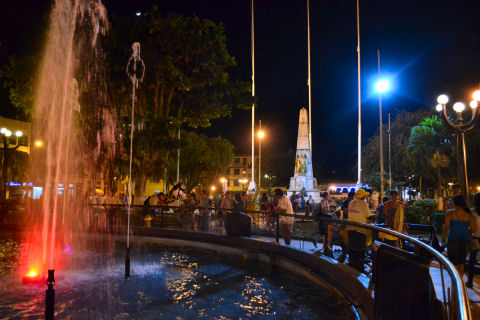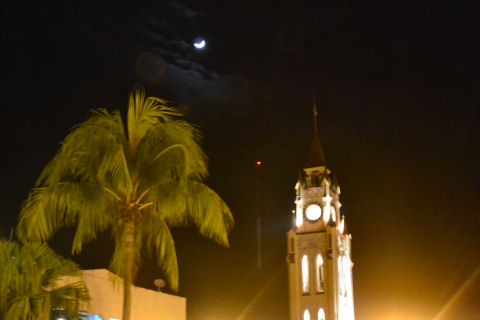 And a bit later a walk around the immediate area, checking out the Plaza de Armas, one of two central plazas near to each other in downtown.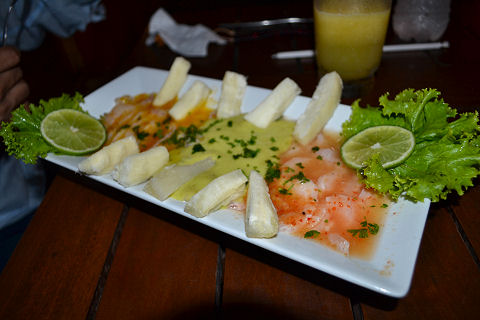 Our hotel desk clerk recommended a nearby place for a good mix of international and local dishes, and we made our way nearby to Fitzcarraldo Via Gourmet. Not surprisingly, Henry went straight for a tiradito style ceviche – local fish, and some interesting spicing – the green in the center is a sauce made from a mix of a local fruit called cocona, which is, we're finding, the base of numerous sauces here, mixed with a little local chili that's fiery hot – more on the in the next post.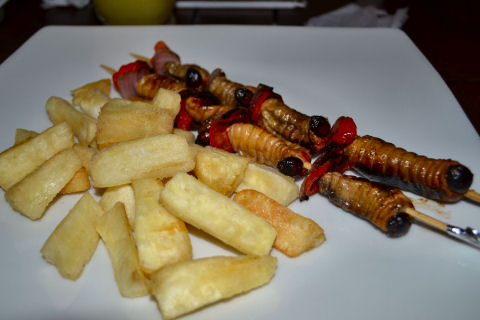 Okay, I dove right in, figuring I'd go full tilt for the first shot here. I'd read about and heard about suri, a local grub, that's usually served fried or grilled. I have to admit, the psychology is a bit hard to overcome when presented with two brochette skewers with, well, worms on them. Grilled or not. I tried one, wasn't thrilled, asked if they could be "crisped up a bit", which they happily did, tried another, and gave them up as an all around not so good idea – don't like either the texture or the flavor.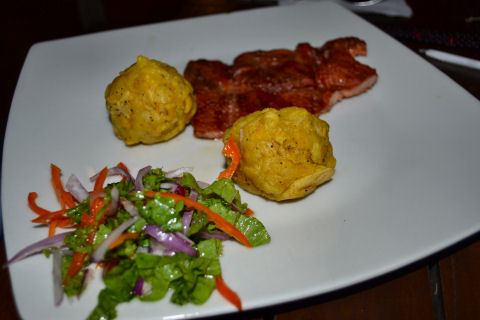 Henry went for the local pork dish, cecina. There's a similar dish we've had in Trujillo, though there the pork is salt cured until it's like a semi-cured jerky, and then it's rinsed, dried, and used sliced in strips in various sauteed dishes. Here it's a very thin steak of pork – probably flank steak, cured in a mix of spices, smoked, and then grilled. At Fitzcaraldo it's served with another local dish, tacachitos, a mash of plantains and spices that are rolled in a bowl and then either grilled or fried. Great dish!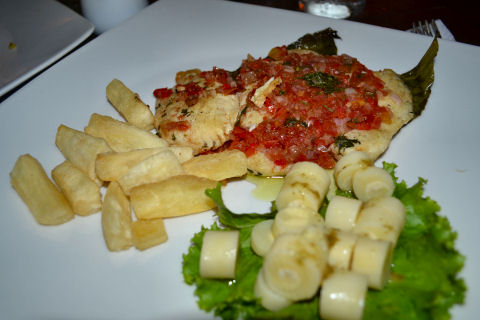 I moved on to patarashka, a local fish dish. In this case (and I'm not sure how standard it is), it was basically a fillet of local white fish covered with what amounted to a sofreito, then wrapped in bijao leaves, a local plant that I don't know that I can provide any sort of translation for, then steamed. Served up with more yuca fries – ah well starch overload is the standard in Peruvian cooking, right? Tasty little dish, too.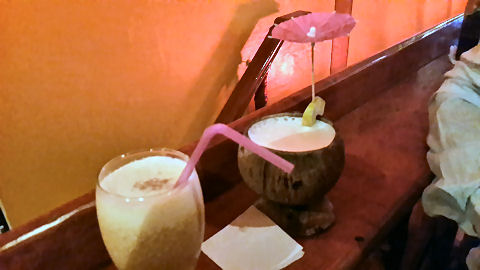 And, capped the night off with nightcaps at the highly touted Musumuqui, a bar about 50 feet from our hotel that serves up "exotic" drinks made with different fruits and herbs of the Amazon. Neither of us was overly impressed, finding both drinks way too sweet and using a really strong rum that overpowered pretty much everything else. Still, they're cheap and packed with alcohol, which was clearly a big part of the draw for the crowd jammed in to every nook and cranny on both floors of this bar.
A good night's sleep had, next, on to the first day of touring.