It was one of those short periods where everything kind of happened all at once. Not only did we have a full complement of dinners the last two weeks, but, let's see… We had Descubre Perú, El Dí del Gourmet, BA Food Week, La Semana del Malbec (and El Día del Malbec), and La Primera Semana Gastronomica Española, all happening pretty much overlapping. I made it out to as many things as I could fit in on my days off and still have time to just relax as well.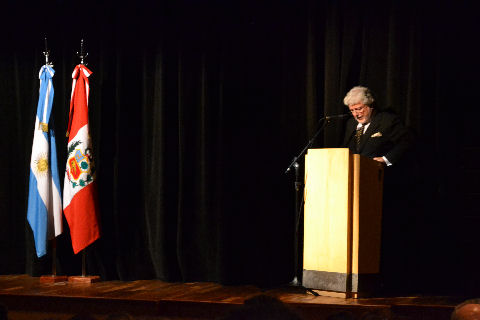 I'm not sure who's putting on the series of events, but apparently some ministry within the Argentine government has started a cycle of presentations of various ethnic communities in Argentina, celebrating their immigration here. The series kicked off with a look at the Peruvian community, which I think we only knew about because Henry was asked to dance for part of the presentation. Most of the evening consisted of really dry speeches by one ambassador or another, some from Argentina, some from Peru. At the beginning it was all about how Peruvians here are a grand part of the fabric of Argentine life and are fully accepted and there are no problems with racism, classism, or any other ism to be found, pretty laughable statements for anyone who's hung around the Peruvian community, then there was a music and dance presentation, followed by other government functionaries presenting series of statistics about Peruvian emigration to various parts of the world and then gradually focusing on Argentina in specific, followed by more music and dance and then some basically inedible catered food that only vaguely reminded us of Peruvian cuisine it was so bland and uninteresting.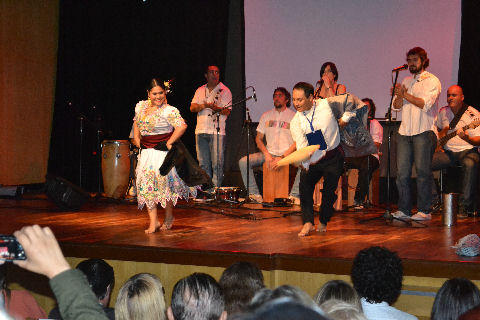 I got assigned the task of taking lots of static shots of Henry's dance performance, while a friend of ours got assigned the video camera:
I cut out early while all the glad-handing was going on at the end of the event and headed home to make dinner for the three of us…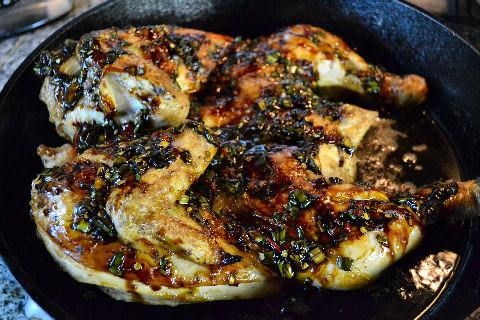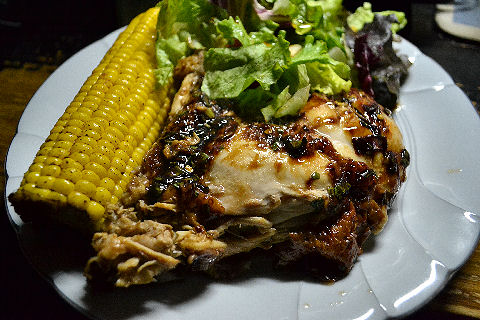 A little quick roasted chicken, Waxman style (far more interesting to me than Gangnam style), though instead of the usual herbs and butter I coated it in a mix of green onions, chilies, and oyster sauce to glaze it, a la Kylie Kwong.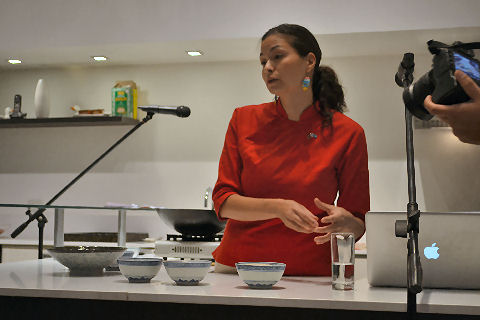 Last Sunday brought El Día del Gourmet, which consisted mostly of a series of talks by various local chefs and sommeliers – in the end, mostly because I wanted to relax and enjoy a beautiful day, I only went to friend Christina Sunae's "Filipino desserts" talk at the new Geson demonstration space in Palermo.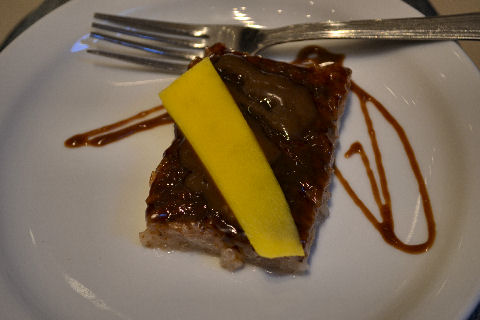 She talked the group through some of the flavors and textures of traditional desserts and then prepared one of her personal favorites, kalamay, sort of a baked rice pudding with flavors of coconut and dark sugar and topped with mango.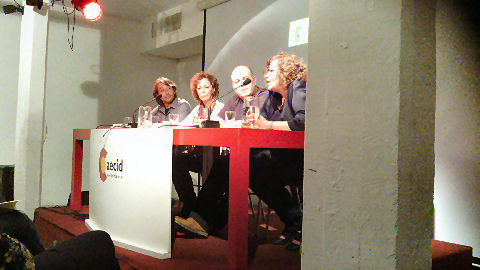 The first Spanish gastronomy week was a mixed bag of activities, quite a few talks and roundtables (one on gastronomy and media that I atteneded, above, with the panel consisting of chef Borja Blazquez, producer Guillermo Nader, TV personality María de Michelis, and food writer Raquel Rosemberg. There was also series of films related to Spanish gastronomy of which I hit three of the six between Monday and Tuesday. First, an amazing film based around the restaurant Mugaritz where chef Andoni Luis Aduriz partnered up with Felipe Ugarte, a musician, to create dishes and music in harmony. Completely fascinating process – a clip from it here:
Also a bit of a comedy called Tapas, trailer here:
And, finally, a tour of Peru and the state of gastronomy there, particularly some initiatives to train young people who are living in poverty as cooks to help them launch careers, the principals of which are Gaston Arcurio and Ferran Adria:
All of that food related stuff made me hungry, but unfortunately there aren't a whole lot of interesting places to eat around the area of Teatro Sha, on Sarmiento, where the films were shown, still…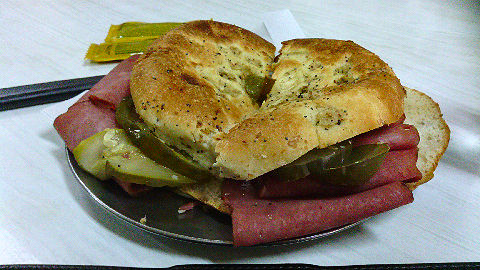 …one day I wolfed down two pastrami and pickle sandwiches on pretzlej (Polish onion bialys) at Bar Pinon, a little dive next to the theater, and although the pastrami was more the lunchmeat style that is ubiquitous here than a real pastrami, they were damned good sandwiches.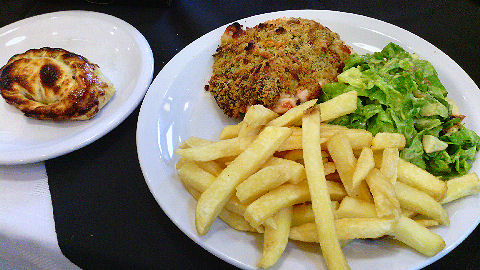 And, the other day, a stop in at El Viejo del Abuelo to try their house special chicken breast coated in breadcrumbs and sun dried tomato pesto all drizzled with basil oil and supposedly served up with a Caesar salad and sweet potato tart – the chicken wasn't bad, though a bit too much of a mound of breadcrumbs atop, somehow the tart was replaced by french fries and an empanada, and the salad was just a drowned mess of vinegary mayo. Ah well, should have gone for another couple pastrami sandwiches at a third the price.
With all that, unfortunately, we never made it to any of the BA Food Week restaurant specials – though, there's still this weekend to go – maybe tomorrow. Nor, come to think of it, have we drunk any Malbec this week – we'll rectify that pronto.