"The art of dining well is no slight art, the pleasure no slight pleasure."

– Michel Eyquem de Montaigne, French essayist
A Grand Slam, that is. Over the net, through the hoop, home run, or, as they say here… Gooooooooooooooooooooooooooool! Let me just say, upfront, Sunae, you rock. Yes, our closed door adventure this week was to the much written about Cocina Sunae in the barrio of Villa Ortuzar. And I could probably just leave this at these couple of sentences, and finish with that Sunae served us up what is hands-down the best Southeast Asian food I've eaten in Buenos Aires… but that's the rub, there's not exactly any competition. So, let me prove the case. [Closed December 2015, as Sunae is now open as Sunae Asian Cantina.]
First off, a quiet side street in Villa Ortuzar, an unadorned concrete block of a house. And a guy with a clipboard and walkie talkie standing in front of the door. He checks our names off the list and hits a buzzer, letting whomever answers know that we are here (turns out that the security is less for the place and more to keep an eye on the guests' cars, apparently there have been some problems in the past). Sunae (whom many call Christina, I'll leave the story to her) comes to the garden door next over and lets us in with a warm welcome. We walk through a plant filled courtyard and enter the dimly lit dining room. A surprise – it's much larger than I envisioned, easily holding 30 people, though for the evening it's set for 22.
No shared tables unless you request, which given that her clientele is generally more locals than expats or tourists, isn't common for her – when she first opened she tried the communal table idea but had so many complaints from her local customers about it (as we do too, one of the primary reasons most of our guests are from overseas, Argentines, in general, find the concept of a communal table at best mystifying and at worst, offensive) that she decided to go with separate seating – so the room is set for our trio, a group of eight students from the University of Michigan (my alma mater) on a study abroad program, a local family of seven, and four Armenian-Argentine women on a girl's night out. I have to admit it was the one thing that for me was a "missing" – there was no inter-group interaction, no cocktail period, no moment to get to know new folk – but then, she isn't offering that as a part of the evening. Even the meal is at a slightly different pace for different tables – the students were done and out of there around the time we were just getting our last course, and the other two tables were up and leaving before we were ready to depart, despite arriving after us.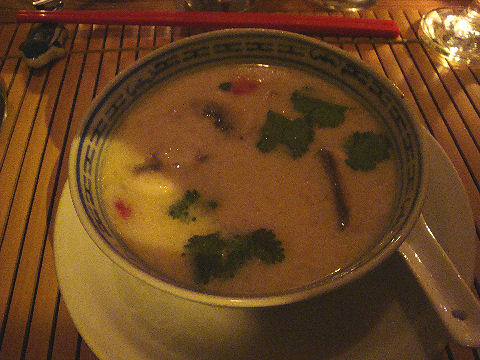 We sat and chatted, I was having dinner with my friend Allan who joined me at Casa Mun two weeks back, and "online friend" Katie from the
Seashells and Sunflowers blog
out of Neocochea who was in town for the weekend. We ordered a round of cocktails – there are a trio of asian-inspired beverages available, two of us had the saketinis, a bit sweeter than either of us prefer, but deliciously flavored, and one ginger kamikaze that was delicately perfumed and tasty. We also ordered a bottle of torrontés to go with the meal, which began with one of my favorite Thai soups,
gai tom kha
, a coconut milk based chicken soup – this one laden with flavor, including some bright, spicy red chilies. As good as any I've had in any Thai restaurant.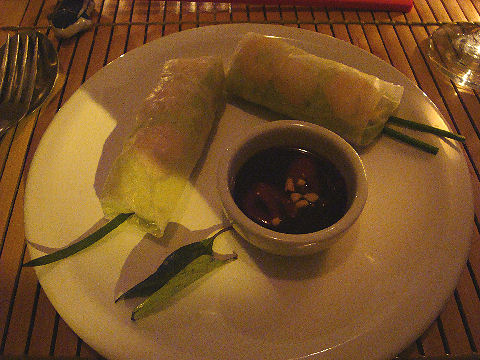 On to the next course and a jump over to Vietnamese, with a couple of beautiful shrimp, rice noodle, mint and cilantro summer rolls paired with a decent peanut dipping sauce. The rolls themselves, absolutely spot on. The sauce, a trifle sweet for our tastes, but Sunae had anticipated us and brought us a dish of homemade sriracha sauce and we went through half of that just on the rolls – beautiful sauce!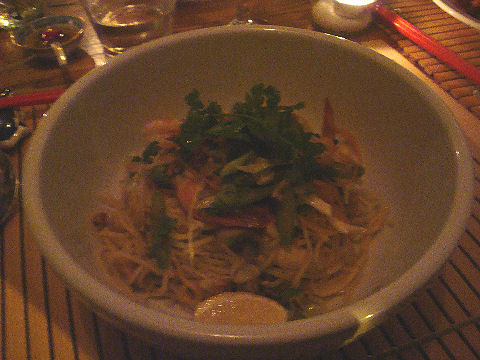 For the main course there were two options that we'd had to select in advance. Two of us had gone with this noodle dish from the Philippines –
pancit guisado
, rice vermicelli with chicken, shrimp, mushrooms and vegetables tossed in fish sauce and lemon. More of the sauce served on the side, and we also added in some of the sriracha – did I mention that it was delicious? Overall, great dish though I found myself wishing for a trifle more intensity of the salty flavors – either more of the fish sauce or even the classic Filipino shrimp paste – I know it's not the way the dish is traditionally prepared, but it was just a wish.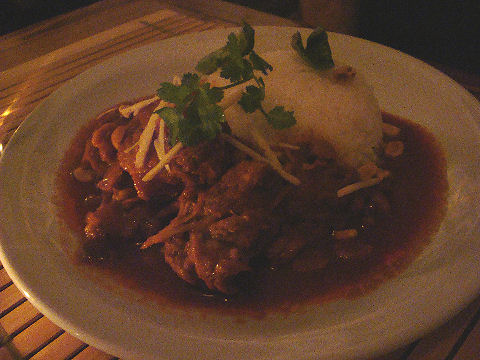 The other option was a pork curry from Thailand,
gaeng hanglay muu
. We were forewarned that it was extremely spicy, though we didn't find it to be so, and the last of the hot sauce got mixed in. The balance of flavors was wonderful and the pork was cooked to falling apart fork-tender texture. We were very happy campers at this point.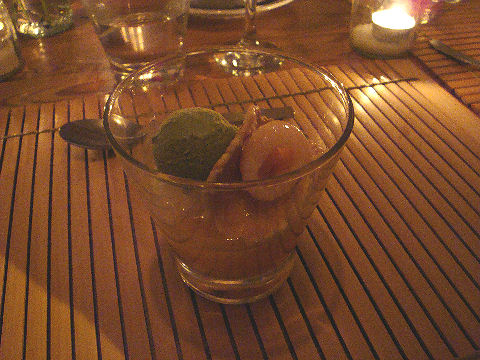 One of the weirdest dessert dishes in the Asian canon is
halo-halo
– a bizarre combination of ice cream, coconut jelly, shaved ice, evaporated milk, fruit, beans, corn, gummy bears… every Filipino restaurant makes it differently with different combinations of oddities, so it's always a surprise. Sunae's version is a bit tamer with green tea ice cream, mixed fruit, coconut jelly, a ginger tuile cookie and passionfruit seeds. As such, while possibly the least authentic of the dishes served for the evening, I'm generally not a big fan of halo-halo and this take on it was eminently edible – if there were to be any criticism of it it would be that the cubes of coconut jelly were just a touch too firm.
So in the end, great, truly great meal. As to the food, really just superb. The ambiance – beautiful room, gorgeous setting (during nicer weather some of the tables are outside in the garden, which I'd opt for). Friendly and given that she was dealing with 22 people by herself, efficient waitress handling the whole room. I would have liked to see more of Sunae and her husband, who basically spent the evening sequestered in the kitchen, along with an assistant cook and a dishwasher, in fact, other than a passing hello, we didn't meet her husband at all, and Sunae only came out to help serve the plates and explain what they were to each table. We could have gone for a softer, both in volume and style, music than the borderline pounding hip-hop/rap that was playing through the evening, it did make it difficult to carry on a conversation at times. Pricing is quite fair – AR$110 for a four course meal with bottled water and tea at the end. Cocktails run 20 pesos, not bad; wine list is slightly overpriced with bottles running 60-100 each, most of them near double retail price.
Overall, high marks and highly recommended.