"The French wooden shoe or clog (sabot) was, in the 18th and 19th century, associated with the lower classes. During this period, the years of the Industrial Revolution, the word sabotage gained currency. Allegedly derived from sabot, sabotage described the actions of disgruntled workers who willfully damaged workplace machinery by throwing their sabots into the works. However, according to some accounts, sabot-clad workers were simply considered less productive than others who had switched to leather shoes, roughly equating the term "sabotage" with "inefficiency"."

– Wikipedia
If you're between the ages of 60 and death… okay, that's unfair, let's make it 50 and 150… and you still dress yourself each day in the suit that you picked out for your college graduation, now aged and threadbare, and maybe you like to put a few pins on the lapel that tout the various organizations you belong to… then do I have a restaurant for you. It's a landmark, a classic, and so are 90% of the customers. And you know what? It's a gem. And so are we… umm you… umm they.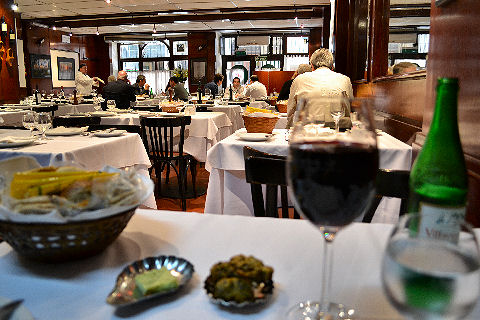 The place? Sabot, 25 de Mayo 756, in Centro bordering on Puerto Madero, 4313-6587. It's one of those spots that I've heard about on and off since I got here. It's always accompanied by adjectives like honest, genuine, authentic, dull, boring, staid, unfriendly, gruff, expensive, pricey… hell, the local GuiaOleo has it at 5 for ambience and 15 each for food and service out of a possible 30 points each – I'm not sure Zagat's would even print something at that level. And so, I've avoided it. But, it's part of a writing assignment, so I bucked myself up and headed there for lunch yesterday – it's only open for lunch, Monday to Friday, not surprising given being in the heart of office territory.
At first glance, it's not so bad. At second glance too – it's a bit down at heels, like the few customers who are in the room when I arrive, and even the white-coated waiters. But I am immediately greeted by one of them, who shakes my hand, welcomes me, and assures me when I ask that I'm not under-dressed (slacks and a pullover) for the room, and yes, they do take credit cards. He signals to the maitre d', a slightly stressed looking older gent in a sweater vest, who mucks about with paper and pen on his clipboard a moment and then signals me to follow him. Okay, I get seated at the table at the far back, next to the coat-stand and the bathrooms – then again, I don't have a reservation – but it's near empty, at 1 p.m., do I really need one? Turns out, yes, it likely would have been a good idea – by 1:30 p.m. every seat in the place is full and there are people waiting on the sidewalk out front for tables.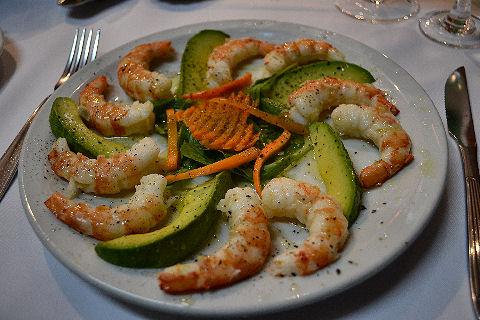 I had heard that they have a great centolla, or king crab, appetizer. But it wasn't on the menu – I asked my waiter, a friendly, charming relative youngster at around 45 years old, who had likewise greeted me with a handshake and helped me off with my coat – and he said they only sometimes have it, but that the langostinos sabot are the exact same preparation done with prawns. He proceeded to list off a few daily specials and then left me to peruse for a few minutes. The menu isn't long – a dozen appetizers, salad, a couple each of pastas, fish dishes (salmon or merluza), and steaks. Despite the 91 peso pricetag, I decided to give the prawns a try. Presentation – classic old style hotel French. But it's got ground pepper on it. Actual ground pepper. In Buenos Aires! And you know what, the chilled prawns, the avocado, all perfectly fresh, lightly dressed with a simple vinaigrette – and, a pretty abundant portion when you look at it.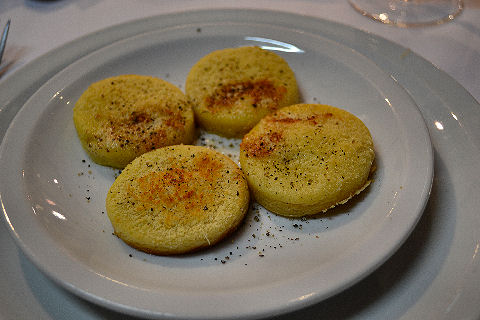 I knew I was going to overeat from the start – it's one of the reasons I prefer to go on review ventures with other people – here, in order to try multiple things, I have to order it all for myself, or make more than one trip – since the planned writeup is a mere paragraph, one trip was all I planned. One of the day's specials was Roman style semolina gnocchi, a favorite of mine, and, thankfully, they were happy to make a half-order. Plump, lightly crisped on the outside, soft and pillowy and packed with cheese on the inside, and look, pepper and paprika on them. These were dead-on, and clearly quite popular with the regulars, I don't think I saw more than one or two tables that didn't order at least one plate of them to share, if not full plates as main courses.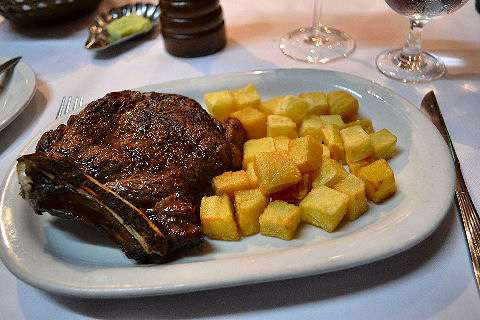 Okay, the special steak of the day was the entrecote, a rib steak. Not one of my favorite cuts normally, but my waiter insisted that it was the best cut on the menu for the day – and it wasn't the most expensive, so it wasn't that. And although he asked me how I'd like it cooked, when I told him medium rare, he assured me that that wasn't going to happen, no matter what, that the choices were between medium and well done – at least he was honest. So, I held my breath to see what would arrive. First off, a great big steak – that's probably close on a pound even after cooking. And true to his word, it was a shade past medium – they just don't offer the option – old school BA. Deal with it. Beyond that it was still pretty juicy, and while not fork tender, wasn't tough or gristly – a good piece of meat. In classic old style, too, it was seasoned with just salt. But, a peppermill was placed on the table (and on everyone's table who ordered a steak) when it was served. With actual peppercorns in it. And, you see, out of focus, in the background, that little silver butter dish? That's a great hunk of butter mixed with blue cheese and herbs. And you know where it went? Right on top of the steak and the delicious cubes of fried potatoes. It was wonderful.
Now, several folk have said that the panqueque de manzana, the apple crepes, are the best in the city. I'm afraid there was just no way, even with my planned indulgence. But you know what? I liked Sabot. I liked it a lot. Old school and staid? Yes. Dull and boring? No – completely charming. Gruff service? Not remotely – some of the most friendly service I've had in a parrilla in six years here. Pricey? No more than any other steakhouse these days – all three dishes plus a bottle of water and an extraordinarily generous glass of wine came in at 191 pesos, but near half of that was the prawn appetizer – you can eat there far cheaper, and that plate was really meant to be split. I'll be back and I'll let you know how those are. I may have to pull an old suit out of the closet if I still have one that looks moth-eaten enough.