I know, I know, it seems that the last week or so all I'm posting about is our Casa S dinners. I almost feel the need to apologize for it, but no – it's just the way things are going for the last couple of weeks before I head to New York and Boston for a chunk of May. I've not been eating out much or even getting out on walks (I do have part of Calle Lavalle coming up on my continued presidential walking series) other than for an upcoming piece for What's Up Buenos Aires? to be linked when published. So, continuing on with the weekend's public main dinner series….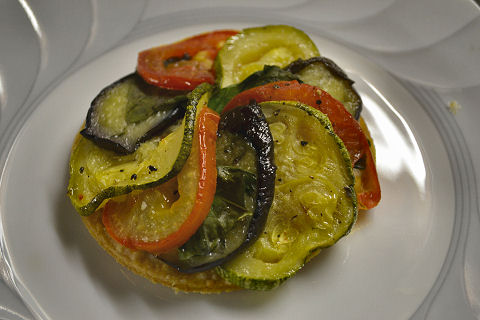 I told you in the last post that I'd fixed up the ratatouille tartlet – instead of making it tart style, I made flat rounds of the polenta-parmesan crust, baked them until crisp. Baked the vegetable slices separately on sheet pans with olive oil, salt and pepper, let them cool, and then assembled them pretty much at last minute – a crisp round, topped with a spoonful of the roasted pepper goat cheese, then a spiral of the zucchini, eggplant and tomato with a few basil leaves tucked in between. Another grind of salt and pepper atop and into the oven for just long enough to get piping hot. Worked perfectly! We'll call it a ratatouille galette….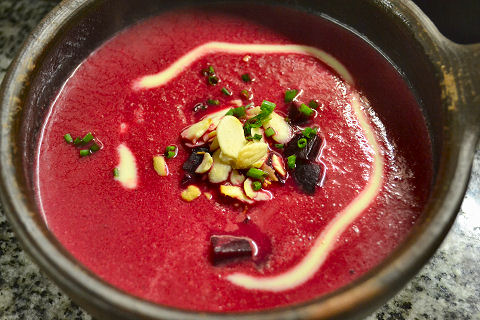 A little different take on a beet soup we've made in the past. Toasted almond flour in butter, then added peeled beet wedges and a couple of tomatoes. Filled it up with vegetable stock and simmered away until the beets were tender. Pureed, finished with some red wine vinegar, salt and pepper. Separately roasted some beets in olive oil and salt, diced them and added them to the soup. Topped with sour cream, toasted almonds, chives. That toasty note from the almond flour and flakes brings a whole new dimension to the soup.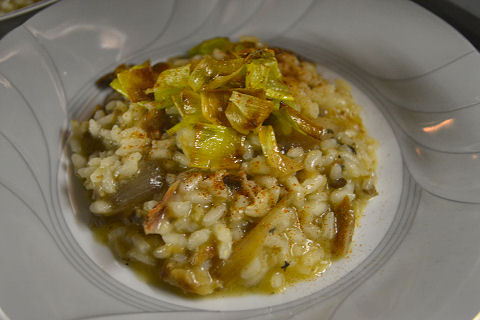 Bringing back one of my favorite risottos – smoked herring and caramelized shallots. Used a fish and white wine stock instead of vegetable stock. Finished with a little sweet paprika. Very happy!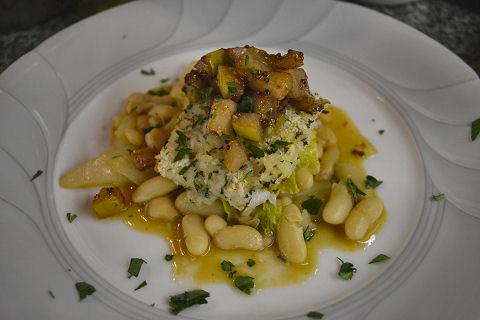 Combining a couple of ideas from past dinners – the base, sauteed white beans and napa cabbage in a miso brown butter, finished with a little shichimi blend and soy sauce. Atop, baked Chilean sea bass lightly brushed with a mayo and hot mustard blend on one side, pressed into a mix of panko crumbs, parsley and oregano, drizzled with olive oil and baked. And finished off with diced pears that are sauteed in butter and finished with stoneground mustard, salt and pepper. One woman held up a fork with a single white bean on it and proclaimed them the most incredible beans she'd ever had. I like that.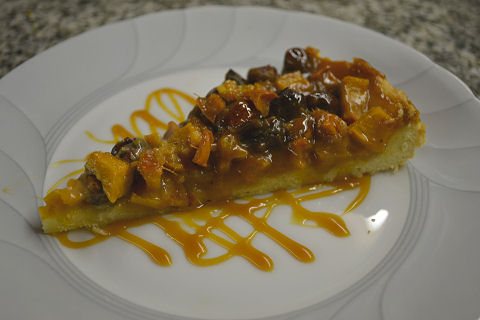 Fresh persimmon, hazelnut, ginger-caramel tart with a little brandy caramel sauce. Really doesn't need any more than that, right?
One more private dinner coming from last week and then, hmmm… let's see what's in the hopper….