Okay, I promise, last dinner until this weekend's (only one menu coming up) come up next week (by which time I'll be posting missives from New York for a short while). I'll keep this short. Private party, only limitation was no shellfish….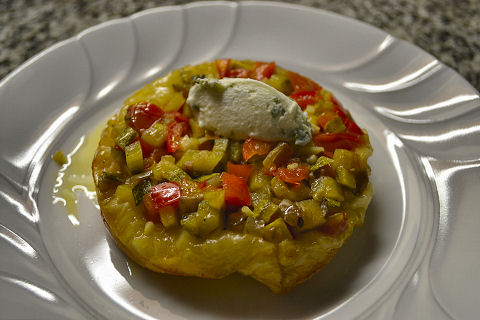 I thought I'd try a different approach again to the ratatouille tarts – here, done tarte tatin style with the vegetables all finely diced and lightly caramelized with brown sugar, garlic, salt, pepper, chili, and a touch of anchovy, then baked under puff pastry, flipped out and topped with whipped goat cheese and basil. I think I still like the galette approach best, and it's far prettier, though this was damned good, and the flavors a bit more complex – so a return to the other presentation in the future, but adding in more of these flavors. To be continued….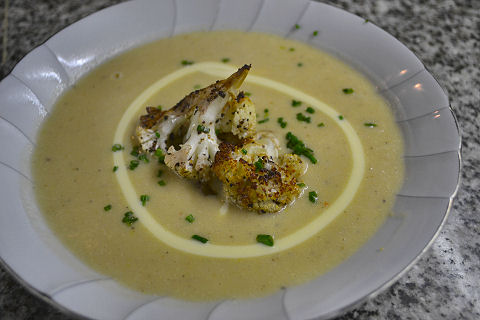 Our hummus soup with charred cauliflower….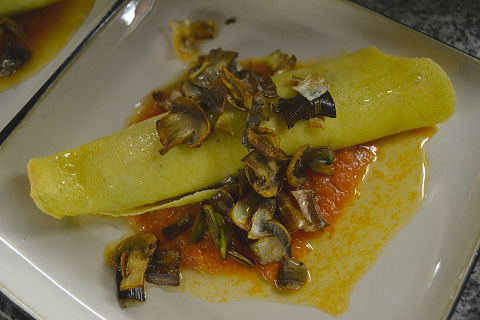 A reworking of this dish with some new elements that have come into play in several recent dinners. Semolina crepes, smoked eggplant puree mixed with homemade ricotta, chili, garlic, thyme and oregano. Served over a quick fresh tomato soup flavored with a little star anise. Topped with crispy leeks and mushrooms. Incremental improvement, and moving ahead….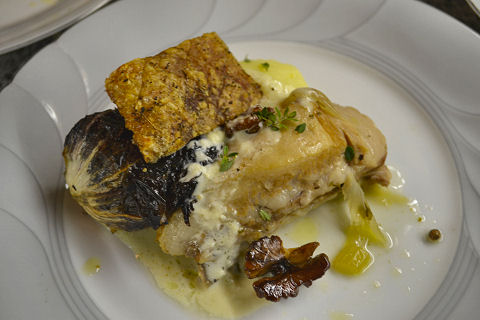 Brought back last week's braised pork breast with Morbier sauce, served over mashed potato, topped with the crispy spiced pork skin from the first time we'd done this (finally found some pork skin), and decided to replace the charred brussels sprouts with this new roasted radicchio, garlic and walnut mixture I've been playing with. Toss-up. I like both vegetables and for different reasons. If I was serving up a full sized dinner plate I might even put both on it. To be thought through. Love the pork and sauce, the accompaniments are still a work in progress.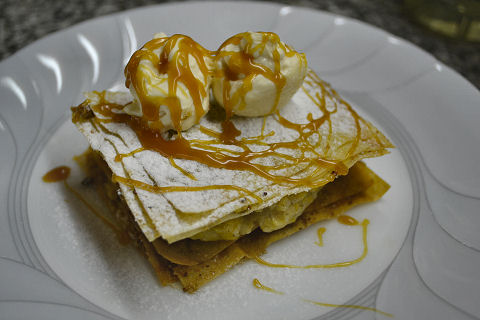 A return of the pumpkin, or butternut squash actually, napoleon. Only change was the caramel sauce was a brandy spiked one rather than bourbon, mostly because I'd made a big batch for the weekend's other dinners. I think the bourbon is my preference… to drink, too.