As usual, the end of month roundup of photos I didn't use in a post but think deserve a moment of their own….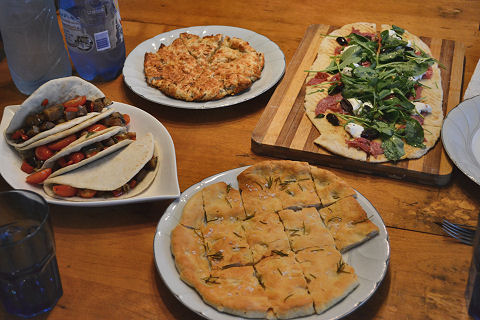 A private pizza class for a vistiing couple – we made focaccia with rosemary and salt, traditional style Sicilian pizza studded with anchovy, parmesan and garlic, grilled pizza with salami, arugula and goat cheese, and piadinas filled with sauteed vegetables.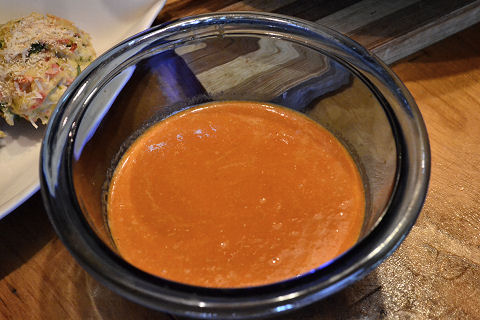 In the second session of our Brazilian cooking class series, which got delayed by a few weeks, we prepared our own hot sauce.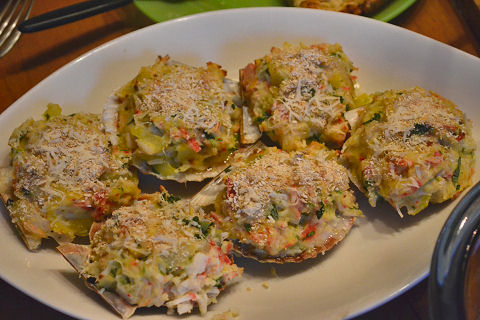 For our appetizer, Casquinha do Siri, a spicy blend of either crab or surimi and white fish, coated in breadcrumbs, stuffed in scallop shells and broiled.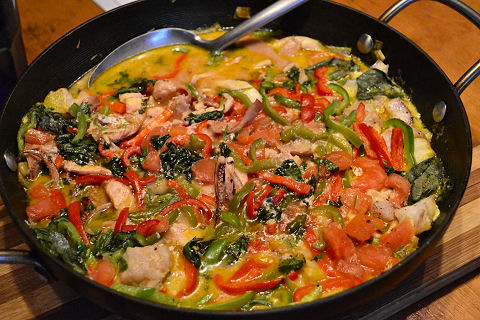 A sea bass and calamari Moqueca do Peixe, flavored with dende oil, coconut, basil, tomato and piri-piri peppers.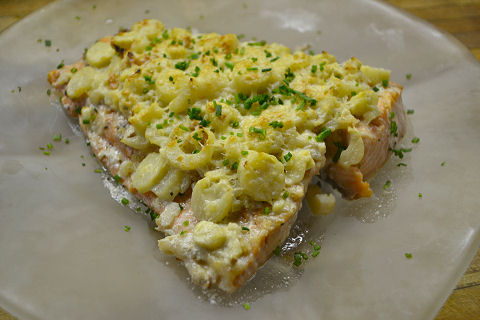 Fresh salmon fillets topped with palm hearts cooked down in a cream sauce, then topped with grated cheese and broiled. I wrote this one up in a "light" version for the Buenos Aires Herald (2/12/12 post). For the non-light version replace in the ingredient list cream for the yogurt, and fish or vegetable stock for the low sodium stock – other than that, exactly the same.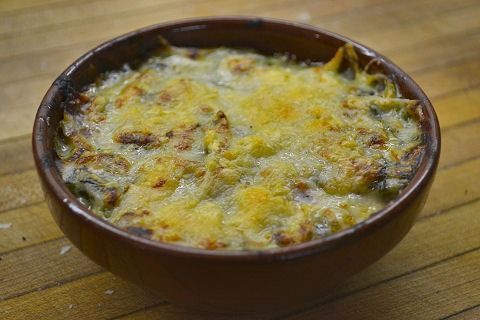 Continuing with gratins, a creamed chard gratin. Again, on the same Buenos Aires Herald page, look for the post coming up (it comes out tomorrow, 3/4/12, in the paper, so I'll post it up on Monday or Tuesday). A trio of changes here once you have the recipe to look at – butter in place of the olive oil, whole milk in place of the skim, and, I add in about 100 gm of proscuitto that's been crisped up and then cut into small pieces. There's a little secret for crisping up thin sliced meats like prosciutto – take two microwave proof plates, put a couple of pieces of paper towel on one, then lay out the meat in a single layer, top with more paper towel and then the second place. Put into the microwave on full power for one minute. Remove, let sit for a couple of minutes so the paper towels can suck out the melted fat, and then set the meat aside on a plate to cool and harden – only takes a couple of minutes – and really easy to chop up afterwards.