"I wrote my friend a letter using a highlighting pen but he could not read it, he thought I was just trying to show him certain parts of a piece of paper."

– Mitch Hedberg, comedian
Just a few selections out of the last couple of dinners, as you've seen many of the dishes before….
Last weekend, we celebrated Chile's bicentennial. We'd actually talked about going to Santiago for the weekend, but hotels were mostly full and a little pricey, and it's the start of our busy season, so, we decided to celebrate here with a couple of dinners. Back in February we had our last Chilean dinner, and we were quite happy with most of the courses, so, I decided to repeat two of them that people were particularly fond of. The first, the appetizer of grilled calamaretti with sweet chili sauce, and the other, the main course of garrón, done in the same way. In between…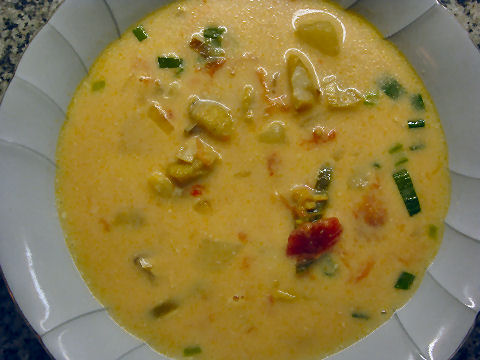 A caldillo de congrio, which may just become my new favorite soup. Sauteed some garlic, onion and jalapeño in a little butter. Added crushed, peeled tomatoes (save the juices to the side) and cooked for a few more minutes to soften them. Added congrio, or conger eel, diced up, along with small, peeled shrimp, and cooked for just a couple of minutes. Then some diced potato that I'd pre-cooked in fish stock, the juices from the crushed tomatoes and filled the pot up with the fish stock. Cooked for a few more minutes to blend the flavors, stirred in some cream and finished it off with salt, pepper and chopped green onions. In a completely different category than the first caldillo de congrio that I tried several years ago!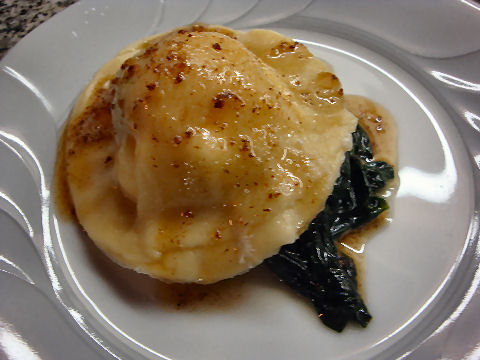 This is not remotely Chilean. My original thought, a traditional dish called a tortilla de tallarines, more or less a deep dish omelette filled with pasta. But it just sounded too heavy, and I decided to turn it sort of inside out and rearrange it completely… ravioli filled with fresh ricotta, parmesan, herbs, and an egg yolk, served over sauteed spinach with garlic, and topped with a brown butter sauce infused with crushed, dried porcini mushrooms.
And, for dessert, a lemon-olive oil cake with cherries, topped with baked meringue, and drizzled with a reduced cherry syrup.
In midweek, a private dinner for a group of six who'd come to us by way of referral from a longtime friend and customer who manages a lodge and restaurant in Sedona. Our only restrictions, no offal, and a mix of requests for creative local food and a bit of Italian.
We started with a duo of empanadas – one filled with calabaza frita, squash that's been fried in what is essentially a sofrito – tomatoes, garlic, chilies, onion; and the other a spicy mushroom filling; both served up with some sweet chili sauce (the same sauce as used on the grilled calamari salad above. Then on to a sopa incaica, lightened up slightly by using vegetable broth and goat's milk feta.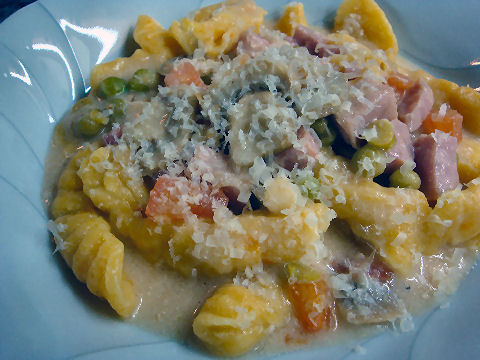 I was particularly happy with the way these malloreddus turned out – the last time I made them I got a lecture via twitter from someone in Sardinia for not forming them correctly, and I think I've got the trick now. Served up with a Prince of Napoli sauce. I think you can see the difference in the shaping….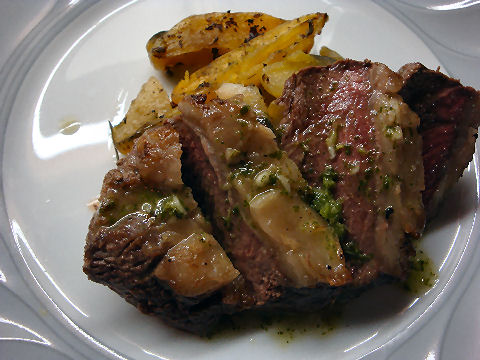 The main course turned out delicious as well, a simple seared and then roasted lamb loin, just lightly seasoned with salt and pepper, with a mint chimichurri spooned over it – (fresh mint, green chili, garlic, white wine, white balsamic vinegar, salt and pepper, roughly blended together), and served aside some roasted oca and yuca root with mint and rosemary.
We finished up with a dulce de leche cheesecake with dark chocolate crust, which no one seemed to mind one bit….