"To infinity and beyond!"

– Buzz Lightyear
One of Buenos Aires' first puertas cerradas restaurants, The Little Prince, and a seal in the bathtub. What do these things have in common? Momentos en el Infinito, high atop (well, sixth floor) the Palacio Galería Güemes is/was that commonality. A rooftop restaurant that was originally opened by owner Daniel Ruffilli in 1978 at the tender age of 18 – just out of the family home and moving into this amazing apartment atop the Galeria. Needing to make some money, he opened up the restaurant right there in his apartment and on the roof and hasn't looked back. It's no longer where he lives, and hasn't been for years, the restaurant having taken over every nook and cranny available, but it still retains the feel of having a bite to eat at a friend's house. [Unfortunately this place just disappeared one day in early 2012.]
And what about Antoine de Saint-Exupéry, author of The Little Prince? And the seal? Well, local legend has it that this same apartment was his towards the end of his life (he passed away in 1944, long before Daniel was a gleam in his parents' eyes), and, apparently kept a pet seal in the apartment, keeping it wet as need be in a large bathtub. As to who inhabited the space in the intervening years, I've not heard, but no doubt there is dirt there to be dug.
Momentos en el Infinito is not an easy place to find – there are no signs, they do little in the way of publicity, and even if you get to the address, you're likely to think you've made a mistake. So come along with me on a little Magical Mystery Tour….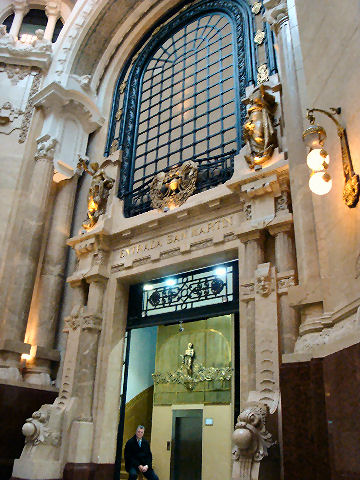 Enter the galeria off of San Martín, #170… you can enter off the Florida end, but then you have to walk the entire length of the city block sized galeria – not that that's difficult to do, this is just the way I usually go in.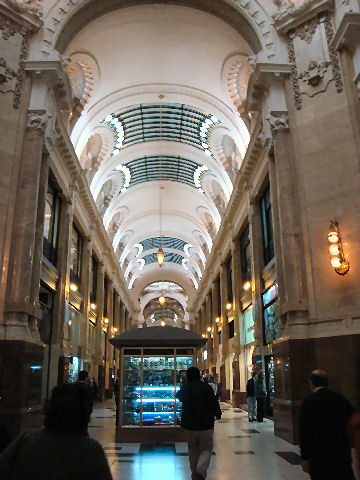 Take a moment to appreciate the grand architecture… in fact, you may want to wander around a bit and just look. Just next to the entrance is a Superveille bank, and just past that on the right is a bank of elevators (don't take the elevator bank to the left, it ends you up in a different part of the building – still do-able, but more convoluted). And head up to the sixth floor. There's often a guard there, and if you look out of place, you'll likely get stopped and asked what you want, just tell him you're going to the restaurant.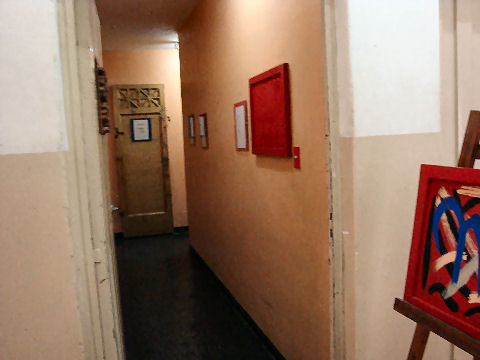 When you step off the elevator, look around for a little cardboard sign sitting on an easel – it may or may not say something about Momentos, likely it will just be a random piece of art that Daniel or one of his friends have produced. Go in the apartment doorway (which will be open if they are) that it's in front of. Wind your way through the apartment – it's not that difficult, a few turns here and there, but other than entering one of the dining rooms or the kitchen, you can't really get lost. The idea, really, is to go in nice weather and sit outside on the terrace – to be honest, I can't imagine wanting to go there and sit indoors… though people do.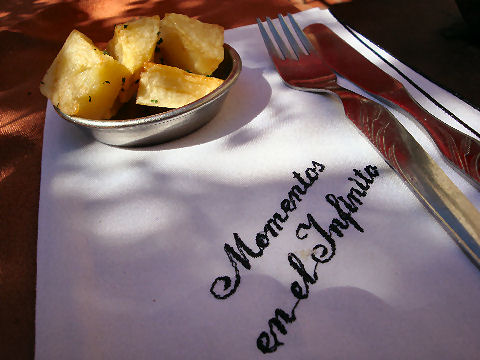 Find a seat, take a breath, relax, enjoy Daniel's garden, and just let the cares of the morning slip away. There's no real view outside of the garden, this terrace is plunk down inside of a dozen tall office buildings that surround it on all sides, so just sort of de-focus on anything past the garden fence.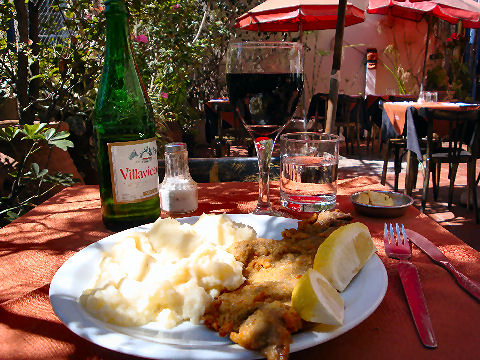 A waiter, or Daniel, will wander out eventually, don't panic – this is not a place to go when you're in a hurry, they'll get to you when they get to you. The menu is basic, local fare – milanesas, pastas, salads – but my favorite, I must admit, is the milanesa de entraña – a brilliant concept – milanesas are usually made from basic steak cuts – here, they offer an option for a hangar steak done up breaded and fried. The most flavorful cut of meat, and cooked just perfectly. As I said, brilliant. Most of the time, honestly, I just go there for coffee and maybe a pastry when I'm downtown, but it's well worth it to have a bite to eat as well.
Now, when you're done with your relaxing, and simply need something else offbeat to do, why not hit the nearby Museo de la Policia Federal de Argentina – the federal police museum? One of the odder museums in the city, it takes up the two upper floors (7 and 8, entrance on 7) of San Martín 353. It doesn't open until after 2pm, like many of the state run museums, so time it for after lunch. It's free to enter, and don't be surprised if the caretaker is surprised to see you – it's not a museum with many visitors – you might likely be the only one.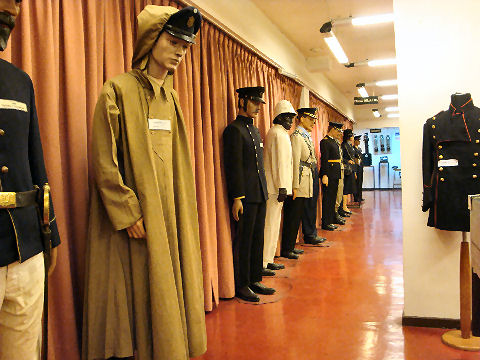 The 7th floor is devoted to the federal police themselves – and starts with an exhibit of uniforms and equipment through the history of Argentina. Moving on you'll find rooms devoted to insignia, patches, telephones and switchboards, radios, desks, jail cells, equipment, and…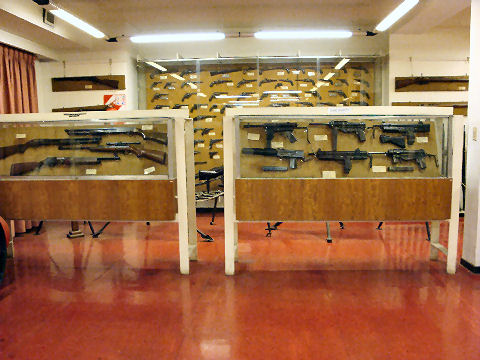 …guns, of course. In the far back corner of the museum you'll see a small stairway that leads to the 8th floor.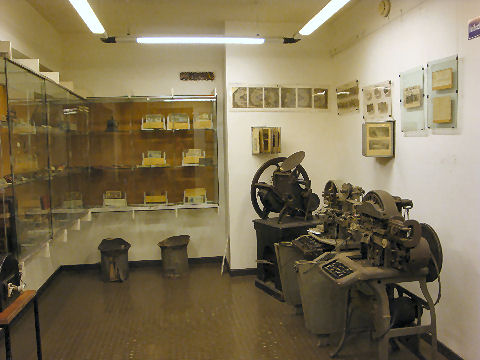 The upper level is devoted to the criminal element. Each room focuses on a different category of crime – there's a room of drugs and poisons – both smuggling and assassination – another for murders and violent crimes, one for robberies and safe cracking, another for "civil disorder", and the ever popular counterfeiting of documents and money. You'll have to return through these exhibits to the same stairway, return to the lower floor and finish up with a narrow hallway that traces some of the history of the police force.
It's not a museum for everyone (and be forewarned that some of the exhibits can be awfully graphic, particularly the forensics section, which makes CSI look like eye candy), but for those with an interest in the history of police forces and crime, it's an interesting visit.