"When you travel in Vietnam, you will find a fantastic mix of culture and nature. Its perfect blend of frenetic cities, untouched countryside and island hideaways promises to leave you breathless. The cities retain the grandeur of their colonial past- the wide boulevards and narrow alleyways alive with iconic cyclos, and the air thick with tempting aromas."

– Vietnam Travel website
Buenos Aires – It was 55 years ago last weekend that Vietnamese and French forces clashed in the climactic battle of Dien Bien Phu leading the French to withdraw from their former colony. However, they left behind many indelible marks, including a deep influence on the cuisine of the country. Taking a bit from the flavors of Vietnam, and perhaps a touch of France, we put together a little cena vietnamita for last weekend's dinners.
We started off with a simple blanched green bean and cherry tomato salad flavored with sauteed shallots, chilies, mint, coconut and peanuts, and finished with a mix of sugar, salt and pepper. Delicious flavors, but a more simple presentation than I'd like for this dish – a simple pile of green beans interspersed with the red of the tomatoes.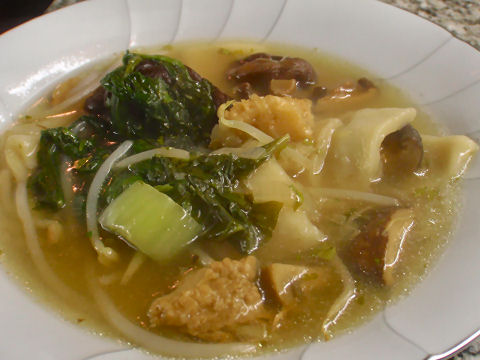 On to our weekly soup – I started off with the idea of something based on pho, the ubiquitous soup of Vietnam. I made a fresh chicken broth flavored with kafir lime leaves and star anise, and then stocked it full of ginger, green onion, bok choy, spinach, bean sprouts and a mix of mushrooms – white, portobello, shiitake and sponge. I finished the flavors off with some fish sauce, lime juice and cilantro. and at the last minute slipped in some freshly made egg noodle squares.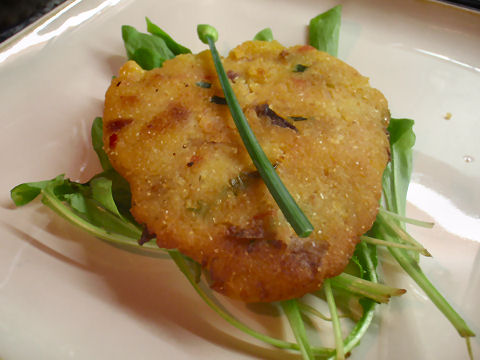 My friend Simpson Wong, chef at Cafe Asean back in NYC, used to make a wonderful version of banh tom – shrimp and sweet potato fritters. The ingredients in his dish included some things not available here, but it gave me someplace to start. Awhile back we had a Cape Verdean dinner that included a spicy tuna empanada that I turned into a little tart – mostly because I wasn't comfortable with the way the traditional sweet potato dough was turning out. Since, I've played around with it and like it quite a bit. I thought about enclosing the shrimp inside and making an empanada out of it, but decided to stick with something more fritter like – so I made the dough – 1 large sweet potato unpeeled, cooked, then peeled, and pureed with 1 egg yolk, 1 tablespoon of melted butter, and about 3 cups of finely ground corn meal or flour. I sauteed some garlic, onion, chilies, garlic chives, and plum tomatoes with the shrimp, let the mixture cool and then kneaded it into the dough. For service, I fried them up and served them over fresh greens.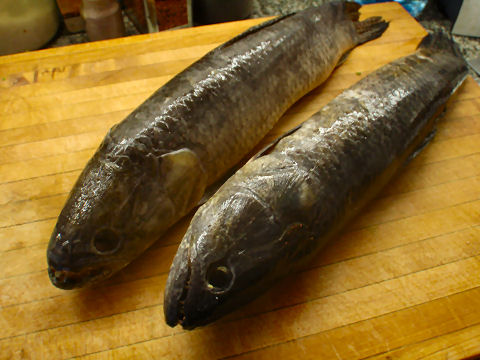 These are tararira, or freshwater wolf-fish….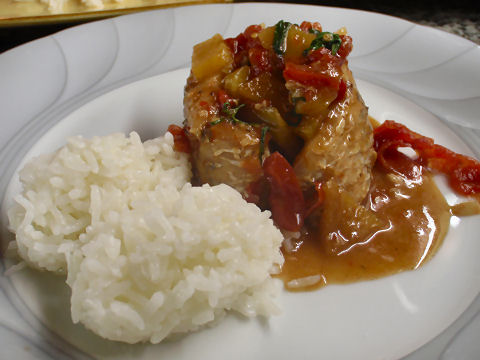 Okay, here's the story. Quite a few years ago I used to date a Vietnamese man, who later moved back to San Francisco. We've remained friends over the years. He used to make a wonderful dish of salmon slowly cooked in a pineapple caramel that I remembered quite fondly. I asked him for the recipe – I wasn't keen on salmon as I'm not keen on the quality of what's available here (all farm raised on treated feed and flown in from Chile, frozen) – he told me that traditionally it's made with catfish anyway. Couldn't find any of the local catfish, but I'm quite fond of this particular fish. It's really fairly simple to make – bring equal parts of water, fish sauce and sugar to a boil, add chopped chilies, garlic and lots of black pepper – cook until it starts to darken. Add fish steaks, diced pineapple and tomatoes, reduce heat, and simmer, letting the sauce thicken up, at least an hour. I added some fresh basil and tarragon to the mix just before serving with jasmine rice.
And, we finished up with my own little creation of phyllo wrapped bananas in a coconut and turmeric sauce – one regular readers have seen before….