We need to educate our children if we want our continent to prosper, but they can't learn if they go to school hungry."

– Cesária Évora, the "Barefoot Diva", Cape Verdian singer
Buenos Aires – If I were to ask you to tell me a little about Cape Verde, I'm guessing you'd draw a blank. So would I. Beyond knowing that they were (actually I probably thought, "it was one island") a group of ten islands off the western coast of Africa, I had nothing. I now know slightly more about them – they were uninhabited until the 15th century when Portuguese fleets discovered them and began using them as a transit point for African slave trade, whaling, coal, and resupply. They've only been independent since 1975, a mere 33 years, and spent the first 15 of those with a "one-party democracy", a rather oxymoronic political system, the first multi-party elections were held in 1990. It is now considered the most stable democracy in Africa, though, with only 18 years of real practice, it may be too soon to really make that claim. More than 70% of the fewer than half-million people in the population are Creole, i.e., of mixed Portuguese and African descent, and the food of the islands echos that blend. July 5th is the nation's Independence Day, and we celebrated with a little reimagination of traditional dishes – brought home all the more strongly by one of our guests who had actually spent time living on the islands at one point (during a fascinating six-year bicycle trip around the world!), who noted that while the flavors were reminiscent of the food there, "no one on Cape Verde eats this well."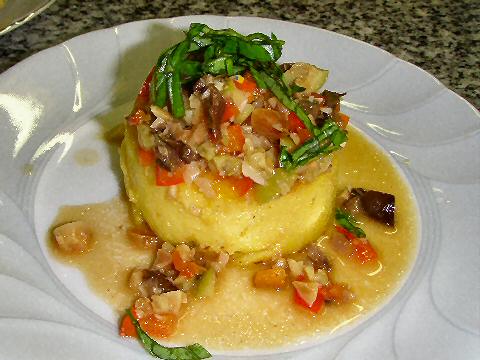 Anyone who knows what a b'stilla looks like knows that this looks nothing like it. It's a layered savory pastry with a flaky, phyllo style dough, interleaved with meat, vegetables, etc. – often with a touch of sweetness. The Cape Verde version was described in a couple of spots that I could find as being filled with a mix of corn, almonds, honey, and sometimes olives. I decided to abandon form for flavor, and went with a spicy polenta – flavored with garlic, red pepper flakes, black pepper, butter, and grated cheese – after cooking it up to the point where it pulls away from the side of the pan and forms a nice amorphous blob, I poured it into a foil lined, oiled pan, smoothed it out, cooled it, chilled it, and cut it into rounds. For the dinner, I fried the rounds up in a mix of olive oil and butter to give each polenta cake a nicely browned top and bottom. The "salsa" atop is a mix of black and green olives, roasted almonds with mild paprika, onion, red bell peppers, and a splash of orange juice and rum, all topped with some freshly julienned basil.
Next up a delightful little fish soup, quite different from the coconut fish soup that is also a Portuguese influenced fusion dish from our Brazilian dinner a week earlier. This one a simple fish stock made from the fish heads and bones, onions, celery, and black pepper, strained after simmering for an hour. I sauteed up a mix of finely diced vegetables – potatoes, yams, green and red bell peppers, onions – until they were partially cooked, then added diced tomatoes, and lots of chopped green onions and parsley, topped the pot up with the fish stock, and let it all simmer away until the vegetables were fully cooked, then added the fish, a good amount of cubes of corvina, a local type of sea bass, let it cook for about ten minutes more and served.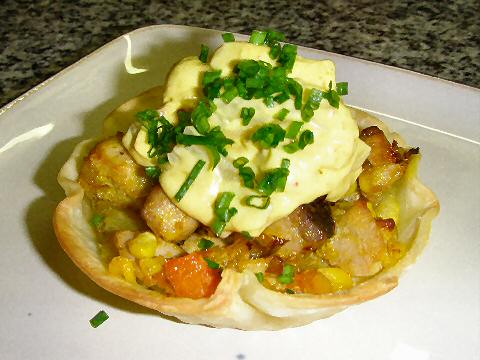 For me, the most intriguing dish of the cuisine is one called Pastel com Diablo Dentro – the Cape Verdean version of an empanada, with a crust made from a mix of cornmeal and sweet potato, and filled with a spicy tuna mixture. I found only a couple of actual recipes, and some interesting descriptions, including several sources that asserted that this dish is served with a sweet and spicy mayonnaise – sometimes inside with the fish, sometimes as a dip – it was all conflicting enough that I decided to go my own way… surprise, surprise. I went with a simple empanada style crust and made open tartlets. In the bottom, each is filled part way with a puree of roasted yam, simply finished with butter, salt, and a little beaten egg. Atop that is a dice of fresh tuna, onion, tomato, hot peppers, garlic, and corn all sauteed together in a mix of olive and dende (palm) oil. On top, a dollop of freshly made mayonnaise with a mix of palm and corn oils, cayenne pepper, dry mustard, and, finely chopped pineapple along with its juice, and a good sprinkling of chopped chives. It sounds strangely odd, but it's really quite delicious!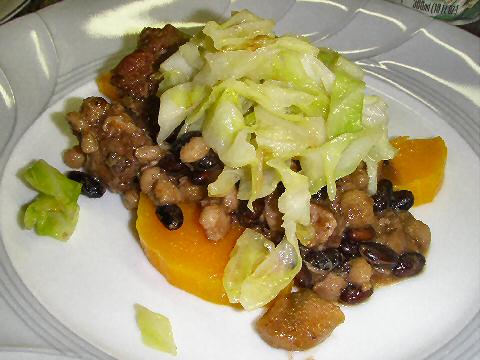 This is the dish that I left closest to its traditional style – perhaps lightly fancied up, but not too much. It's called cachupa and is considered the national dish of the islands. A stew of hulled white corn, black beans, and lima beans cooked up with a mix of spicy chorizos, morcillas (blood sausage – in this case the slightly cured, firm kind), and some diced pork shoulder. When it's almost completely cooked I mixed in a pureed of tomato, onion, garlic, and bay leaf, let it finish cooking, then left it to sit for a couple of hours to meld the flavors. I served it over roasted squash slices and topped it with sauteed cabbage (I gather the traditional is served with wedges of the two that have been cooked and then served more as a side to the stew). Hot sauce, of course, avaiable – I went with a simple blend of hot peppers, onions, garlic, and lemon juice.
I came away from my various readings on the country's cuisine with the impression that dessert tends towards fresh fruit, sometimes with a simple local cheese. I turned it to a ricotta and coconut cheesecake (substituting coconut milk for the regular milk I usually blend in), and then topping it with a mix of diced tropical type fruits (papaya, mango, banana, pineapple) that were just lightly cooked in sugar syrup. And… that's the name of that tune, as they say.