"It is the meeting place of East and West. The very new rubs shoulders with the immeasurably old… All these strange people live close to each other, with different languages and different thoughts; they believe in different gods and they have different values; two passions alone they share, love and hunger. And somehow as you watch them you have an impression of extraordinary vitality. Though the air is so soft and the sky so blue, you have, I know not why, a feeling of something hotly passionate that beats like a throbbing pulse through the crowds."

– W. Somerset Maugham, author, 1921
Buenos Aires – A group of friends (each other, we didn't know them beforehand) flew into town for the wedding of a friend of theirs from Hawaii to one from Argentina. The request – "any possibility we can have a sort of fusion of Hawaiian and Argentine cuisine for a dinner?" But of course, it's old hat for us. So, dinner for seven, leis and aloha shirts optional.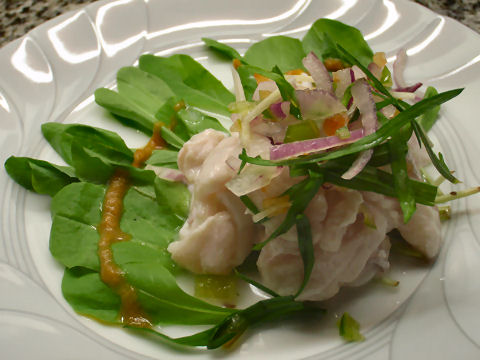 First, a sort of ceviche style dish – with the addition of coconut milk. Very simple – mero, or grouper, cured in lime juice, coconut milk and salt, topped with a salad of finely sliced shallots, rocoto peppers, garlic, and some tarragon leaves. Served over some fresh local radicheta and drizzled with a puree of shallots, garlic, ginger, chilies, shrimp paste, lime juice, turmeric, salt and pepper.
Next up, the soup, of course. Based on a traditional Hawaiian soup called Saimin, but with the flavors… inverted, and local products used. Made a chorizo broth – chorizo meat, carrot, onion, celery, bay leaf, salt and pepper all simmered together then strained and clarified. Into that, some blanched and shocked bok choy, green onions, and small shrimp, and then finished with homemade soft egg noodles.
No photo of this course – you've seen enough photos of empanadas and I've taken enough. Same type as referenced in the previous Hawaiian style dinner – barbecued pork and sweet potato.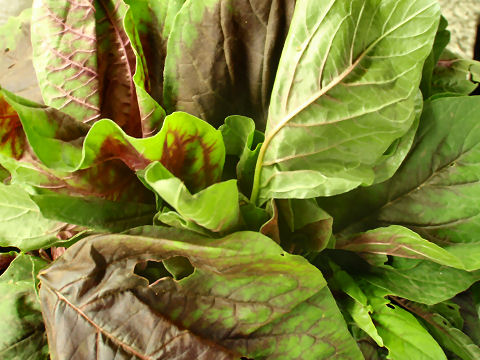 These are amaranth greens – they're in season right now, they look pretty, I wanted to use them….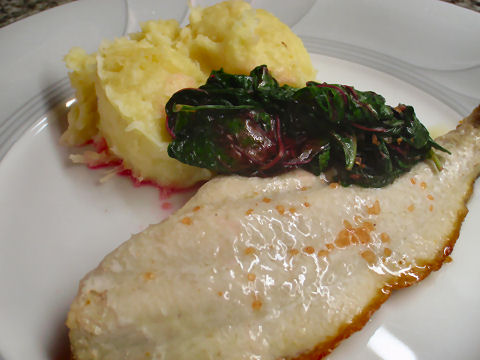 Pan-roasted palometa, or pomfret – served with mashed yuca root flavored with roasted garlic and finished with butter and cream, some sauteed amaranth greens, and sprinkled with some Hawaiian pink salt – that a regular reader of the blog brought us as a gift not long ago, thanks once again!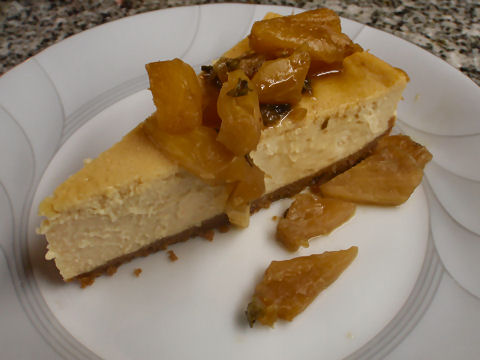 Dulce de leche cheesecake with grated coconut added to the filling, then topped with fresh pineapple cooked slowly with brown sugar, butter and mint.
Aloha Argentina indeed!